Whenever invest in something, doing a small research on them will be never a waste of time. So if you are interested in tape-in hair extensions because of its popularity, do not forget to consider their benefits and drawbacks before making a decision. To help you have a deeper insight into this type of extensions, today Lewigs is going to share with you about tape in hair extensions pros and cons. Let's check it out in this article.
Below are some of the major pros and cons of tape in hair extensions you can refer to:
Advantages Of Tape In Hair Extensions
Adding Ultimate Length and Volume
The biggest advantage of tape in hair extensions to mention here is that it can provide extra length and volume to users just after a few minutes of installation. Not all girls or women are born with full-looking hair and have a fast hair growth rate. So, one of the best ways to easily achieve the most desired look is using tape-ins. With them, you can get rid of thinning hair or the feeling of waiting for hair to grow.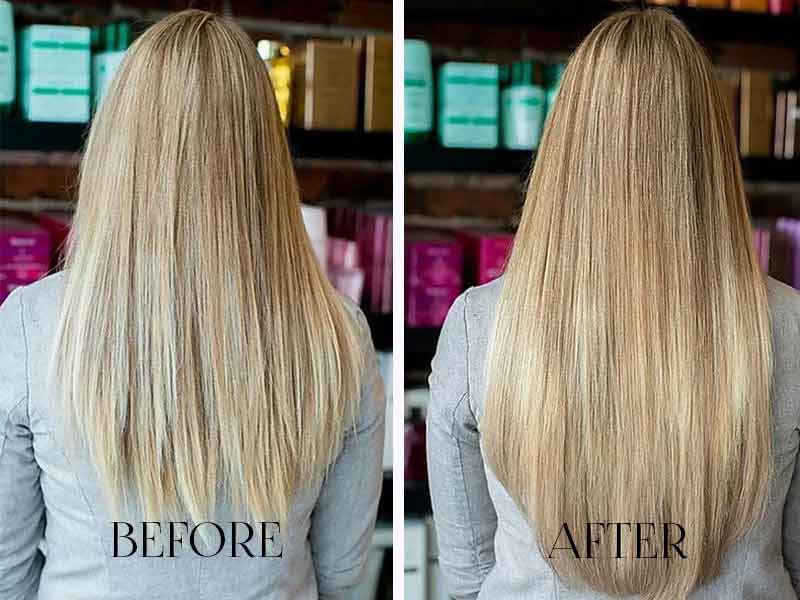 Install at home easily
Another benefit is that everyone can install them by themselves just after a bit of practice. Currently, girls tend to look for hair extensions that they can apply on their own instead of going to the hair salon so that they can save a lot of time and money. It just takes you between 10 to 15 minutes to get a complete look with the assistance of simple guides.
If you don't dare to apply by yourself since it is your first time, you can have your friend do it for you.
Similar posts:
No heat needed for installation
The heating method is one of the common ways to apply many types of hair extensions but tape-ins. No special tools and no heat are required in the process, everything you need it your hair and extensions. Simply attach hair weft following the instructions then you can slay it! A general guide is to insert a thin strip of your natural hair between to place two hair wefts with 2 tapes.
Remove tape-in easily
Like installation, removing tape in hair extensions is also a piece of cake. Get your hair out of the way, and then simply spray hair extension tape removers (oil-based products) over the tapes and gently peel it off your hair. Don't be too aggressive since it can damage both your tape-in as well as your natural hair. And of course, removing step can absolutely be done at home.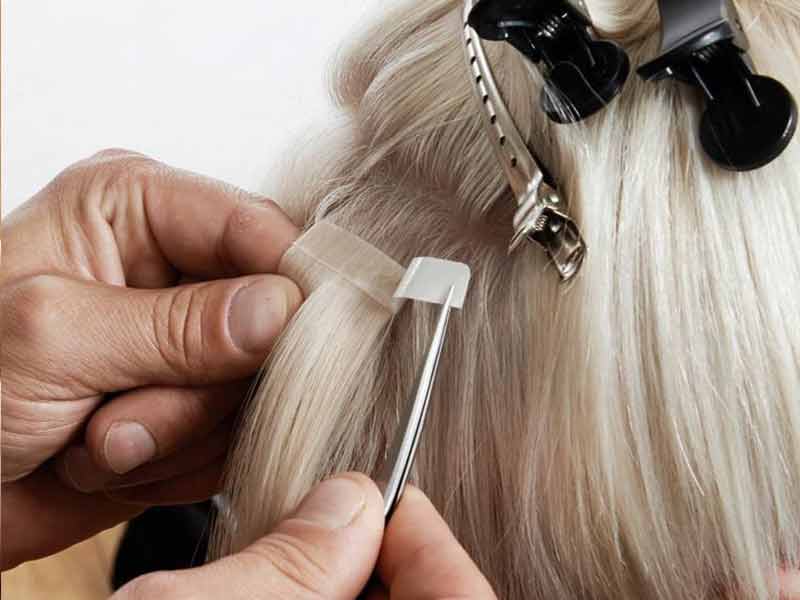 Friendly to your hair
Safety may be one of the very first criteria when girls come to hair extensions. And, the reason for the popularity of tape in hair extensions is that they do NO harm to your natural hair or leave any negative results after being used.
Although the tape is made with glue, it doesn't cause any damage at all. The only harm that tape-in can do to your natural hair happens when they are improperly applied. Hence, if you install them in the right way there is no need being fear about its damaging your hair.
Natural-looking effect
No one wants to use hair extensions but look fake, right? All want to have an extension that when using them no one can tell apart. And tape-ins can do it for you, especially the human hair extensions. Tape-ins often come with invisible and transparent tape so that it can blend seamlessly to your real hair.
Versatile styling options
Once you add more length and volume to your hair locks with tape in hair extensions, you are offered more styling options for yourself. While short hair limits your hairstyles, the longer one can do it for you. Moreover, tape in hair extensions also come with various textures and colors, so you can definitely try many brand new looks when wearing them.
Tape-ins are also ideal accessory if you are interested in highlights, balayage, or ombre hairstyle while no need of using any heat tools or chemicals. Hair dye and bleach can damage your hair easily and getting a new stylish color also costs much. Therefore, an easy way to achieve a stylish look is to opt for tape-ins!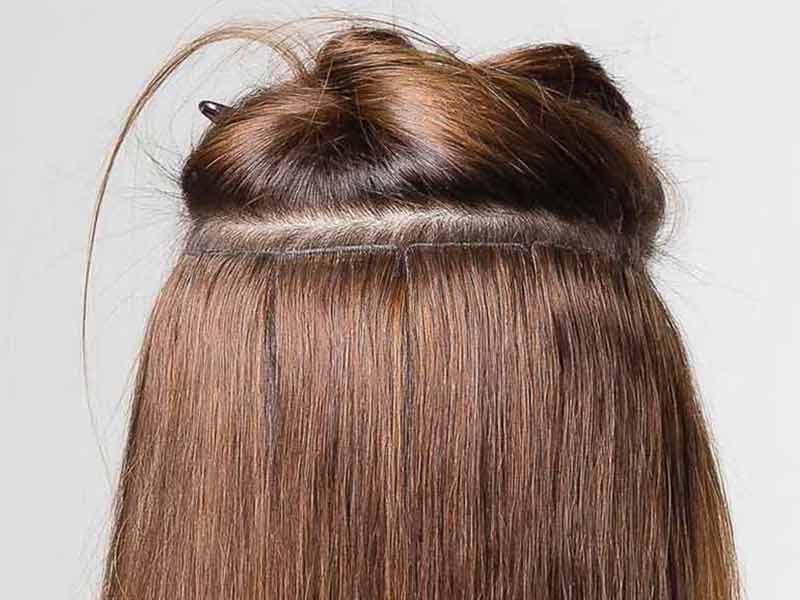 Fit your budget
Compared to other counterparts in the hair industry, quality tape in hair extensions can be one of the most inexpensive ones. Therefore, if you want to use high-quality human hair extensions but you at a relatively affordable price, tape-ins are a wise choice.
Last long
If you buy great quality tape-ins made with Remy hair, they can last up to 6 months with proper care. We advise you to opt for Remy human hair extensions since it is full of cuticles intact, causing less tangling and offering a soft and sleek effect for its users.
Moreover, tape-ins can be reused many times.
Comfortable while wearing
The tape if this type of hair extensions are thin and light, hence, you can feel relax and comfortable while wearing it.
Read more:
Drawbacks Of Tape In Hair Extensions
Need regular maintenance
Regular maintenance is required for all types of hair extensions and so do tape-ins. If you wish your extensions last as long as possibles and always look shiny, sleek and soft, take care of them. The process of maintenance just takes you about 15 minutes only.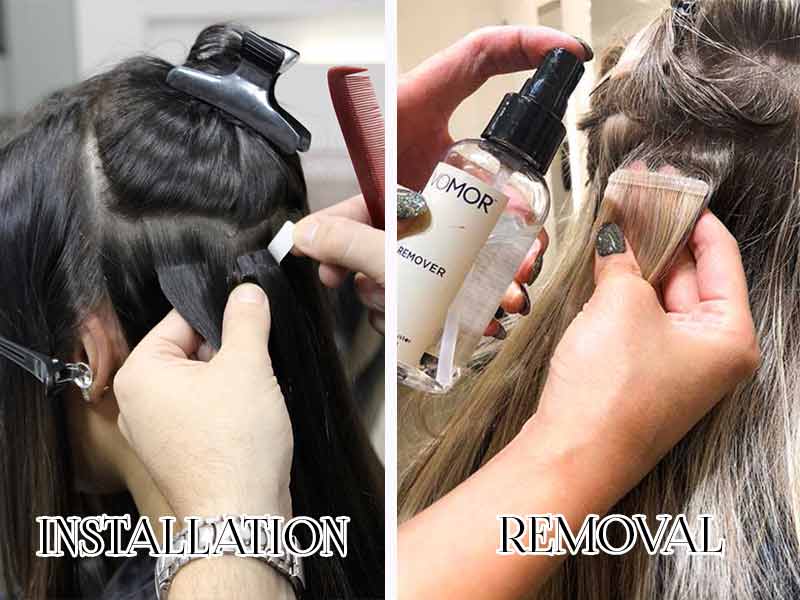 Can slide off in case not apply correctly
Improper application can lead to major problems with tape in hair extensions, such as extensions sliding off. Even Though applying a tape-in is not too difficult, mistakes are inevitable. Therefore, let's practice before installing, have your friend help you to do so or go to a salon. Don't forget to follow the instructions carefully.
Feel uncomfortable in case not apply properly
One more time, the application is really important. Because the tapes are attached near your scalp, so if they are installed incorrectly, you may feel annoyed and uncomfortable. Remember to apply tape-ins 1 inch below the roots of your hair to reduce uncomfortable feeling. You may feel unfamiliar with new hair for a couple of days since first wear. But you can soon get along with them well.
Hopefully, this article about tape in hair extensions pros and cons will somehow help you have a better understanding of tape-ins. Whether you choose tape-ins or any other types of extensions, remember to consider the pros and cons before purchasing them.
If you like this article, share it with your buddies and follow our blog right now for more interesting and useful information. Or contact us directly via (+84) 98 261 44 86 (Mobile/WhatsApp) to get supported. Thank you for your time!