Are you tired of your hair growth rate? You may have spent thousands of dollars on hair regrowth supplements but the result you got was trivial. Alternatively, with hair extensions, you can have ideal hair locks with your desired length and volume at much cheaper prices. One of the hair extensions' types that offer your expected result just in a matter of minutes is tape-ins. Many girls have been craving for this type of extensions. Hence, how does it work? Today, the article will show you more about tape-in extensions on short hair.
What are tape-in hair extensions?
Tape-in hair extensions are thin pre-tape wefts. Each weft is about 1 inch wide. This type of hair extension is one of the most popular hair extension techniques that are required worldwide in hair salons.
How to put in tape in extensions on short hair?
What you will need:
Tape-in hair extensions
Brush
Clips/ hair ties
Mirror
Step 1: Prepare your natural hair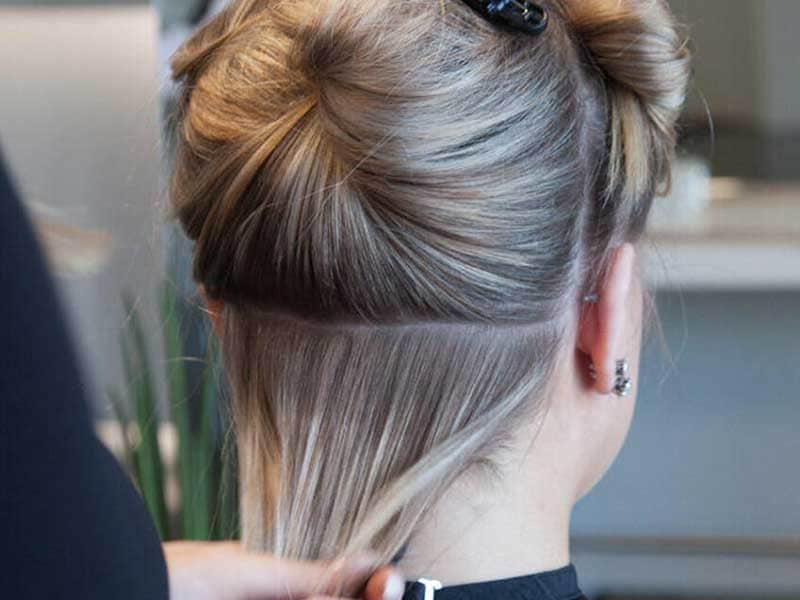 Make sure to clean and dry your natural hair thoroughly before installing tape-ins. This will not only protect your hair but also prolong the life of the extensions. If you leave your hair dirty before taping the wefts, it can slide off easily.
Step 2: Section your hair
Section your hair horizontally about an inch from the nape, this part will be near the top of your ears. You can use your fingers or a comb to do this step. Gather the top half up and secure it with a clip or hair tie, just make sure it is out of the way while you applying tape in extensions on short hair.
Related posts:
Step 3: Gather a thin hair strand
A general rule for applying tape in hair extensions is sandwich a thin strand of hair between 2 extensions, one on the top, one at the bottom then stick these two together. Use a comb to grab a very thin section of hair that has the same width as your hair wefts.
Step 4: Apply tape-ins
First, let's start by attaching the bottom extension under the thin hair section. Lift up your thin hair strands. Peel off the trip that covers the tape attached to the bottom extension. Then tape it underneath the thin hair potion that you are lifting.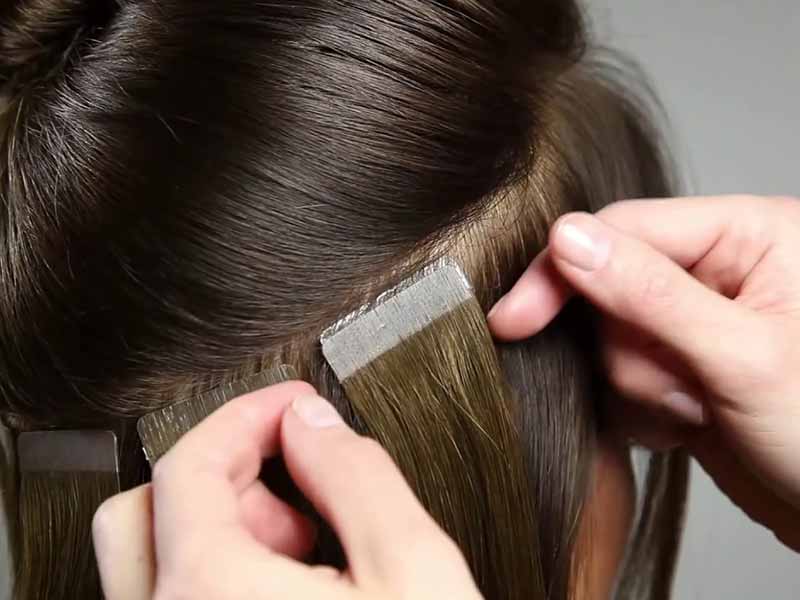 Next is to secure the top hair weft. Take the top weft and remove the trip covering the tape. Press it on the top of your thin hair strand. The top extensions and the bottom one should stick to each other. You can employ the pilers to press them firmly for more security.
If your extensions do not stick together, that means you have inserted too much hair in between them, gently pull out some strand off the bottom extensions with a brush
Step 5: Repeat the process
After finishing install tape in extensions on short hair at the back, now move to the sides and repeat the process till you have done all the hair extensions. You will decide the actual number of tape-in hair wefts depending on the density of your hair and the size of your head. Five rows of hair extensions is the number of generally used wefts.
Make sure your hair is dense enough to hide the tape-in to avoid being noticed.
Step 6: Cut and Style
Once you finish put tape in hair extensions on short hair, start to style your brand new hair as the way you wish.
To apply tape in extensions on short hair, you can do by yourself with instructions and practice in advance, you can have your friends help you do so or you can go to hair salon but it may cost you a bit.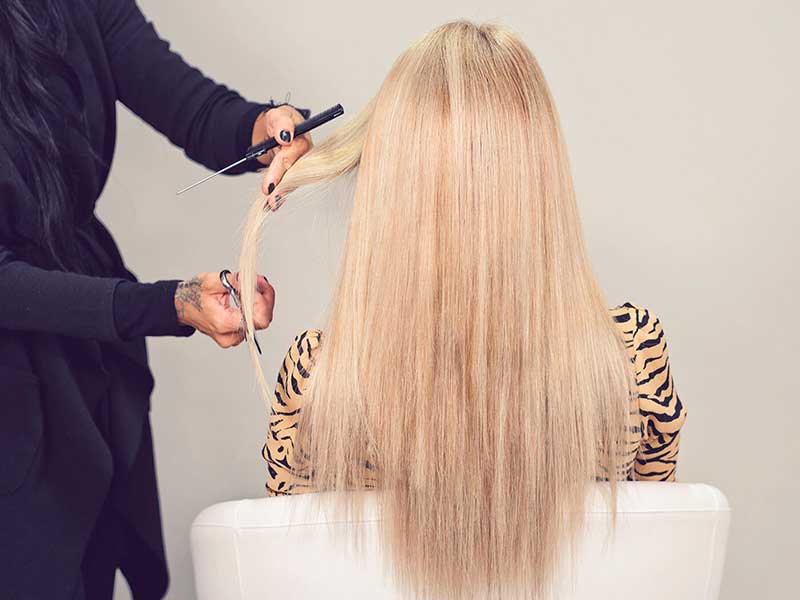 How to style long tape in extensions on short hair?
Have you done with the installation instructions? Now, it is time to start beautify your look with tape-ins! Below are some recommended styles you can get for you to look with tape in extensions on short hair.
Pull-through braid
You can definitely style your hair in a simple ponytail with tape in hair extensions on your hair. But if you want a little more complicated and gorgeous look, let try out a bubble braid. Have you ever seen a french bubble braid, it is one of the most trendy styles that may long hair girls get for themself. Search for pull-through braid or bubble braid on the internet that you will see how good look and how easy to get it.
If short hair limits your choices in styles, now with long hair provided by tape-ins, you can try this fluffed-up braid. Simply tease the bubble part and you will get this amazing look with great volume.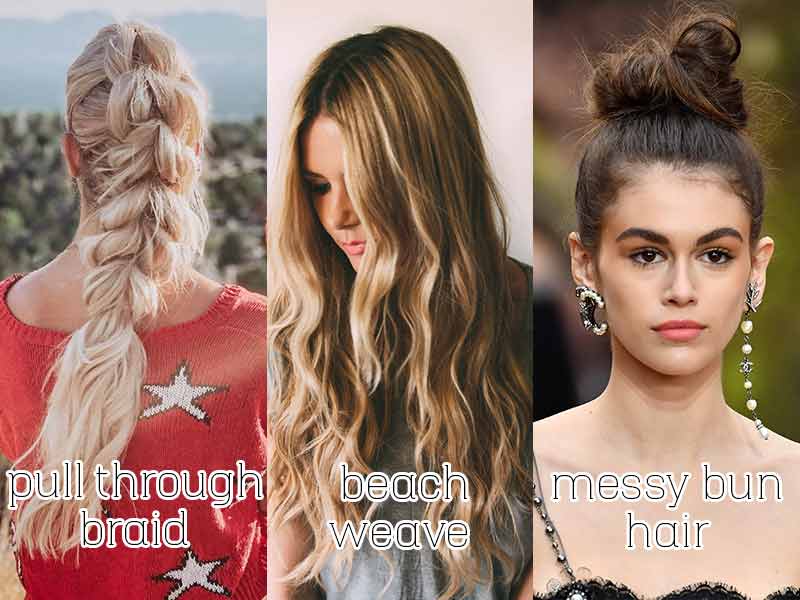 Beach wave
Do you love wavy hair? We can say for sure that, only long hair can give you the most satisfaction when styling hair in this way.
If you buy tape in human hair extensions, you can use heating tools to style your hair in wavy locks. Remember to use hair protectants while heat styling to protect your hair and prevent damage. But if the hair is not human hair or you just want to protect it from the heat, you can use the cool setting mode on the hairdryer along with a round brush to style. You can search for more tutorials on the internet.
Read more:
Messy bun
A messy bun is hard to achieve if your hair is too short and too thin.
But now with tape in extensions on short thin hair, you can absolutely style your hair in this way. There are many variations and methods you can employ. To keep you messy bun always look sleek and stylish, you can spritz a texturizing spray on the roots to prevent your hair from going flat, especially after you have teased it for more "messy" look.
The messy bun can go well with casual outfits, so even if you wear normal clothes, you still look fancy.
Our conclusion
Tape-in hair extensions on short hair will never let you down, it can add volume and length to your hair at the same time just after a short amount of time, compared to other techniques.
We do hope that after this article, you can manage to put on tape-in hair extensions and style your hair following the way you love.
If you are interested in not only hair extensions but hair wigs asl well, visit Lewigs' website for some references. Don't hesitate to ask us anytime you have questions related to your hair.
Thank you for your time and let's visit our blog for more interesting information!