You are suffering hair loss and thinning hair and don't know how to improve them. In this article, Lewigs brings you a savior – women's hair topper. To have beautiful and thick hair, you should know clearly how to put on a topper hair piece and remove it as well.
Wonder what the uses of hair topper are? Hair topper extensions are helpful solutions for your beginning to mid progressive stages of hair loss. It also helps ladies who want to add fullness to the crown area of their heads. Hair toppers for thin hair can conceal perfectly your bald spots or thinning areas. So it's difficult to realize that you are wearing a wig.
Unlike full lace wigs, hairpieces conceal hair loss at various stages and different areas of the scalp. Some toppers offer more coverage on the top, while others cover the sides and back of the head.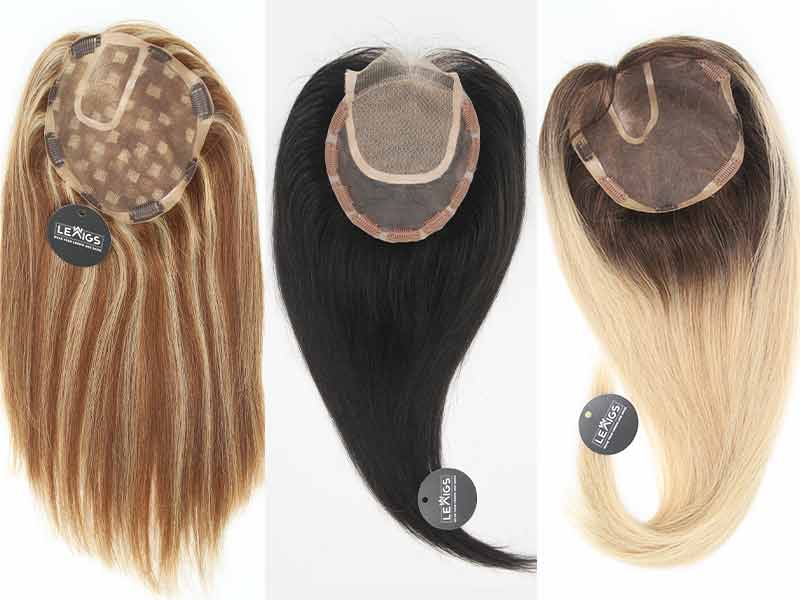 Because each person is unique, hair toppers come in a variety of shapes, sizes, and colors in order to blend naturally with your existing hair and give you a more natural look. So when selecting an extension, key things to look at include the base style, size, hair length, hair type, and color. This will help determine which topper style is good for you.
It's also important to note that the addition of a human hair topper for a thinning crown can also offer an exciting opportunity to change up your look completely. As hair pieces have many colors, they can provide an opportunity to experiment with hair colors whilst keeping your natural hair intact.
How To Wear A Hair Topper Correctly
Before putting on topper for thinning hairline, you should choose the best style types in order to achieve your desired look. Just like the wigs, toppers come in synthetic, human hair and heat-friendly synthetic hair. All of them are designed to blend in with your bio hair.  
However, many ladies prefer heat-friendly synthetic hair and natural hair toppers. These types allow you to create texture that closely resembles your own hair for a more natural look.
Then, determine where you want to attach your hairpiece. There are different types of human hair piece topper designed for specific parts of the head: part, top, and crown toppers. The different coverage areas have different styling aims.
The last one is to experiment with the color of a wig. The important key to achieving the most fabulously natural look is to blend a wig with your real hair. To achieve this, let choose the closest matching color and then have your natural tresses professionally dyed to match the topper. Or, if a difference is barely noticeable, you do not have to dye your hair.
Now, you start attaching the extension in your hair.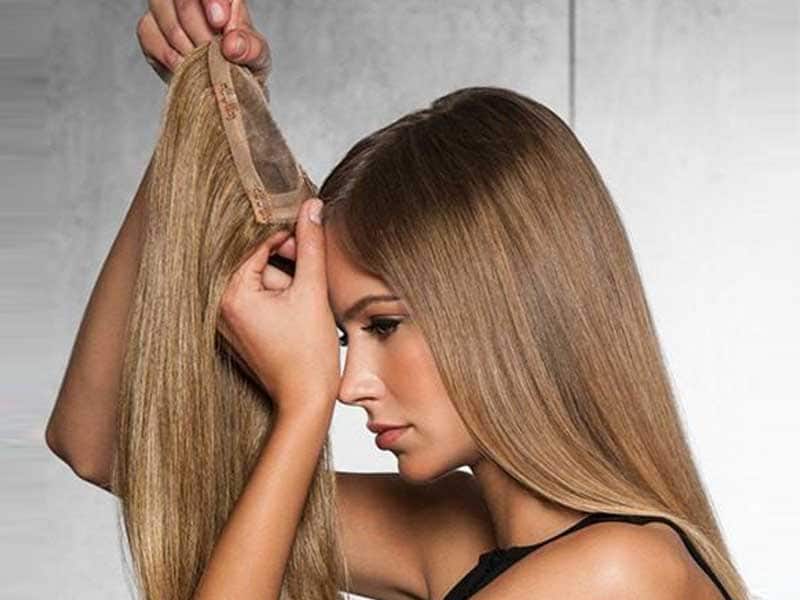 Step 1: Open The Clips And Tease Your Real Hair In The Thinning Areas
Open all the clips on the underside of the wig and lightly tease your bio hair in the areas where the topper clips will be attached to get a more secure hold. The clips are silicone or metal snap-in.
Step 2: Place The Extension
Now, align the topper over your hair loss area by pulling the topper up to the front hairline and secure the clips. You can use a lace front topper in order to your hairline is seamless and unnoticeable.
Step 4: Secure The Clips
Light pressure over the top of the hairpiece to hold all of the clips. If you have hair loss back from your natural hairline, you can pull the hairpiece back and allow your natural hairline to show.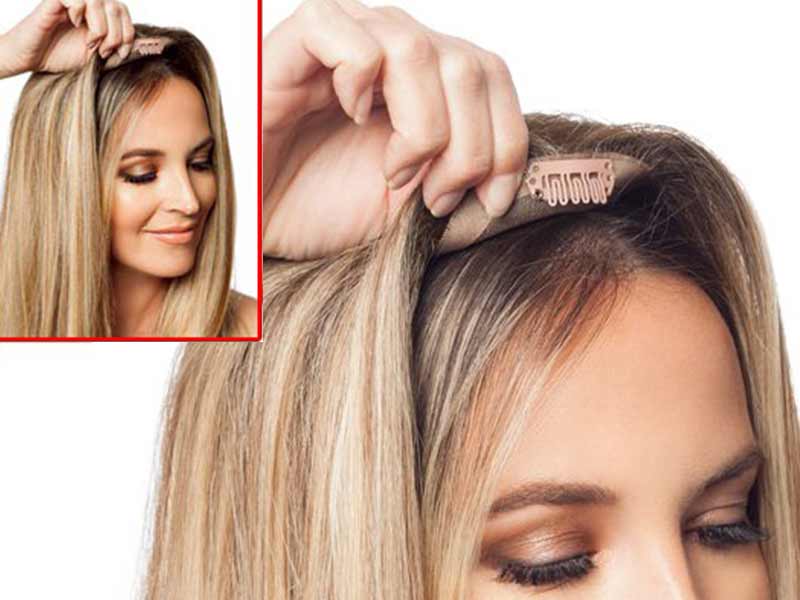 Step 5: Style And Blend Hair
Blend your natural hair with the topper until the hairpiece is virtually undetectable. You also style for your hair by ponytail with a clip to make your hair topper more natural. Cut bangs is a good way to properly install toppers the best.
Or if you want to perfectly blend in with your natural hair, use a little bit of a light concealer. Dab it on your tresses and hair toppers part, this will help them look the same and be undetectable.
Keep in mind that it takes practice to figure out how to get a hair topper to work in your hair and how to put it on correctly. 
Related posts:
How To Remove Hair Pieces
Remove a wig is pretty straightforward, as long as you take it slowly. If you do carelessly, it can negatively affect your real hair. Your hair can be tangled, knotted, or even broken. 
Unclip
Remember to unclip all of the clips carefully before you try pulling off the extension.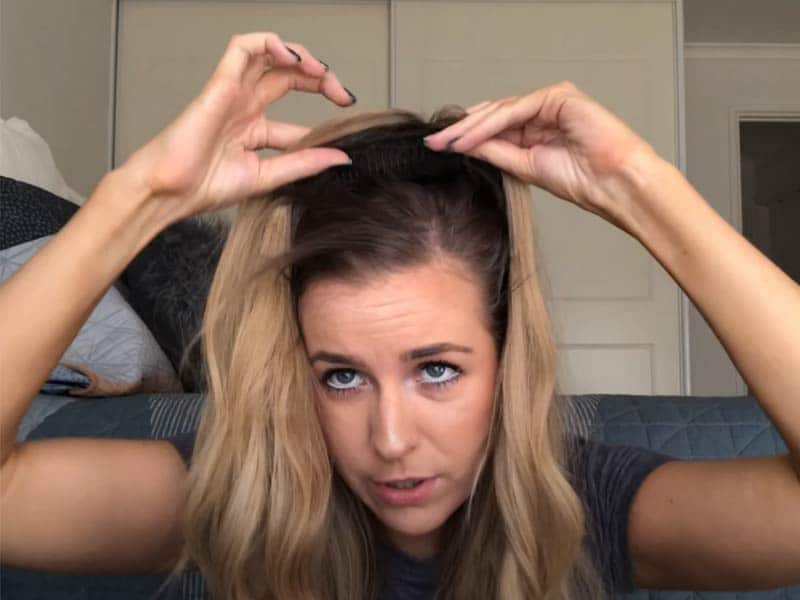 Take Off Your Natural Hair From The Clips
Gingerly remove any strands of your bio hair from the clips. You can easily damage your real hair if you yank or tug on either the topper or your hair. Be careful!
Experts recommend practicing several times before to ensure you can complete the process.
The Bottom Line
With years of experience, Layla Hair guarantees that hair toppers maintain their top-notch quality for many months and even years of use. Your only mission is to keep your hairpiece well, so it is always at its best stage.
We hope that after reading about how to put on a topper hair piece, you now know what has to do with your hair. You don't have to be afraid of your thinning hair or bald spots. With hair toppers, your look will be changed in a moment. Therefore, let try wearing a hair topper. 
If you are looking for a great hair topper at a friendly price, do not forget to check out the Lewigs product line. Various kinds of hairpieces and hair extensions are ready to be on your shopping cart! 
Don't hesitate to contact us if you have any questions. We are always happy to be of service!