High chances are you might have come across jojoba wax in some of your products. Suitable for all skins and hair, jojoba oil is one of the most versatile oils available.
If you are suffering from frizzy hair, this oil might be extraordinarily helpful. And if you notice your hair falling out drastically, don't be rush in thinking about wearing a hair toupee or hair topper, because jojoba oil might improve your problem, also.
This blog post from Lewigs gives you brief information about jojoba oil and its benefits to human hair. Let's check it out!
What is jojoba oil?
Jojoba tree
Jojoba derives from its Mexican name chohobba which designates a beverage containing extracts of this plant and used by wizards to predict harvests. It is undoubtedly itself derived from Hohowi, the tree being named by the Hopi people. Jojoba is native to southern Arizona and California, as well as northwestern Mexico. It grows in the desert where the temperature drops at night between 0 and 5 °C and rises during the day at 45 °C. Despite the extreme conditions of its habitat, jojoba can reach 200 years of age. Like other plants growing in semi-desert areas, jojoba has an important reforestation effect. For many years, it has replaced spermaceti cetaceans used in cosmetics.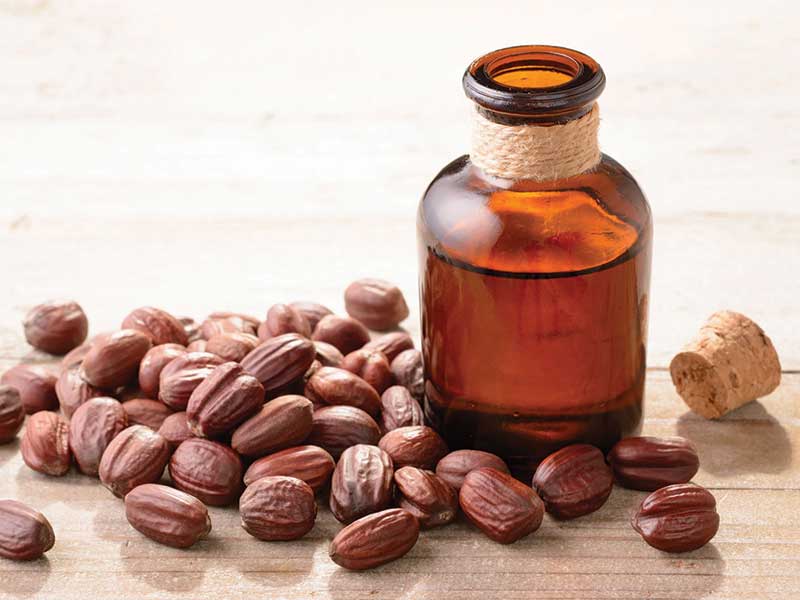 Jojoba oil – an essential hair oil
Although called "oil", it is a wax from the chemical point of view.
Jojoba oil is an excellent vegetable oil for skin and hair but is not edible, unlike argan oil. Extracted from the jojoba seed, it is said to be non-greasy because it is composed of 97% waxy esters. Very effective to cure various conditions, it has exceptional virtues when extracted by cold pressing. With its calming, soothing and anti-inflammatory properties, this hair oil helps the hair fiber to recover. If you have acne problems, it is also very effective to regenerate the skin without greasing it. Considered a dry oil, it helps soften nails and hair while preventing them from becoming brittle and breaking. Thanks to its abundant enzymes, it is very easy to keep and fits in your bag to follow you everywhere.
Similar posts:
Jojoba oil benefits for hair and skin
That so-called oil brings along lots of benefits for human hair. What does jojoba oil do for your hair? To be specific, it can:
Moisturize your strands inside out
Surprisingly, jojoba oil might comprise of up to 97% of fats, and with its nutrient-rich compound, it moisturizes and condition hair effectively. By letting jojoba oil enter the cuticle, your strands would be able to stay away from substances like sulfates. As a result, the natural oils of your hair would be preserved, thus maintaining its healthy condition.
Jojoba oil for dandruff and hair loss
Another outstanding benefit of jojoba oil for hair is the ability to treat dandruff. A study by the African Journal of Traditional, Complementary and Alternative Medicine in 2014 has figured out that the reduction of dandruff happens when they use jojoba oil twice a day.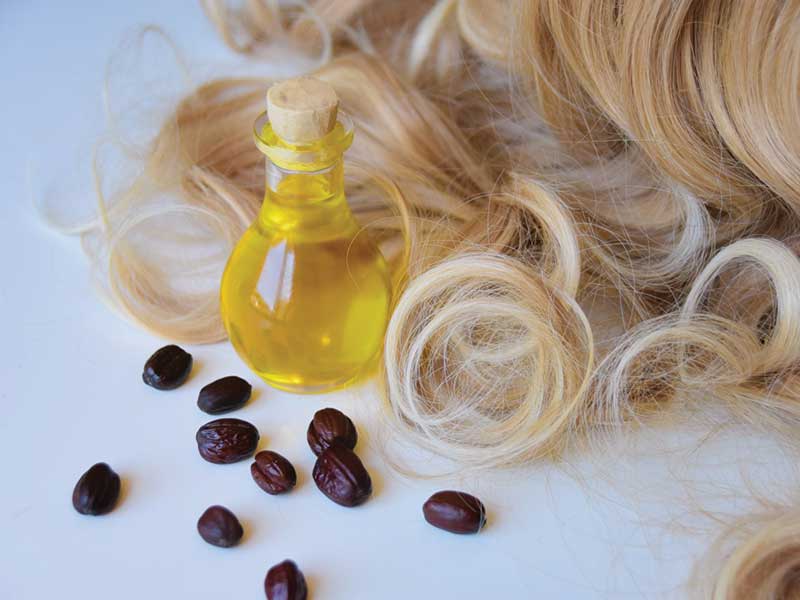 And this also entails the chance to foster hair growth. It is easy to explain, as this oil contains lots of fatty acids and natural alcohol. These things, hence, provide nutrients to your hair, including vitamin B & E, and things like zinc – a very useful nutrient to boost hair growth. 
It prevents hair from damage
Last but not least, if you are experiencing hair breakage due to too much heating and styling, jojoba oil would be beneficial, also. Unlike other essential oils that penetrate deep into the hair follicle, jojoba oil sit still outside the cuticle and fill the crack that heat and harsh chemicals have caused. In other words, it would prevent the chances of frizzy or low porosity hair.
How to use jojoba oil for hair
Use before or after showering
If you wear shiny hair, you can use this hair oil regularly after showering. On dried hair but still wet, spray a small amount on your lengths. If you do not have a spray bottle, you can also heat a few drops between your hands and delicately crease your hair with.
Some others love to use this oil before you wash the hair. It would create a seal to preserve your natural hair oils from being stripped out by chemicals.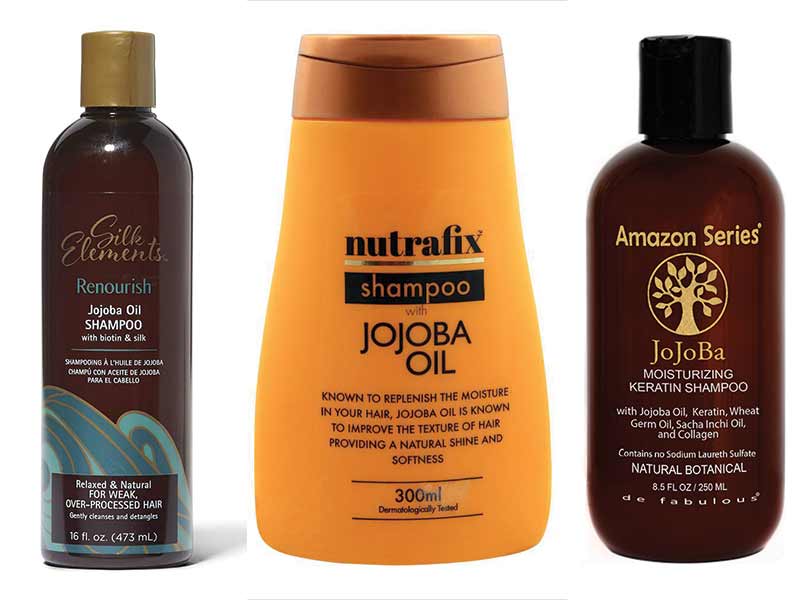 Jojoba oil shampoo and hair conditioner
You can use jojoba oil for hair growth as a shampoo. For this, use a generous amount of jojoba oil – without overdoing it to avoid turning the rinsing step into a nightmare. Give it a gentle oil massage before leaving for at least two hours, ideally overnight. Then wash your hair normally. Do not hesitate to have a second shampoo if you think that some residues remain.
If you are not prone to frizz, then braid your hair to spread the material. This technique of maintenance is all the more recommended on curly hair because it sublimates the curls.
Daily hair care for 4C hair
Despite its great effectiveness in nourishing hair in depth, jojoba oil is very light and non-occlusive. It is, therefore, a product of choice to use in everyday life on curly hair: it gives them shape, without greasing. By applying it correctly, you will get nice, well-rounded and plump curls, and will be able to say goodbye to frizz.
The method of application is very simple: every day, on dry hair, apply jojoba oil on all your lengths. Be careful not to rub your hair so as not to break the curls. It is rather better to slightly crease them upside down. This allows giving movement to all of your hair, which will create even more beautiful loops.
Jojoba oil mask for brittle hair
Thanks to its exceptional softening and regenerating properties, this oil can repair dry and brittle hair effectively.
Its richness of vitamin E and fatty acids helps to tighten the shell and to absorb the hair fiber. If necessary, you can consider taking an oil bath to maximize the results.
Treat oily hair with jojoba oil massage
Furthermore, as jojoba oil stimulate the production of sebum, it is proven to be able to fight against oily hair. For this, you must deal with the root problem: slowly massage your scalp with the equivalent of a tablespoon of jojoba oil, and leave a few minutes to one hour before doing your shampoo. If you are interested in organic cosmetics, you can also increase its efficiency by adding a few drops of lavender essential oil.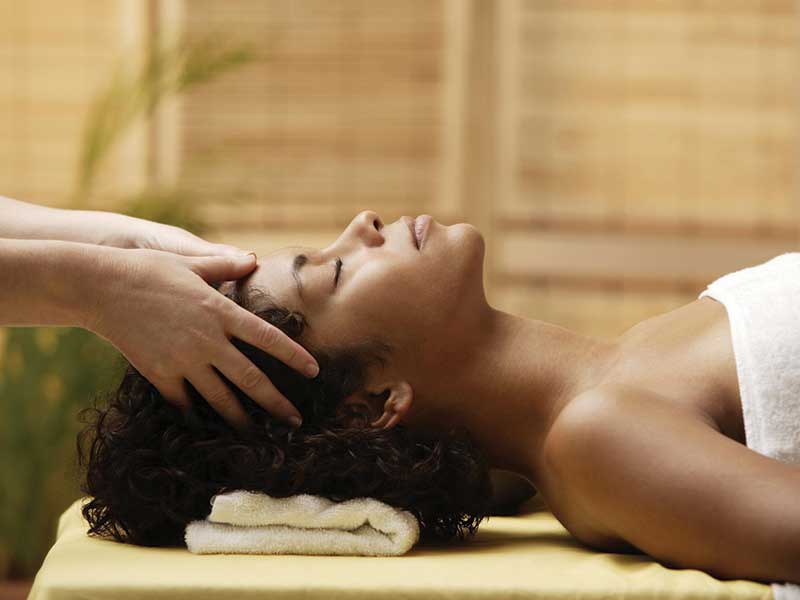 In a bottle of 50 ml:
– Prepare Jojoba wax
– Add the essential oils: 8 drops of palmarosa, 4 drops of ylang-ylang, 6 drops of clary sage and 6 drops of grapefruit.
– Mix and apply on the scalp by circular massage.
– Wrap the hair and let it work for at least 1 hour, preferably overnight then shampoo.
Conservation: protected from heat and light. This mixture, because of the presence of essential oils, is not recommended during pregnancy and for a child under 12 years of age.
You will also like:
Jojoba oil for hair how to use: precautions
Jojoba wax has great stability and can be stored for almost 10 years. It freezes at a temperature below 10 ° C but works fine in high temperatures. In both cases, its quality is not impaired. When in the solid-state, just leave warm water on the bottle for a few minutes.
Jojoba oil is safe to use; however, be cautious. Even though there has been no report in the allergy or sensitiveness to this wax, it is never a dumb choice to follow the right instruction of use. If you follow the dosages and directions correctly, no problem will ever occur.
Above are all Lewigs want to share about jojoba oil for hair growth. If you feel interested in other oils, browse our blog to learn more. Or feel free to contact us via our hotline or email at any time to get instant assistance.