With human hair systems' growth, like lace closure or frontal wigs, many wearers question the best way to braid their natural locks under the wig. So which is the best braid pattern for lace closure? You can change your braiding pattern for every new installation of the lace closure wig as well as other systems. This helps others think that you are wearing your real locks. Keep reading to learn more about the best braid pattern for lace closure wig you can refer to. 
How can I braid pattern for lace closure sew in?
Before braiding your natural locks, it's important to determine where you want your actual part to be. You can have it on the left side, the right side, or the middle. You should part as far back as the length of your closure so that you can put the lace closure against your head. Now, start creating your braid pattern for wearing wigs:
Step 1: Section your locks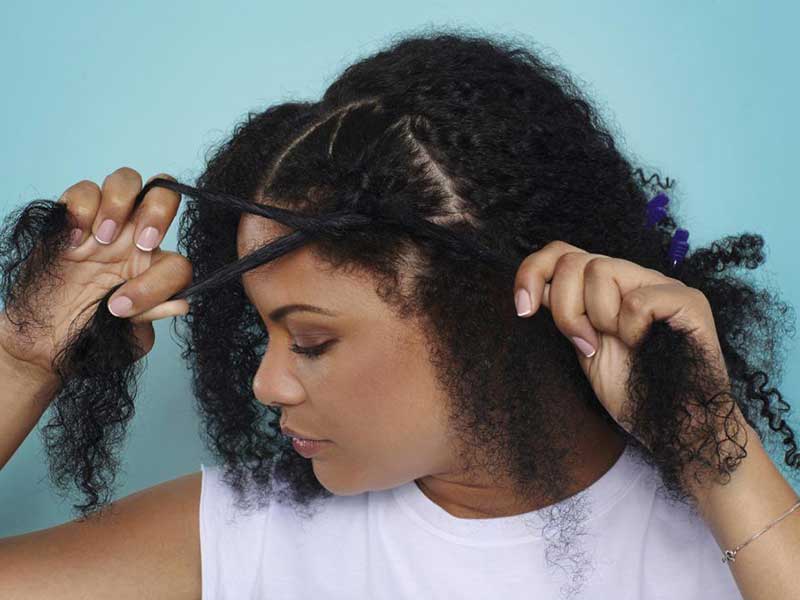 Make sure your hair is clean and dry before starting off the braid pattern. Add some moisturizer to prevent it from damage.
You take a rat tail comb and put a part down in the middle. Divide your mane into two sides and put one side away.
Continue to section one side for small braids. You use the comb to make a small section at the beginning of your head; make a straight line from the middle to the ear section. Then put the remaining apart of your head away.
Related posts:
Step 2: Start braiding
Now, move to the next step on making the braid pattern for middle part lace closure. You braid your hair a little bit small. But don't excessively pull your locks as it may resulting hair shedding. Then tie off the ends o braids to make it stay intact.
For a neat look, you apply an edge control product or hair gel on the hair edges. These products help keep your braids and baby hair in place longer without getting too fuzzy.
Step 3: Repeat around your head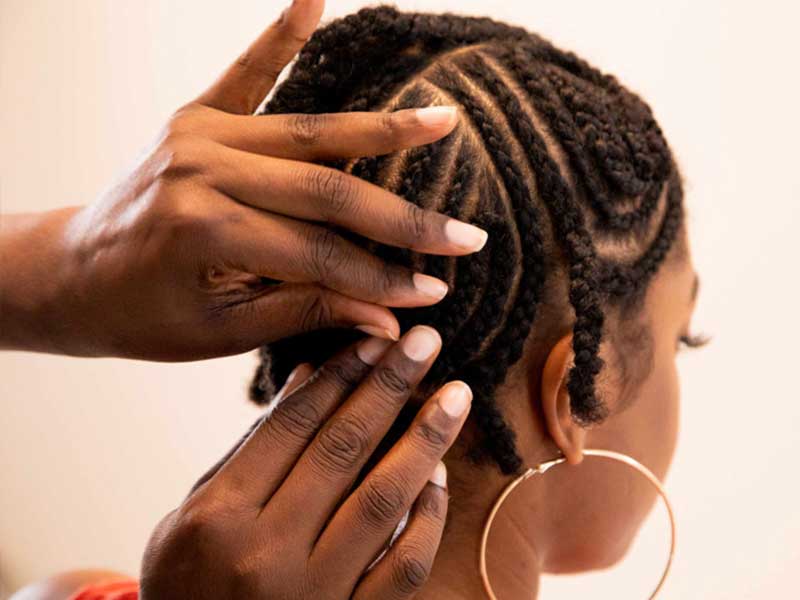 Keep doing until you have all loose braids on your head. Put a little bit more del on your edges. If the braids are too long, pin or sew them up to make them last longer.
In each wig installation, you should change the direction of the braids for a natural look. Also, it is best for the health and safety of your mane. We mean that it helps put your mind at ease.
Best braid pattern ideas for lace closure
Braid pattern for the middle part closure
This pattern is for those who want to create the perfect middle part. Create a straight line in the center of your hairline and start braiding. It is the easiest and cheapest to make. Sometimes, this technique works when you are wearing a wig or sew-in weave.
These braids are trendy among Hollywood celebrities, especially hip hop artists. It creates a stylish look but doesn't feel bulky at the end.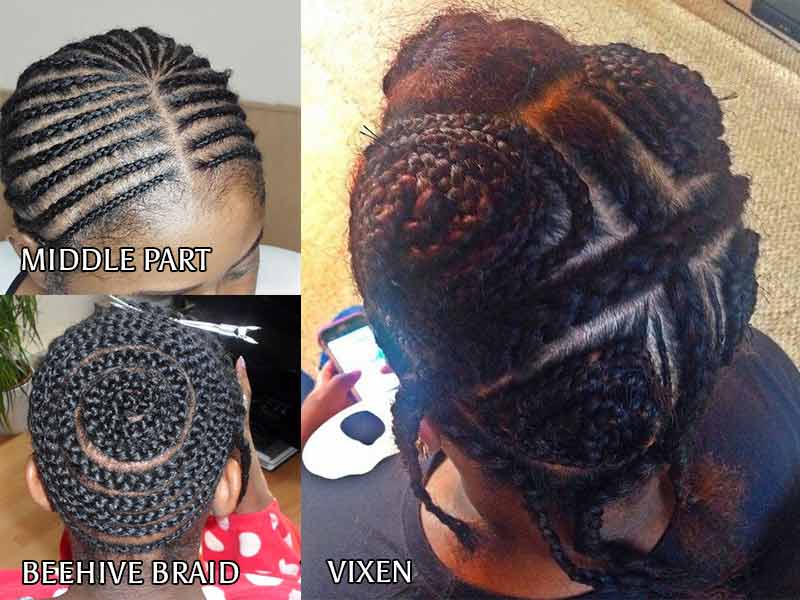 Beehive braid pattern for sew in
This is another technique for braid pattern for free part lace closure. It is popular as it is straightforward for you to wear an ideal hairstyle, such as curly braids or soft dreadlocks.
Plus, wig wearers love these braids as they are flat. When you braid your locks, it leaves a large surface area that works to enhance the sew-in style.
Vixen braid pattern
Are you looking for a braid pattern for side part lace closure? The vixen braiding technique is for you. It is versatile enough for you to get your dreamed look, such as side braids or updos. Part your hair into 2, 3, or even 4 sections and leave out sew in between them to allow for side braids. For example, you can make two-part vixen braids if you want to rock a two-part French braid. Try to do it rightfully to achieve a natural look.
Asymmetrical braiding pattern
The unique braid pattern is the perfect fit for lace front closure. To make the weave and wig more versatile, hairdressers create this braid pattern for lace front closure with creativity. We agree that it comes into being suit with different styling options. It will give your hair replacement system a more believable and flat look.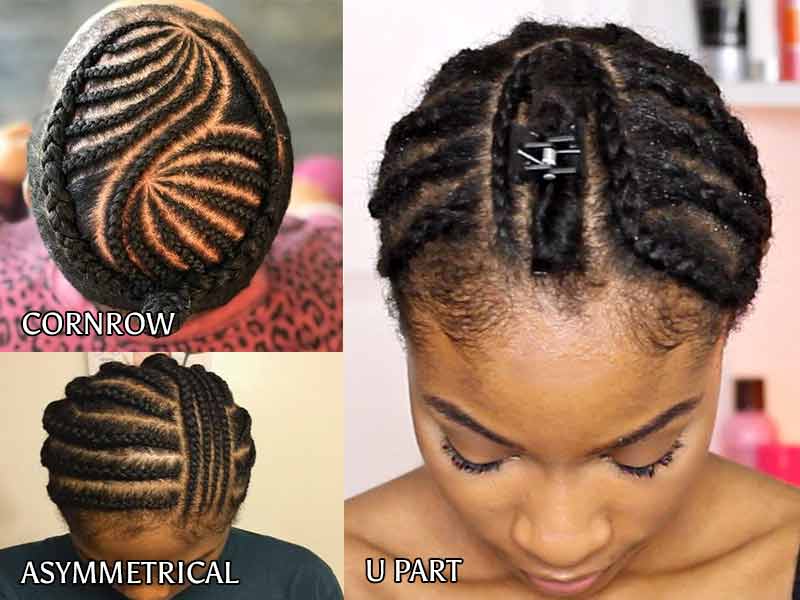 U part braid pattern for sew in with lace closure
Why people love this pattern? U braiding pattern provides wig wearers the versatility to try different styling options. It blends well with your hair system, making it look realistic. Just braid a U part hair section at the front of your head and braid the rest one as usual.
To make your sew-in weave or wig look natural, tie the braids neatly so that it mimics your own hair texture. Try this technique if you are looking to install full sew in with lace closure and some natural locks left out. 
Read more:
Cornrow braid pattern
Braid your natural locks to the back of your head and pin it at your nape. This braiding technique ins the best option for closure wigs, lace frontal wigs, and full lace wigs. Some say that it is a protective styling that can protect your strands and is easy to control.
Often, the braiding process is simple and quick if you are smart. We recommend visiting a hair salon and professionals or braiders can help you. Sewing the closure down your hair is the most time-consuming part; hence, it requires your patience. You can have a polished look with your hair extension for 12 weeks with proper maintenance. Please cover a wrap cap when sleeping so that it holds the closure down and in place.
In the last words
Bear in mind that don't pull or secure it too tight when creating a braid pattern for lace closure.  We recommend using loose braids to prevent your hair from damages. What's more, properly moisturize your hair with natural oils during the braiding process to avoid the possibility of dry hair and scalp. 
You can choose the best braid pattern for lace front wig and try doing. Share with us if you are satisfied with this post. We're more than happy to hear your opinion.