Wearers of human hair wigs and other hair replacement systems may be familiar with the conventional ways of installing their hairpieces. Not so many people know how to wear a lace front wig without glue or tape.
This method is undoubtedly free from hassle. You do not have to purchase adhesives. Knowing the techniques to remove it after then is not necessary, either.
Are you interested in it? Why do you not have a quick look below to discover how it is done!
Conventional ways of the wig application
1. Wear A Lace Front Wig With Glue
Relying on strong adhesives – for example, glue, for securing your lace front hair enhancers can lead to many problems. You cannot reverse some of them as well. For instance, wig glues are likely to block your scalp's pores, thus resulting in the damage of your hair follicles. It can hinder your hair from the healthy growth along the hairline. Not all, it can even thin out your hair which already there.
What is more to worry about? Latex is one of the most common ingredients in these glues. It is possibly behind allergic reactions in several wearers of hair systems. The consequence of such responses can be dried out strands, rashes, as well as your loss of hair.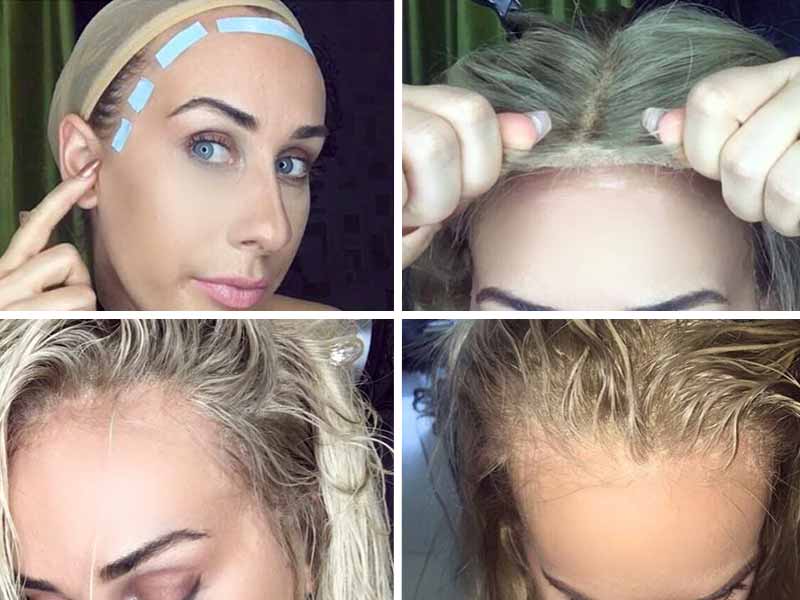 2. Wear A Lace Front Wig With Tape
It is famous as a bonding adhesive for your wig to stay secure. On a brighter note, it tends not to as damaging as its glue counterparts.
It usually features strips already portioned out. Yet, if you have strips, cutting them down to your preferred size is possible. Plus, it has the form of the roll similar to other regular tapes you are using. You can cut it down to the favorable size as well,
In general, have you suffered a problem with the hair system's glue in the past? Or are you searching for an alternative? You can indeed learn how to wear a lace front wig without glue or tape with ease. Dive in below. All the things you should know are right there.
Similar posts:
Preparing The Hair for The Hair System
Before you start, getting your hair as smooth and flat as you can is necessary. The choices vary depending on the length, texture, and type of your hair.
If you have a short head of hair or it is on the finer side, you may want to slick it back into the braid at your neck's nape. A ponytail is another option. After that, you should secure the braid or ponytail length against the head by using some bobby pins.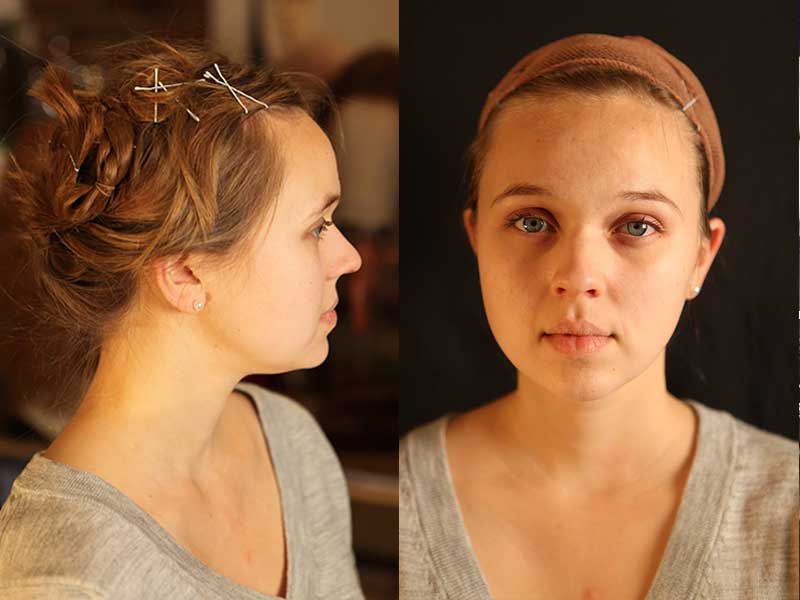 If you have long or thick hair, you can place it in cornrows. There is no need to create any particular type of design. Straight it back, instead. Follow with pinning your hair up.
Remember that before you put on a lace front wig without glue, you can probably wear a wig cap. Still, it is optional. If the lace fails to match your complexion, you can put on a cap, which is better suitability to your skin. Doing so will help you make a more realistic-appearing part.
How To Wear A Lace Front Wig Without Glue Or Tape
Is your hair is flat enough? If it is, let's learn the way of applying your unit right now. The installation process will vary depending on which method of application you select.
1. Combs and Clips
Some wigs have either combs or clips sewn onto them. One tends to be positioned at the head's top. The other is above each of your ears. There is also one located in the back toward the neck's nape.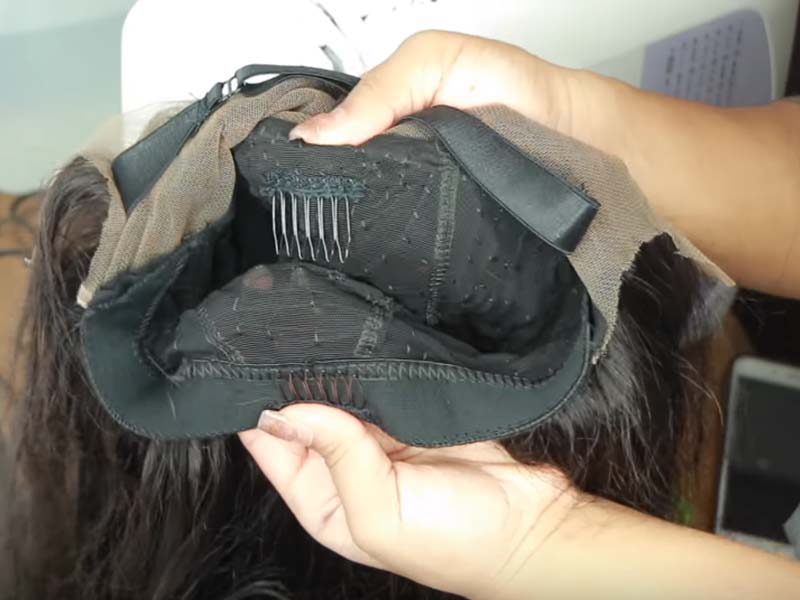 Such locations are quite standard. Yet, your wig supplier may do something different. Do you feel not secure with the way these things are placed? Then, you can remove them with ease by cutting the attached thread. Otherwise, you may want to sew more on. These accessories are not costly. You can reach for them at Lewigs as well.
Wig combs and clips are considered one of the things that you help you put on a lace wig without glue. The combs can attach to your bio hair just about the same as a barrette will. You can count on them, particularly when your wig already provides a snug fit.
2. The Method of Blending
It is not only great for your lace hair system but also a similar method that you can use for your half wig. Will you do this? Then, you should use a hair unit that is close to the texture and color of your hair. If not, the part of blending will not look nice. Pulling a few of the strands out of the style that it is slicked back into is necessary. How much to select should be based on the appearance you want to attain.
Picking up how to wear a lace front wig without glue or tape using this method means you should avoid using any tape. It can get directly into your hair. This way is most fantastic when you combine it with the clips or combs.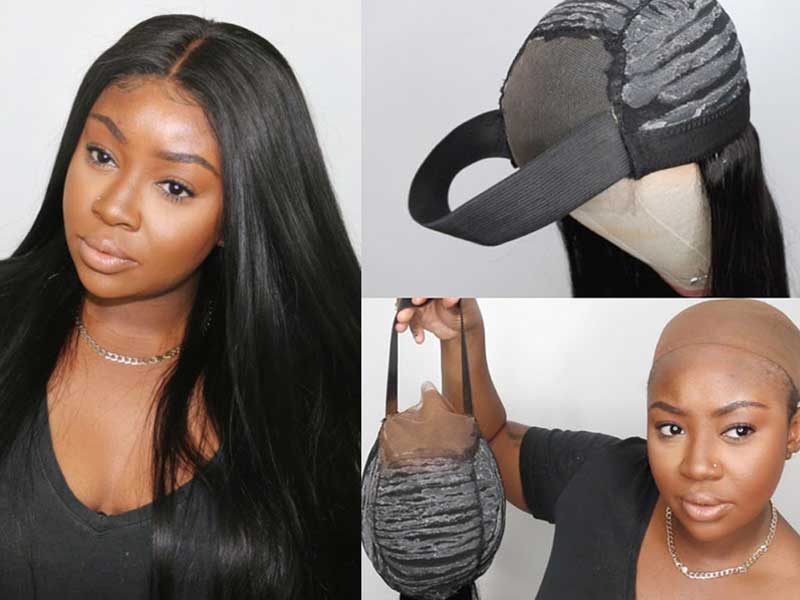 3. Elastic Band Attachment
For this method, you can buy an elastic band and then sew it horizontally across your wig's back in your nape area. The way helps the hair system lay flat. If you buy a hair unit which a little too large, this method should be yours. The band will function as a drawstring on the baggy sweatpants.
See more:
4. A Wig Grip
It is another excellent choice to put on a lace front wig without tape or glue. It is particularly useful if your hairpiece is a little too large. To be more specific, it will occupy a bit additional room which your head fails to fill on its own.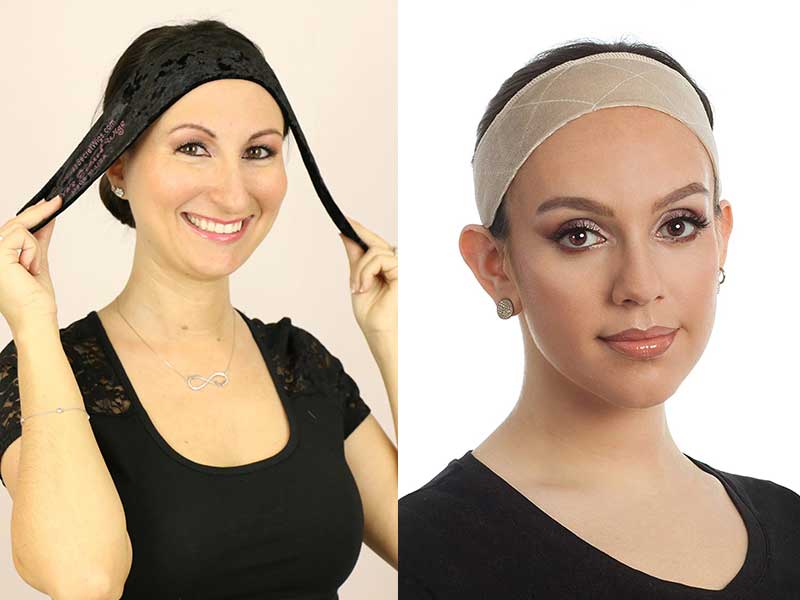 You can use this method on its own. Yet, you can make use of your combs or clips in this way. The grips tend to be comfortable – they will not snag or pull your hair.
The bottom line
We hope the above guide on how to wear a lace front wig without glue or tape is helpful to you. Which way will you select to secure your hair unit? Tell us by commenting below or leave us a message via our hotline or email: info@lewigs.com.
Also, if you feel interested in getting new human hair wigs for your own, take a look at Lewigs' product lines. We have excellent pieces of hair that could satisfy even the most discerning wearers.
Hope you enjoy!