Buyers now can easily find human hair for braiding in the same high-quality of hair as you do human hair for the weave. It is available in bulk hair form for braiding. As it is 100% real human hair, users can trim, curl, or style the braids in any way. Dive into our words to find out about this hair. 
What is human hair for braiding?
Put simply, human hair braiding hair looks like a hair bundle, and sometimes it comes with no weft. People also call it a hair bulk. It is available for rich hair colors and textures that give customers countless options. For different braiding hairstyles, it is the best choice.
Can you use 100 percent human hair for braiding? These days, women wear extensions to create many braiding styles. Although these hairs are often a little more expensive than synthetic ones, it's definitely worth it. You may guess, the human hair product is durable and natural that can mimic the look of your existing hair.
The best human hair for braiding will the illusion of full and natural braids. It looks like your own hair, and no one can detect it. Wearers can do so much with high-quality human hair for braiding. How can you do that? You can wear and style them in numerous styles and pair them with different outfits.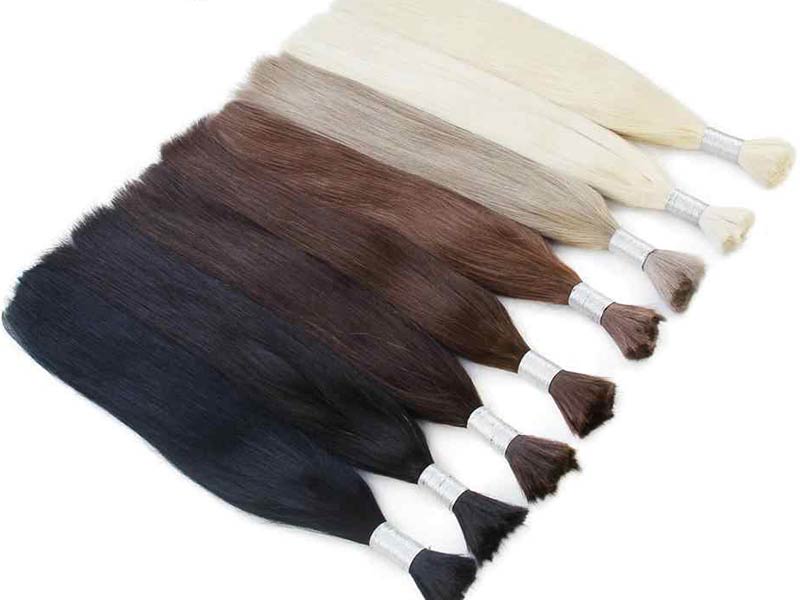 Pros
– Easy to work: Nice human hair for braiding comes out a smooth and clean look. You may notice that it's much easier to work with human hair systems. It does not tangle as fast nor does it feel like synthetic fibers.
– Available in different styles and textures: Customers easily find the hair they want. You want a human kinky braiding hair or wavy one, do researches on the Internet and choose the best one from a reliable store.
– Flexible: As we stated, the hair can be colored to dozens of hues as it is unprocessed human hair. Feel free to treat it like your natural locks and care for it.
– No damage to your existing hair: The hair is very lightweight and smooth, not heavy. If you use the hair for micro braids, you just need 4 bundles covered my entire head perfectly.
Similar posts:
Cons
Most beginners found it challenging when using human hair braiding hair. If you are not careful, it may become a mess. Ask for pros' help and advice to have a beautiful finished look. However, this is an unavoidable issue. Be patient and careful, you will be smarter.
FAQs related to human hair for braiding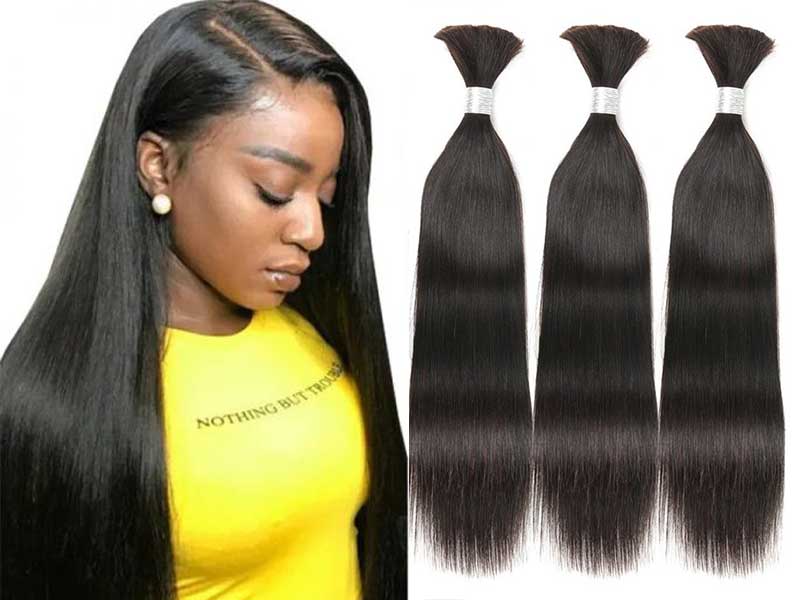 How many hair bundles (no weft) do you need for braids?
It depends. Women usually use 3-4 hair packs for braiding. For instance, you want to rock big box braids, just use 1.5 packs. You will need around 3 hair packs if you would like small braid styles.
What type of braids should I wear human hair extensions?
There are numerous braiding styles you can wear, such as Dutch braids, micro braids, box braids, and so on. Remember that the smaller braids you create, the longer they can last.
Will it damage my natural hair?
Human hair extensions are completely safe for your locks. Also, if the braiding process is done by an experienced stylist, it will minimize damage to the mane. Don't braid too tight as it may pull hair strands and cause several headaches.
Additionally, the damage may come from you not caring for the hair extensions correctly. When you notice the braids too loose, you should remove it to prevent hair damage.
How can I remove curly human hair for braiding?
Generally, you just simply unbraid it. Apply a natural oil to hair so that it slips the hair extensions out easily. Then gently brush hair to remove all braids. Finally, you shampoo and condition the hair as you like.
Can I reuse human hair extensions for braiding?
Don't throw your hair bundles away as it can be reused for another round of styling. Bear in mind that it is human hair, you may use it several times to get and maintain your desired hairstyle. Wear it in protective styles such as crochet braids, timeless box braids, and other creative braids. As long as you remove and store it carefully, you can keep the hair last longer.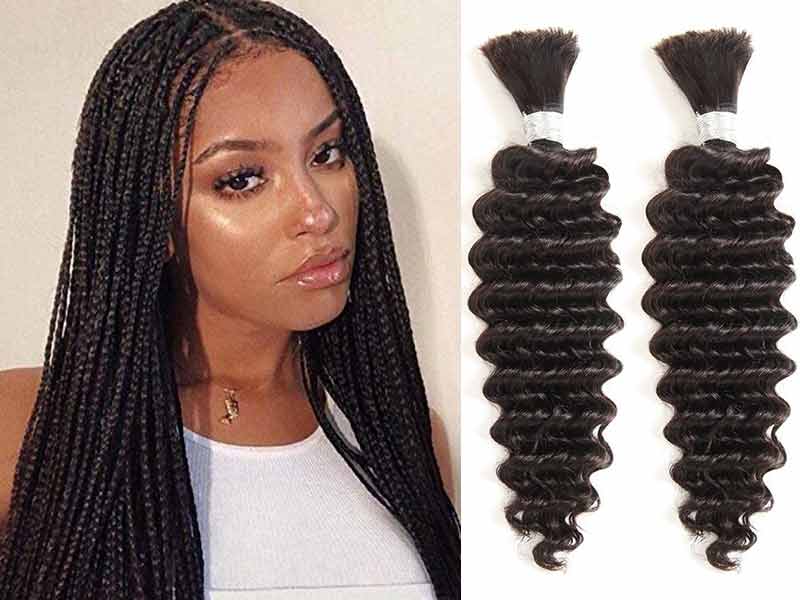 How do you take care of 100 human braiding hair?
Four ways to keep your human hair so they can last longer:
– Secure your braids at night. Always cover the hair with a scarf when sleeping. Select silk or satin scarf.
– Gently shampoo and condition the braids at least 2-3 times per week.
– Extend your braids by redoing the edges.
– Don't leave the braids too long. 
Read more:
Human hair extensions for braiding at Lewigs
Recently, braiding with hair extensions are a hot trend in fashion. The hair is designed and customized according to customers' requirements.  
Lewigs's human braiding hair is premium and luscious. Harvested directly from donors from Vietnam and Cambodia, our hair can be worn and braided in any style you desire. The quality of the braiding hair is top-notch and free of tangle. After you take it down, the braiding hair will appear in a deep wavy cor curly hair pattern. You should select the hair that has a similar color and texture to your existing hair, it will give you better results. Lewigs has a large collection of real human hair systems. You can cut, curl, and style our braids any way you wish. 
To sum up
There are various ways to achieve stunning and beautiful hairstyles, including wearing human hair for braiding. Keep in mind that hair extensions have a limited lifetime, so please take good care of them. 
Want the best hair product, stop searching, and start to get our soft and real human hair extensions for braiding. We are sure that you will satisfy with it, both the quality and price.
We know that you will take into consideration the product when buying online. Have any questions or queries in this field, leave your comments below. Our staff is here for you 24 hours at your service.