Do you have naturally thin hair? Are you tired of thin hair due to many hair problems? Do you want to improve the hair texture to have a better appearance? You can consider buying a frontal or closure. They were born to help people have thicker hair, then enhance our self-confidence. These two terms seem strange to many people. That is the reason why today we would like to introduce to you some basic information about two common hair systems, especially the difference between frontal and closure.
Frontal And Closure – Definition
What Is Frontal?
A frontal is a piece which goes from ear to ear, so you can cover the entire front with a frontal. Its standard size is 13 inches in length and 4 inches in width. Frontal is often an ideal option for those with thinning edges. The three common types of frontal are all lace frontal, silk and lace frontal, and all silk frontal.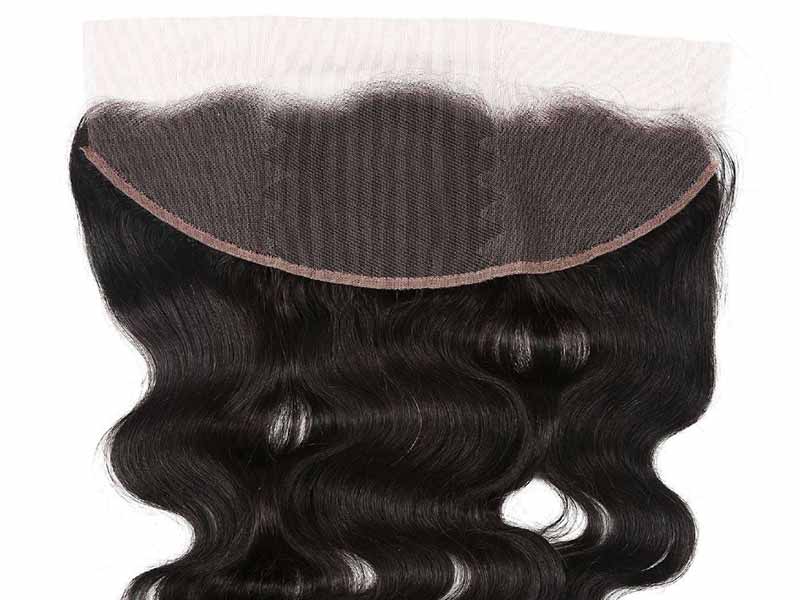 The all lace frontal has the whole front piece from ear to ear. You can glue the lace and sew it. Meanwhile, the frontal with both silk and lace has 4×4 silk in the middle of the frontal. The last type of frontal is all silk in the front. This type has silk from ear to ear with 13 inches long to 4 inches wide.
The advantages of frontal are versatility, different styles, ability to blend your natural hair and thinning hair and bald spots coverage. With a lot of advantages, it is understandable to know that it has an expensive price.
Related posts:
What Is Closure?
The standard size of closure is 4 inches long and 4 inches wide, like a perfect square. It looks like a horseshoe-shaped piece. You can find the closure which is made of lace or silk. However, many people choose a lace closure because they think it brings the exact part. Meanwhile, a silk closure creates a natural appearance because your hair strands look like growing directly from your scalp.
A closure is a good option for daily usage because it gives you a natural look and matches perfectly to your head, especially when you have small defects on your head. However, in comparison with other hair systems, a closure is not the most common type and it takes you more time to apply it to your head.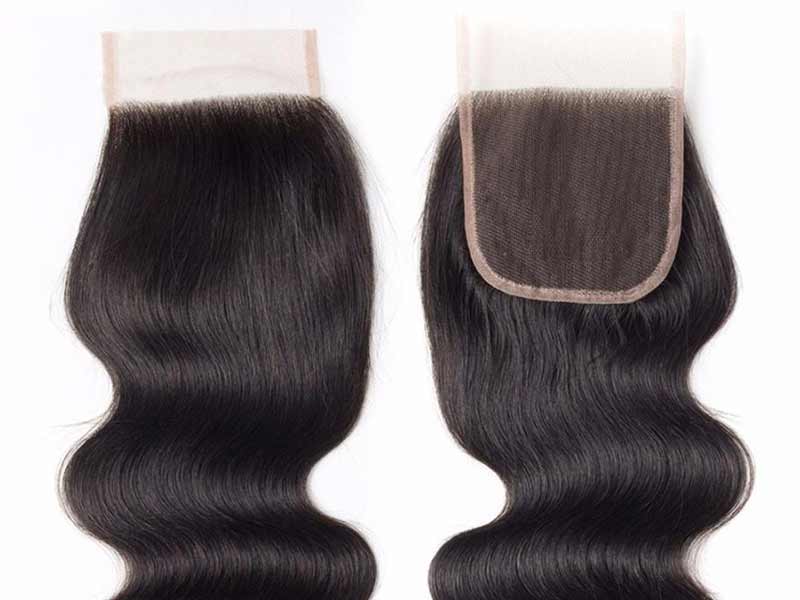 Frontal And Closure – Similarities
Both frontal and closure are made of both human hair and synthetic fibres. We recommend you to choose the human hair type to achieve a natural appearance. Furthermore, frontal and closure pieces are breathable and movable thanks to lace or silk materials. Moreover, we produce frontal and closure to serve the beauty demand of people. They help add texture to your real hair by applying with glue or tape. They also have many types such as straight, slightly wavy, body wavy, curly, kinky curly, etc. In addition, when using a frontal or closure, you can protect your hair from external factors such as pollution, UV rays, etc.
Difference Between Frontal And Closure
The first difference between lace frontal and closure is the size. A closure has 4 inches long and 4 inches wide while a frontal is 13×4 inches. A frontal is bigger because it is made to run temple to temple so that it can give greater coverage. Therefore, you can divide your hair into small parts, which means that a frontal is more flexible in styling. Meanwhile, a closure is smaller because it only covers a horseshoe size portion at the top or front of an install.
The second difference between a frontal and a closure is the style. Depending on your favourite hairstyle, you can choose a suitable hair system. To be specific, you can use a lace frontal in pulled hairdo but the closure cannot. With the closure, you can comb your hair back without worrying about the hairline.
The third difference is the price. A frontal is more expensive than a closure. The reason for the higher cost is that a frontal is considered as a halfway done wig. However, a closure is still an ideal option for daily life because it is more realistic and easier to maintain.
Frontal or closure, it is your choice. In case you cannot find anywhere to buy one, you can try our products. Lewigs provides you with many options. Our closures and frontal are made from 100% Cambodian and Vietnamese human hair at an affordable price. With regular care, our products can last for a long time. In addition, our products have different styles and different colors for you to choose the most suitable one.  Moreover, human hair closure and frontal give you a natural look, so do not worry about being recognized that you are wearing wigs.
Read more:
Furthermore, you receive suggestions about taking care of the frontals/ closures such as caring products, what should and shouldn't do with the products, how to apply them quickly and easily, etc. Do you wonder if we do not have the product you desire (color, length, density, etc.) Do not worry about that. You can also send us your hair length and color you want. We will customize the hair extension depending on your order.
Final thoughts
In conclusion, if you are looking for an easy way to make your hair thicker, you can consider buying a frontal or closure. It is helpful and easy to use for daily life. We hope that the information we mentioned above about the difference between frontal and closure is useful for you. Each type has both advantages and disadvantages, but they are still among the most favorite hair wigs of people around the world.
However, remember to choose the high-quality one to not only have a beautiful appearance but also avoid side effects when using low-quality products such as headache or allergy. In case you want to buy a frontal or closure from Lewigs, please contact us through our email or hotline. We will try our best to help you get the most suitable one. Please visit our page Lewigs if you want to read more about hair care.