There has been a lot of talk about the usage of the essential oil for hair, including coconut oil, olive oil, argan oil, etc. However, do you know that sunflower oil also works to improve the overall health of your tresses? Sunflower oil for hair provides the same benefits as other widely known essential oils. It is rich in vitamin E, fatty acids, as well as antioxidants that help heal damaged hair by the sun and nourish dry hair and scalp. Also, sunflower seed oil for hair acts amazingly in locking in moisture, keeping strands healthy. Not to mention, this oil is mixed with other oils to leave hair smooth. There are a variety of sunflower oil products available on the market now. 
In the following post, we introduce you to some sunflower oil benefits for hair and how to use it effectively.
What is sunflower oil?
Sunflower is a crop, known for its height and distinct look as well as its edible seeds and oils. It is native to the Americas. Not for cooking, sunflower oil is among the best choices for those with dry locks and scalp. The cosmetic oil is obtained from the seed through pressing or extracting. It contains nutrients, minerals, and fatty acids that are necessary for healthy strands. Sunflower oil works by penetrating deep into hair strands so that all your hair is well moisturized.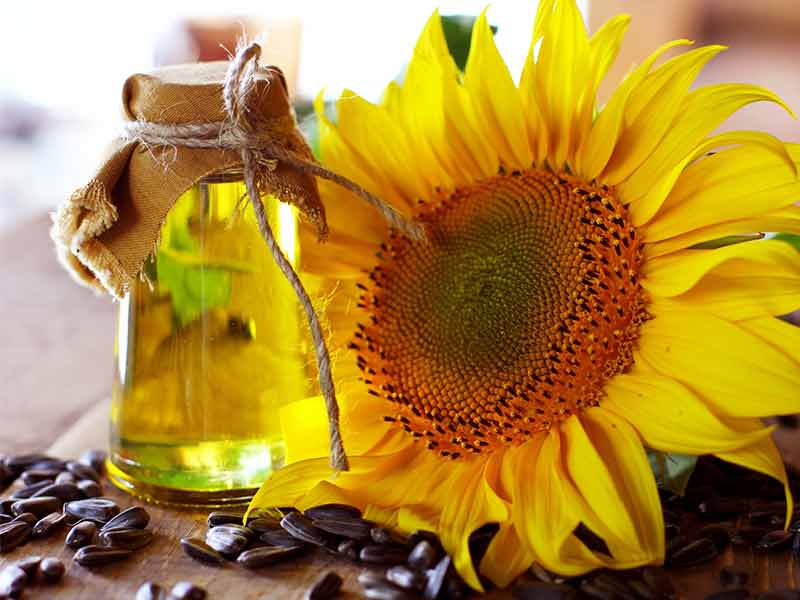 Is sunflower oil very absorbable?
Yes! It is absorbable when applied to your hair, scalp, and skin. It makes the oil easy to use directly. We are sure that some think it is very greasy when applied to the hair. But it has a light and thin texture that is easier to apply. Hence, it does not clog your hair follicles and pores, helping to keep your hair and scalp fresh and strong.
Is sunflower oil good for your hair? It is made from cold-pressed sunflower seeds, helping stimulate hair growth. The solution is added vitamins and fatty acids that give your natural locks the right food to grow thicker. What's more, it acts as a conditioner and moisturizer, leaving hair look and feel thicker and smoother. 
Other oils:
Benefits of sunflower oil for hair
Here're the reasons why you should use sunflower oil in your natural hair routine:
Improve scalp health
Your healthy scalp is without a doubt the foundation of your healthy hair. It determines your hair growth and health. If your scalp is dry, it cannot provide enough natural oil and nutrients to hair strands, leading to hair breakage. Invest in a sunflower oil-infused product to treat your scalp and natural locks. The oil is packed with a high amount of essential nutrients like vitamin E and antioxidants. It helps reduce bacteria, improving dry scalp. Besides, sunflower oil acts to reduce the appearance of thinning hair, male and female pattern hair loss.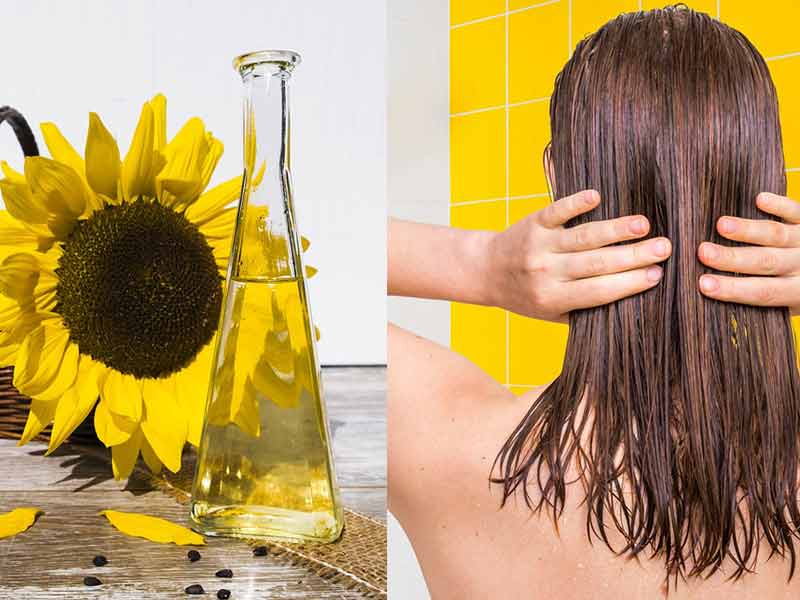 For scalp treatment, you gently massage a quarter-sized amount of sunflower oil into your scalp skin. Run your fingers or comb it through your damp hair to the ends. Cover your head with a towel and let the oil sit for at least 20 minutes. Then rinse it thoroughly with lukewarm water and shampoo the hair.
Mix sunflower oil with argan oil or other essential oils if you want a richer way to nourish your scalp as well as bio hair. Then apply the blend as you plain sunflower oil.
Encourage hair growth
Some people are skeptical about the effects of sunflower oil and they wonder "is sunflower oil good for hair?" Of course! It moisturizes the hair, stimulating natural hair growth. This essential oil works as a natural moisturizer as it is infused with vitamins and minerals that produce healthy hair growth. It includes oleic fatty acids that are known to be an essential acid to stop hair breakage.
Plus, many studies show that sunflower oil includes gamma alpha-Linolenic acid (GLA) which is proven to stop your existing hair from getting thin as well as treat hair loss and baldness. But remember to apply the oil directly on your hair and scalp to get the best result. As long as you use it in moderation, it will not increase scalp oiliness and leave smooth and silky hair.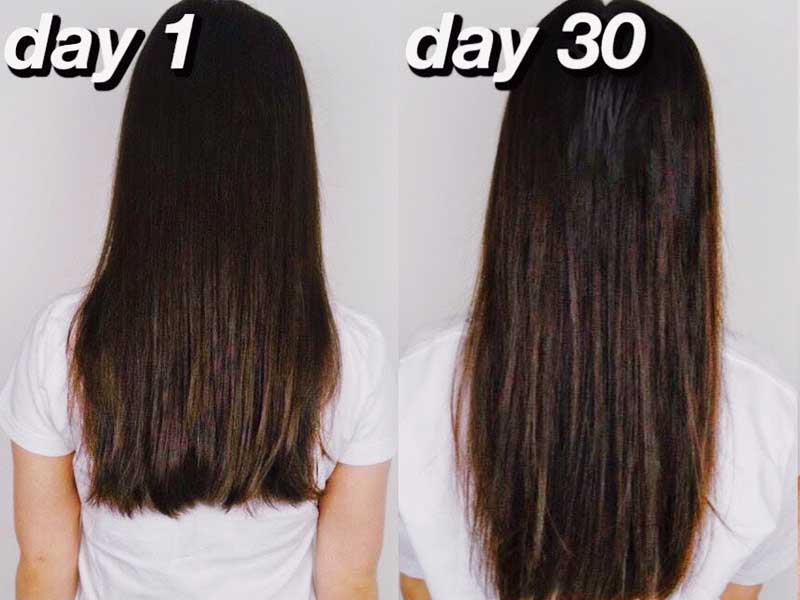 Packed with minerals, such as calcium, iron, and potassium, sunflower oil for hair growth is a great solution to stop further hair fall and stimulate new growth. The useful additions will help keep your body and hair looking and feeling great. 
Jump to:
Remove frizzy hair
Another benefit of sunflower oil for hair and skin is helping prevent UV damage and diminish frizzy hair. It has deep moisturizing properties while providing hair shine and softness. If you live in a climate where the sun shines often, your hair loses moisture quite frequently. Hence, sunflower oil is a savior and it helps to add shine and moisture to hair strands. Apply this oil for hair, you are able to get out and about without having to worry about keeping your existing hair covered.
Sunflower oil has a light texture and works as a conditioner. Massage it on your scalp and natural locks once a week for soft and shiny hair. Also, it is not too greasy and never weighs down your tresses.
Work on high porosity hair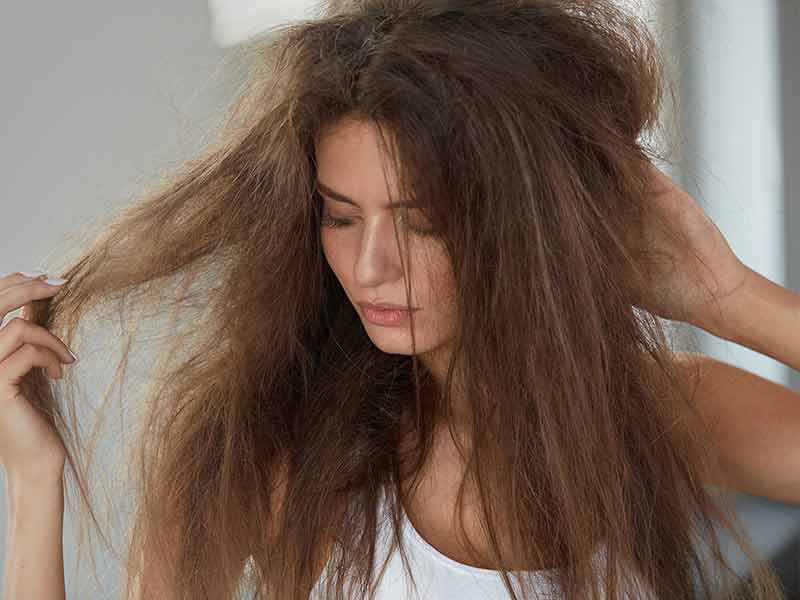 It is not a bad idea if you use sunflower oil for high porosity hair. Sunflower oil contains a high concentration of Polyunsaturated fatty acids (such as linoleic acid and oleic acid). They easily penetrate through hair strands, hydrating hair as well as fixing split hair ends. It is a natural oil you want in your regimen. Give it a try and you cannot guess how your hair and scalp react.
To conclude
The sunflower oil benefits for hair growth are various and there are different ways to use this cosmetic oil. We hope that after some sunflower oil for hair benefits, you will learn a new method to stimulate your hair growth, moisturize your natural locks as well as treat your scalp problems with sunflower oil. 
Please remember that with proper care you can keep your natural locks more beautiful and healthier. If you have any questions about hair care tips or other things related to wigs or hairpieces, please contact us at our hotline.