You are a big fan of essential oils as it helps maintain your hair beauty. So what is the best essential oil for hair growth? It is extracted from plants including barks, seeds, flowers through different methods such as distillation or evaporation. Typically, it has a characteristic aroma and is beneficial for health and hair. Plus, these oils are practically magic. Not only calm the senses, but it also boosts your hair health. It is believed as a DIY potion for all hair types, from black hair to colored hair, natural to damaged hair. Then look no further than the expert-approved essential oil for hair growth recipe, from peppermint to lavender.
Peppermint essential oil for hair growth
You already know that peppermint oil is great for relaxation, on your neck and temples. It is also beneficial for growing hair. Apply and massage it into your hair and scalp, then wait and feel. It has a cooling effect on the skin as well as stimulates your hair follicles. A published study in 2014 indicated that it was an essential oil recipe for hair growth. It can help with scalp problems like itching and dryness.
Some use peppermint essential oil as a part of their hair care regimen and remedy for hair loss. Peppermint is a vasodilator increasing circulation. Improving blood flow is beneficial for hair growth and preventing hair loss. You can find it in popular shampoos, skin creams, and other products. Plus, peppermint oil also imparts a freshened scent on the scalp.
Cedarwood oil for hair growth
The oil is extracted from the bark and cedarwood through distillation method. By maintaining the scalp healthy and happy, cedarwood oil is great for growing hair. How does essential oil work? It increases blood flow, eliminating dry and flaky scalp, brittle hair as well.
What's more, it is a wonderful hair tonic with shine enhancement and dandruff reduction. This treatment stimulates new hair growth, reduces thinning hair as well as encourages thicker hair. The hair scalp is also improved. Cedarwood essential oil is also a common ingredient found in plant-based perfumes.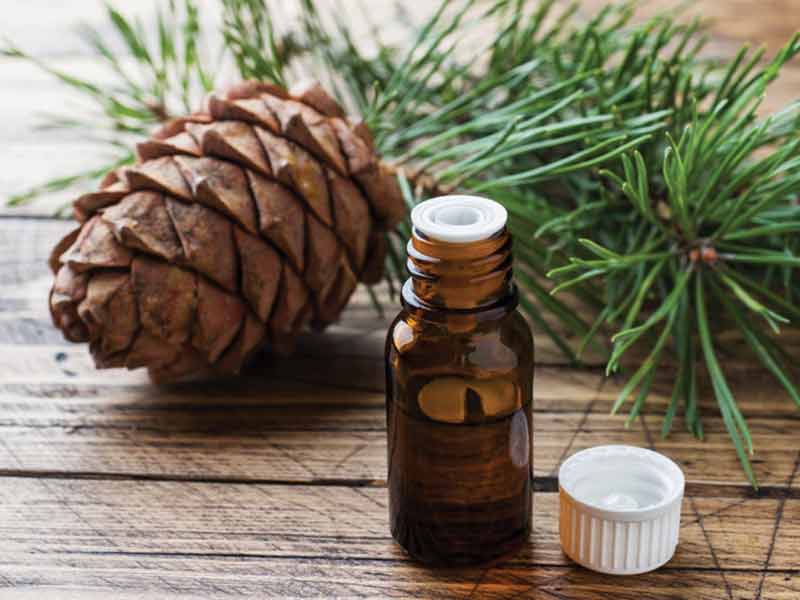 What are the essential oil recipes for hair growth? To get the best benefit, you should add 2 drops of cedarwood oil into a tablespoon (tbsp) of coconut oil to make a hydrating mask. Use your hand to apply it on your hair and massage so that your scalp can absorb fully. Leave it on your scalp for 10 minutes and rinse it out with fresh water.
Related posts:
Rosemary essential oil for hair growth
This is among the best essential oil for hair growth. Some said that rosemary oil comes to their mind first when thinking about treatment for hair growth. Apply a few drops on your hair, it may do wonders for your natural locks.
A published clinical review indicated that massage your scalp with rosemary oil daily can help hair growth and protect against hair loss. The oil is a great choice for hair thickness as it reduces and balances oily production at the follicles. Furthermore, its aroma helps users feel comfortable, especially in the morning.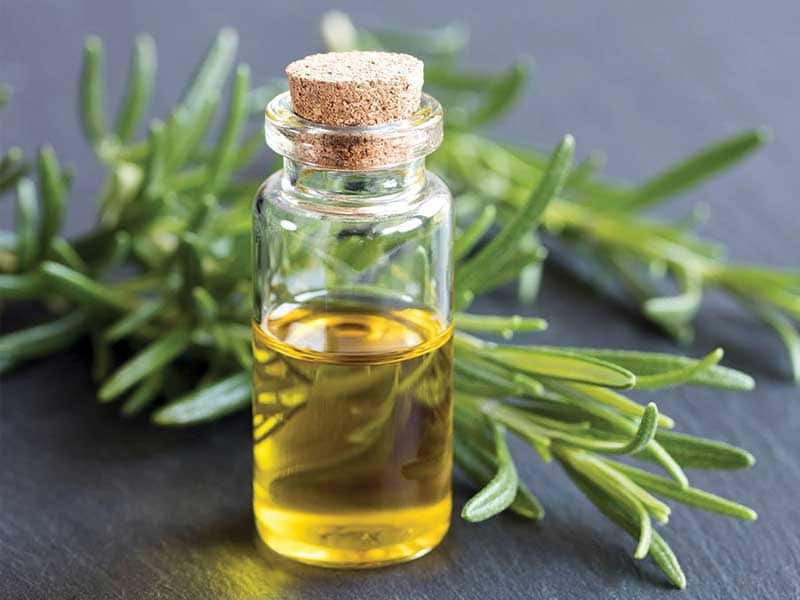 How to use rosemary essential oil for hair growth? We suggest blending 5 drops of rosemary oil with 2 tbsp of carrier oil of your choice, like coconut or almond oil. You can add it to your conditioner if you like. Massage it into your scalp after a shower, and leave it on for 10 minutes before rinsing it out.
Tea tree essential oil
This essential oil blend for hair growth is great for cleaning up your hair and skin. According to professionals, tea tree oil is widely used to combat infections. It helps open clogged hair follicles, encouraging hair growth.
It is a magical treatment. Treat dry scalp, dandruff, and hair loss. Use essential oil shampoo recipe for hair growth, it reduces itchiness and greasiness. It acts as a natural conditioner so it is safe to use without causing irritation. Tea tree oil is effective in treating dandruff, solving dry scalp, it may prevent excessive hair from falling out. As a whole, this essential oil for thick hair growth is effective in new hair growth.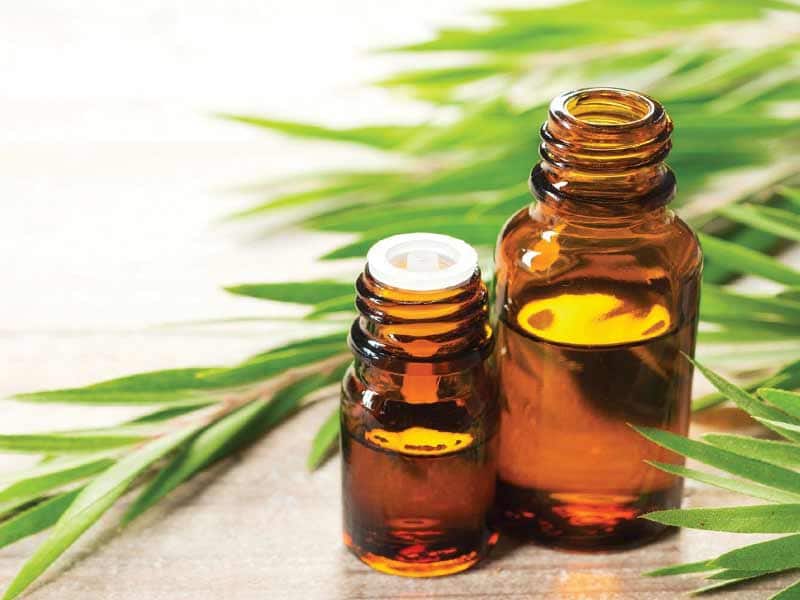 You should follow the manufacturer's directions since the essential oil products have many concentrations. Some are highly concentrated oils and others are blended in a cream.
How to make a stimulating essential oil blend for hair growth? You put a few drops of tea tree oil into your existing hair products, shampoo or conditioner. Use it daily. If you use a carrier oil, blend 3 drops with 2 tbsp of the carrier oil. Apply it equally on the hair strands and scalp, wait for 15 minutes. Wash it out with water.
Clary sage essential oil
The oil is extracted from the buds and leaves of the clary sage plant. Manufacturers use the steam distillation method to get extracted oil. The scientific name of the clary sage is Salvia sclarea. Throughout history, clary sage is a type of herb.
This oil blends for hair growth contain geraniol, linalyl acetate, linalool, etc. that are effective in growing hair strands. It helps boost hair strength, eliminating hair breakage. Essential oil shampoo for hair growth that contains clary sage is beneficial for killing bacteria and fungi. It helps solve the itching scalp, curbs the growth of bacterial infections. You can combine with conditioners or carrier oils to facilitate maximum absorption and effects.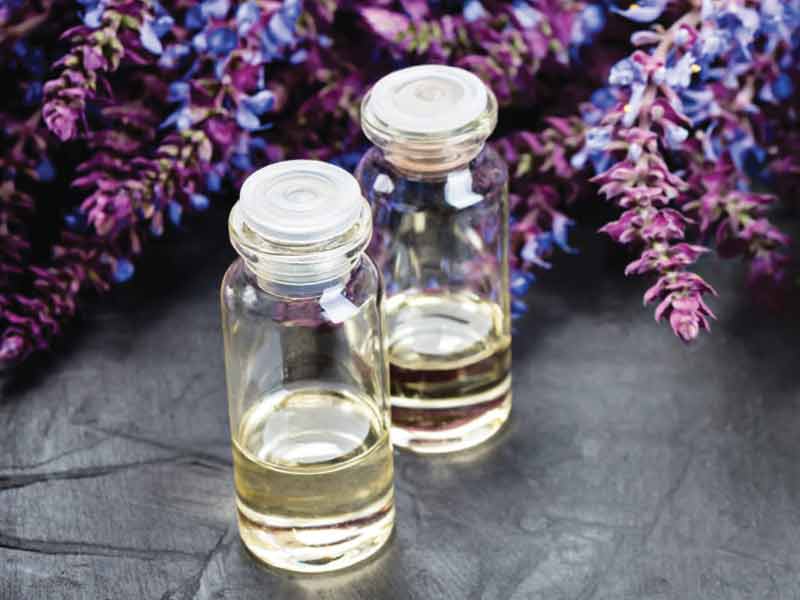 It is also used as an excellent aid in cleansing the eyes and brightening the vision. Furthermore, it can help balance and regulate the production of natural oils in your skin. Apply the oil in your oily or dry skin, it may make you look younger and beautiful.
How to use:
Mix 3 drops of clary sage essential oil with your conditioner or a tbsp of carrier oil such as almond oil. Apply the mixture on your hair and leave it 10 minutes, then rinse it out. You can use it daily or twice per week.
Lavender essential oil for hair growth
Is the essential oil good for hair growth? In fact, lavender oil is used to reduce stress and speed up hair growth. A 2016 study showed that lavender oil used on mice made them grow more hair. Moreover, their new hair grew thicker and faster than normal. With antimicrobial and antibacterial properties, the oil is beneficial for scalp health as well. It also works itself to reduce and kill head lice.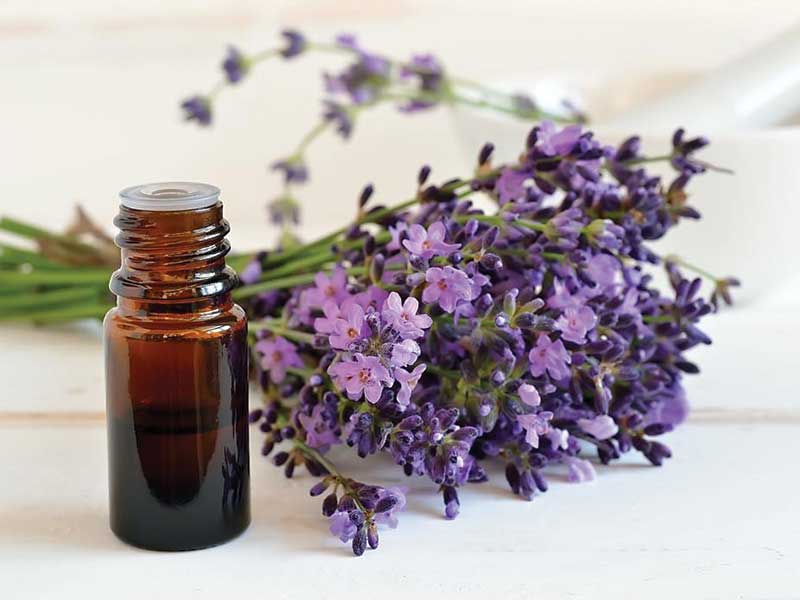 Plus, lavender essential oil soothes your scalp and mind due to its natural sedative characteristics. Lavender oil is gentle and has a calming scent, you can use it more often. It helps with hair problems like baldness or alopecia, so you can safely use the oil on your natural locks. Mix it to your favorite shampoo and conditioner so that it works best on your tresses.
Besides the essential oils listed above, you can try using another essential oil mix for hair growth out there. Lemongrass oil, thyme essential oil or Ylang-ylang oil. All of them are recommended for hair growth.
See more:
Essential oil safety
It is a natural product, it is completely safe for users. Dilute the essential oil with another product such as conditioner or carrier oil to get the maximum effects. Follow the manufacturers' instructions to make sure that you use it in the right way. And it is particularly important for purchasing essential oil for hair growth from trustworthy retailers. They will supply you with the best product.
Hopefully, after reading this post, you can determine "What essential oil is good for hair growth?" Apply the oil on your hair as a hair care regimen. It can promote hair growth and prevent hair from falling out. It also has other perks for hair and scalp health, so don't hesitate to invest in.