Are you bored with your hair extension shade? Are you looking for a new hair hue? Do you wonder how to dye hair extensions? Unlike artificial fibers, human hair extensions can be restyled and dyed to get vibrant hair. Wearers can do anything with human hair systems similarly to what you normally do with your natural locks. Even, you pair the dye with a low volume developer when coloring the extensions. Keep reading to the end of this post to know how to dye your hair extensions lighter.
How to Dye Your Hair Extensions to Match Your Hair
Before starting coloring the hair, you need to prepare:
– A box of hair dye that is closest to your natural hair hue
– Some piece of tin foil
– Hair coloring brush
– A regular brush
– A bowl
– And some extensions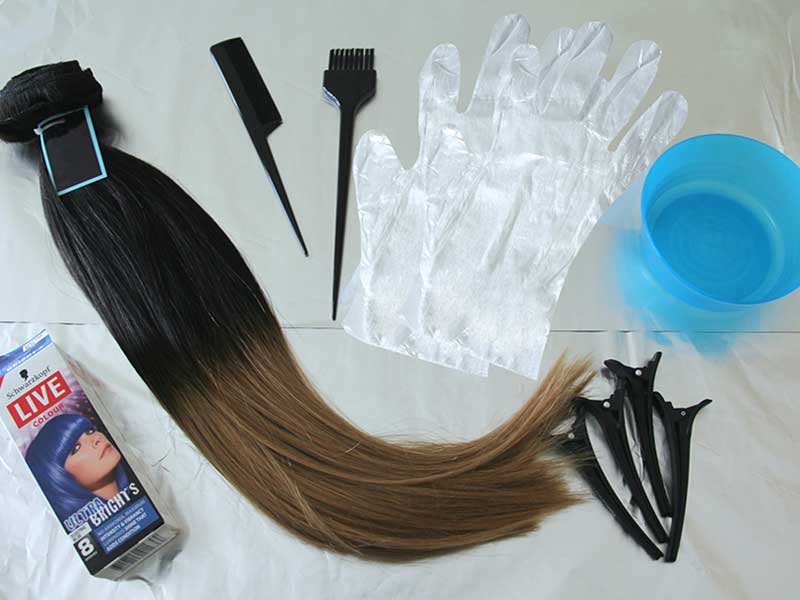 Here's the detailed process on how to color your hair extensions:
Step 1: Brush your hair extensions
First, you get two pieces of foil to cover the area where you are going to place the hair extension to dye. Make sure that you get enough pieces so that you don't get any of the other areas dirty.
Then, gently brush out the hair extensions to remove all tangles and knots. Lay them across the foil.
Step 2: Prepare the color
Prepare your hair dye. To get the right hair color, you should mix the hair dye and developer equally.
Take approximately 3–5 ounces of the dye for your extensions, but you can get more depending on how many extensions you use and the hair length. You mix the mixture in a bottle and shake it well. Until it is completely mixed, you get your bowl and pour the mix out.
Other tips:
Step 3: Apply hair dye
Don't forget your gloves for this part. Use a hair coloring brush to completely saturate each section of the hair. You grab the top part of the hair extension, then carefully and slowly add the mixture. Make sure you get both sides of your hair systems, from tops to ends, covered with the hair dye. You start from the top and move downward to the hair ends. If you don't follow the direction, it may damage the hairs and will leave them frizzy and disheveled.
Once you get the extensions covered with the dye, go back through them again and add extra dye if you want. Wrap these hairs with a plastic wrap so that they will not dry out before being soaked in. If you don't use plastic wrap, you can fold the tin foil over carefully.
Step 4: Let the hair dye process
Allow the dye to process for the amount of time specified on the box, from 15-20 minutes. Remember to check a small hair section every 5-10 minutes during the process. How to check? You gently rub the color off the extension with a paper towel, and reapply the mix after checking. Don't rush it!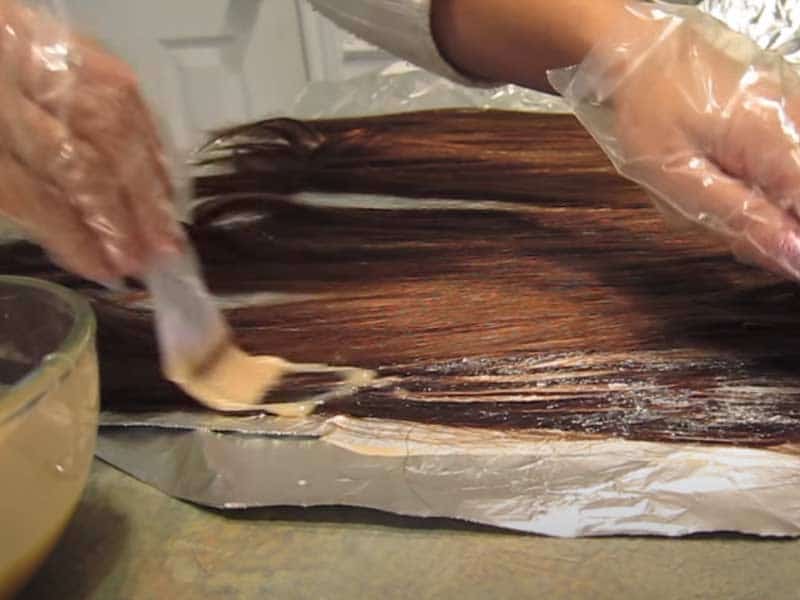 Step 5: Rinse the hair
On the next step on how to dye virgin hair extensions, transport your hair extensions over to a sink and start rinsing the color. Utilize cool water at low pressure and run your fingers gently to rinse the excess out. Allow the water to flow in the direction that the extension naturally falls to prevent them from tangling. This step may take 15 minutes, keep rinsing until you remove all the color. Follow up by shampooing the extensions one by one. You should invest in a gentle, moisturizing, and sulfate-free shampoo that is safe for color-treated hair. When the water turns clear, condition the hair for 5 minutes. Continue rinsing the extensions.
Step 6: Dry the hair
After these hairs are rinsed completely, lay them down in a towel. Let pat extensions dry with the towel, then let them air dry. Now, you can style the hair.
Do's of Dyeing Your Hair Extensions
Buy a semi-permanent hair dye from professional hair color
You know, your extensions are not your real hair; hence, use semi-permanent colors making the coloring upkeep much easier. It will not break down the hair cuticles or damage the hair strands, it is safe to be applied on the extension.
Do a test strand prior to coloring all hair extensions
It is simple. You blend the hair dye into a bowl and apply it to a small hair piece. Check whether you are satisfied with the result. If not, you can make adjustments to the formula.
Discuss your colorists if you are going to color the hair
Your hair colorists are experienced in coloring hair and they ensure the hair color goes as intended. Your colorist knows which product gives the best results, as well.
Pre-wash the extensions before dyeing
This step helps the hair strands absorb color evenly. But wash your extensions with sulfate & paraben-free shampoo that is safe for treated hair. We recommend washing the air one by one to avoid tangling. Don't rub the hair and treat it carefully.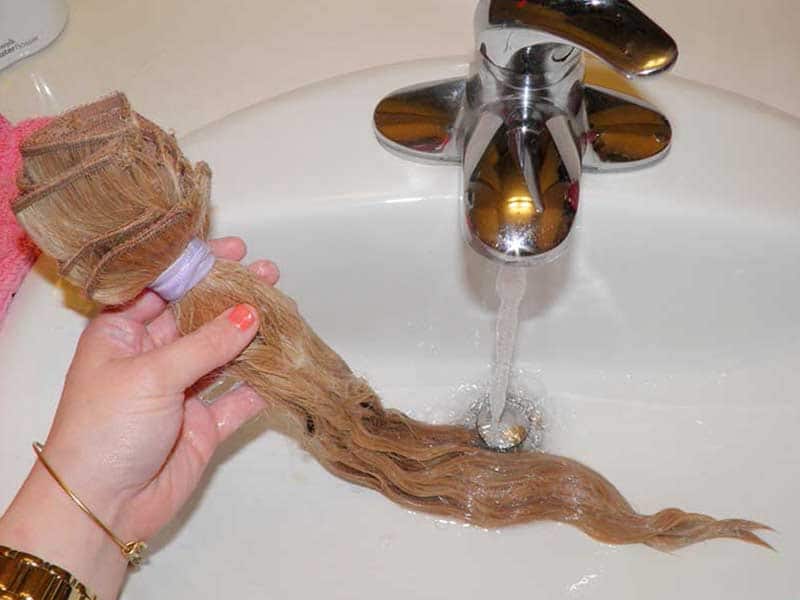 Apply the color to both sides of extensions
Make sure that both sides of the hair extensions get covered in color and in one direction. This helps the color of your extensions appear evenly and not patchy. When applying the dye, you start from the root and move downward to the ends, in one direction. Follow the manufacturer's instruction and amount of time specified on the hair dye box to reach the best result.
Maintain a hair care schedule
This is another important thing you should notice when learning how to dye hair extensions. Color-treated hair needs extra care. After dyeing, follow up with a gentle shampoo and volumizing conditioner to add more moisture, nourishment, and shine to the hair. You can leave the conditioner overnight for the best results if you want. We recommend using items that are specially designed and formulated for color-treated hair because they keep the hair healthy and nourished. Often, these products contain essential oils: coconut oil, argan oil, avocado oil, and so on.
Don'ts
Utilize any bleach
We do not recommend bleaching the hair on the extensions if you are planning to color the hair. The bleach will break the hair cuticles and damage strands. It may alter the hair quality and integrity of your system.
Use over twenty-volume peroxide
You know, hair extensions cannot absorb natural oils as your bio hair; hence, it is drier. Select the hair dye and developer with twenty-volume peroxide so that it is safe for hair strands. That way helps protect your human hair extensions from being dried and tangled. If you can, it would be better if you buy a dye in a creamy form. It is often gentle.
Purchase products contain harsh chemicals
Stay away from these shampoos as they will dry the extensions out quickly. The hair will become more prone to tangling and matting. Another downside of these ingredients is that they fade the hair color. Hence, check the ingredients of the product before buying it. Ensure that the list of ingredients does not contain these words: sodium laureth sulfate (SLES), ethanol, Isopropyl alcohol, parabens, and more.
Overwash colored hair extensions
When learning how to dye hair extensions, you should find out how to protect the hair, also. Never wash colored hair extensions too often because this process will strip the hair of its oils and fade the hair color quickly. Instead of washing the hair every day, trying 2-3 times per week is ideal. Or you can buy a good dry shampoo to keep the hair clean.
Jump to:
How to Take Care of Colored Hair Extensions
Once you have got the perfect shade of hair color, the next important thing is to take care of them carefully. Make sure that you use the right hair care set to keep them healthy and prevent hair from fading color. Here're some tips and tricks you can use to have shiny, silky, and soft hair extensions after coloring:
– After dyeing, wait for a full 72 hrs before shampooing. If you wash them immediately, the hair will become weaker and weaker.
– Try using a gentle shampoo and conditioner that are formulated to keep your hair color from fading. The label will state whether it is sulfate-free or not.
– Never wash your color-treated hair replacement systems with hot water. If you do, your hair's cuticle is opened and the hair color is washed out.
– Often, colored hair is vulnerable. In addition to applying conditioner, you have to protect the hair from heat. Don't forget to spray heat protectant before using heat styling tools.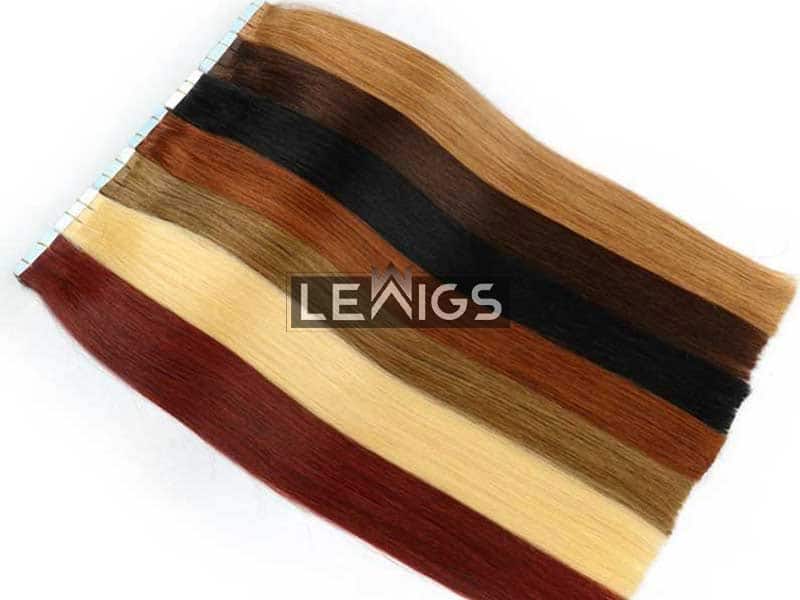 All in All
Ultimately, toning hair extensions is a straightforward process if you follow our guide. With a little skill, patience, and adherence to protocol, you can achieve the hair color you desire. Hope that our sharing on how to dye hair extensions helps you somehow. Kindly note, the color you use to dye your extensions should match your natural locks as closely as possible. But if you are still a little confused or have any questions, feel free to leave your comments below.
Just remember to stay tuned to Lewigs' site for more information about human hair extensions and wigs. At our factory, we also customize and dye the hair for customers. Tell us the hair hue you want and we will give you the ready-to-wear extensions. It takes only days to process and deliver the hair. Don't hesitate to give comments below and offer us your suggestions!
Don't forget to like and share our post. Many thanks!