Getting human hair extensions can be a smart investment if you are dreaming of long and gorgeous tresses. These hair products are created to add more hair length and volume to your own hair. Lewigs understands that there will be many questions you would like to consider before taking the plunge. The most hair extensions FAQ relates to hair care tips, types of hair, how to wear, and much more. Then scroll below to find your questions here.
Q: So, what are the benefits of real hair extensions?
It is undeniable that hair extensions are a great way to achieve your desired hair. Compared to hair transplantation, It is not too expensive and never hurts your scalp. Don't hesitate to wear this hair as it is made of real hair strands. Opt for the hair made of virgin or Remy hair as it minimizes all hair problems. Nowadays, synthetic hair is high-quality but it can't last long as human hair extensions do. Also, it is not as flexible as the human one.
For those with thinning hair and baldness, hair replacement systems can be used to add desired thickness and boost in volume. Just get an extension and apply it properly to get a natural and beautiful look. Besides, you can use colored hair extensions to add highlights or get the hair hue you want without dyeing your natural locks. The extension gives fantastic length and blends well with your own hair. It is suitable for both daily use and special occasions. If you would like to have a flawless look, let's choose a suitable hair for your own and get any women-hairstyles you like.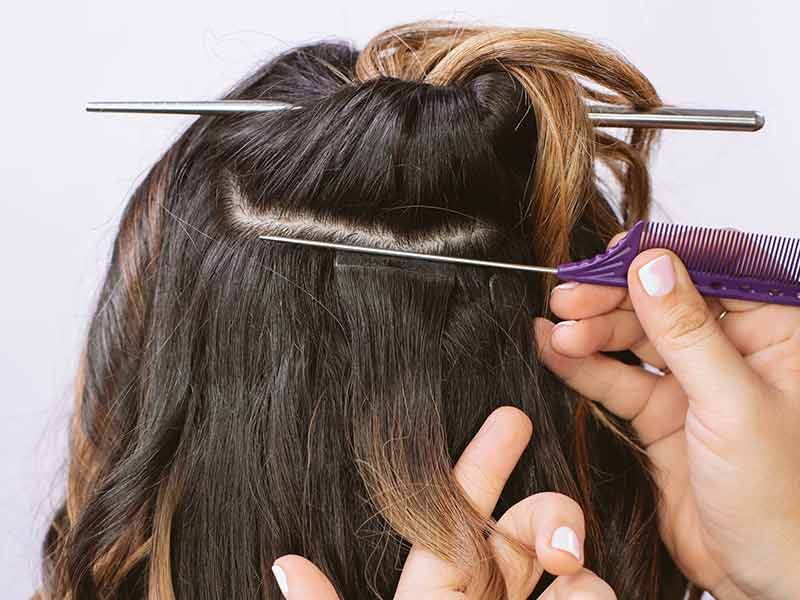 Q: Will the hair extension damage my bio hair?
It can be one of the most burning questions in "FAQ hair extensions" for all. Some say "no" while others say "yes". The answer depends on the hair quality you choose. You buy synthetic hair as it is cheap but you have to accept the truth that it is not as good as human hair. Especially synthetic hair is not good for those with a sensitive scalp.
At Lewigs, we only sell human hair extensions that will not damage your natural locks. But it requires more care than usual. We recommend you inspect the attachments and extra care on a weekly basis. Both of them enable you to enjoy nice hair and extend the extension lifetime. We design the hair that is gentle to be applied to your head and brings a comfortable feeling. It is gentle for your existing hair. As long as you provide enough moisture and nutrition, you keep the hair in the best state.
If you attach and remove the extension properly, it will not damage your tresses. Each type of hair extension has its own how-to-wear; hence, learn about the hair before wearing it. Also, we highly recommend using removal products when taking the hair off as it helps minimize the risk of hair damage.
Related posts:
Q: What is Remy hair extension?
We believe that many wearers still get confused between hair types, virgin hair, Remy & non-Remy hair. We have an easy way to help you answer the Remy hair extensions FAQ. They are differentiated by origin. Virgin hair is the highest quality and hair strands are collected from only one donor. Remy hair is human hair but hair strands are harvested from different donors. These hairs are full cuticles and stay aligned in one direction, eliminating hair tangles and shedding. Non-Remy hair is a type of human extension but it is collected from different donors, on the hair salon, and floor.
Many hair vendors often use Remy hair to create hair extensions. It is still safe for your scalp and natural hair. Also, the price of hair is affordable, and it is comfortable.
Q: What are the popular types of hair extensions?
If you are working in this field, you can see this hair extensions FAQ everywhere. Newbies are a little bit overwhelmed when learning about human hair extensions. There are many different types of hair available out there; thus, finding the right hair may not be an easy task. Here're the most popular hair extensions now:
– Tape-in extensions: This hair requires tape pieces and then is attached to your natural locks. You should attach the tape-ins near to the hair roots, not directly on your scalp. If your hair is thin or fine, opt for this hair system if you are looking for more permanent extensions.
– Clip in hair extensions: No need to find a supplement for your mane, clip-in extensions are a great temporary option for those seeking a way to transform their look. You don't need to wait for a long time, just clip the hair on your own hair and get longer and thicker hair. Also, clip-in extensions are one of the cheapest items to the world of hair extensions.
– Hair weft: It is a long hair section that is sewn into a lace weft strip. Then it can be attached to your natural locks by a hairstylist utilizing sewing or gluing technique. You can cut the weft into small strips then apply to your head and reach the finished look.
– Wigs: This is a normal type of hair system that is utilized by people who are experiencing hair loss. It is ideal for a long term investment. The hair is durable and provides extra length and volume for the wearers. Remember to maintain and care for the hair regularly, you can reuse it many times. A wig can be installed by clips and adhesive bonds.
Q: Can I restyle and dye my hair extension?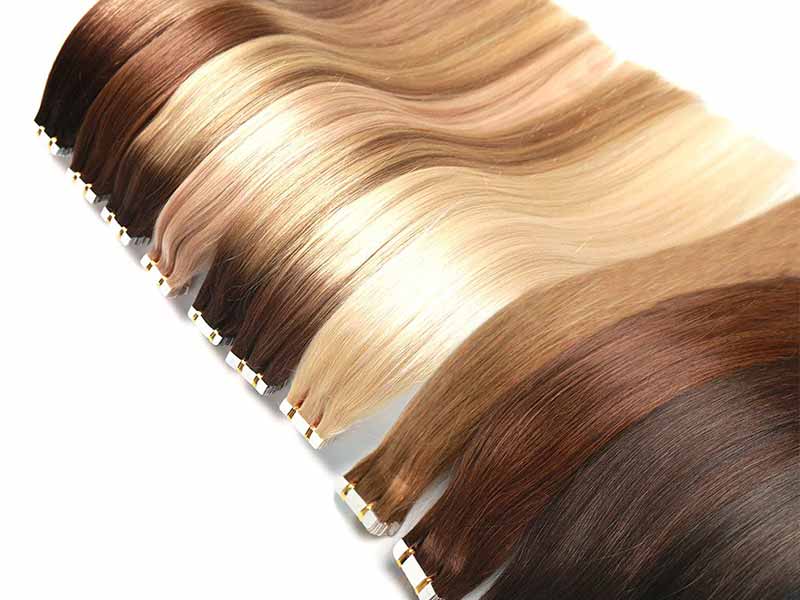 This is a FAQ about hair extensions for black and everyone. As long as you purchase a human extension, you can restyle it. But when dyeing the hair, avoid applying the dye directly onto the bonds of the hair. Often, a human extension is versatile and heat friendly. You can use styling tools to curl or straighten it as you desire. If you dye the extension, don't choose a hue that is not too lighter than your own. Getting the hair dye that matches your hair hue to make it look as natural and undetectable as possible.
Q: How long does it take to apply the extension?
This entirely depends on the hair you use and the method of application. Also, how many hairs you need also decide the time of attachment. The more hair you use, the longer it takes. If you are not sure about the applying technique, take the hair to a hair salon and ask for professional help. A hairstylist knows how to attach the hair without damaging your locks.
Q: Can I use normal shampoo to wash my hair extension?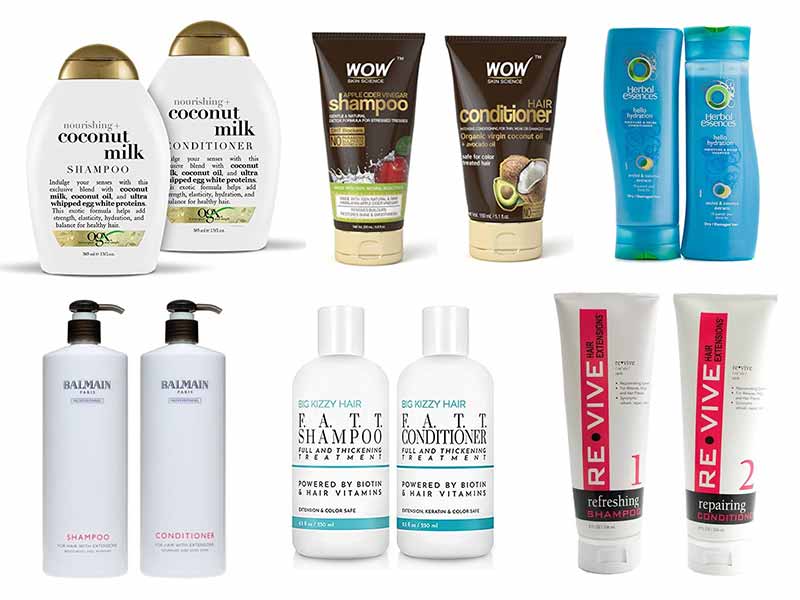 Yes. But as we stated above, human hair extensions require more maintenance, we recommend utilizing specific products for extensions. Opt for shampoos and conditioners that have been tested in the extensions and bonds. They should be safe for the quality and life of your hair, as well. Ask the hair seller and hair expert to find the right items for your hair system. Besides, spraying heat protectant before using heat styling tools to prevent it from drying out quickly.
Jump to:
Q: How can I remove the hair extension properly?
Last but not least, answering this hair extensions FAQ is so necessary. It requires your skill and patience, so you can protect your bio hair and the extension. For the item that needs adhesive to apply, purchase a professional removal if you want to take the hair off. Depending on the application, the removal process can take up to two hours.
Hope that our words will somehow help you answer hair extensions FAQ. Have any questions that are not listed above, feel free to drop us via hotline or leave your comments. We will answer all the questions in detail.
If you find this paper useful, don't forget to share it with those in need. For more detailed information about human hair extensions, let's visit our site. Thanks!