One of the most common ways to change the appearance is your hair. Besides cutting or dying hair, people are tending to choose hair extensions, especially permanent extensions hair (often with short hair). In our article today on Lewigs, we are very glad to introduce to you the interesting information related to permanent hair extensions. Please read it carefully if you want to apply extensions one day.
What Are Permanent Hair Extensions?
Hair extensions mean that you add more hair to your real hair, often with the help of salon professionals. Permanent hair extensions are a popular type which can stay longer on your head, in comparison with other types of hair extensions.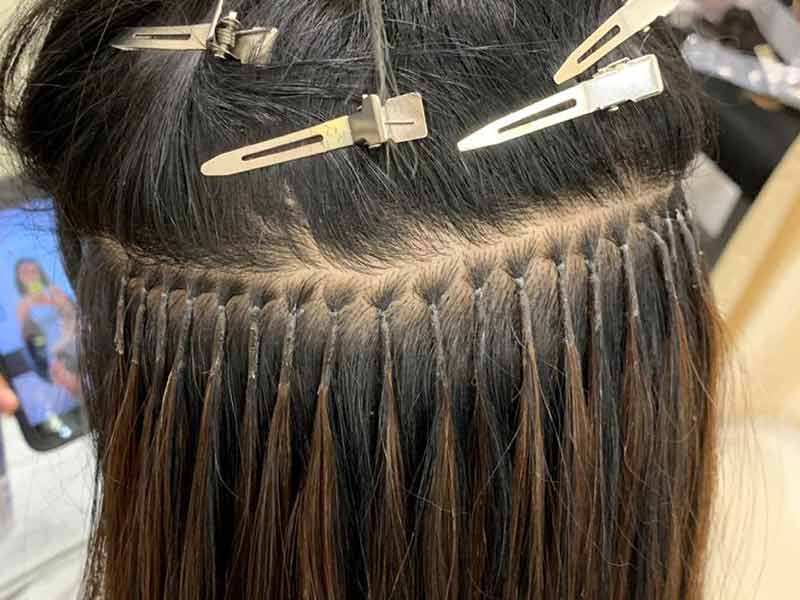 How Long Do Permanent Hair Extensions Last?
Permanent hair extensions can last at least 4 weeks and up to six months. The lifespan of permanent hair extensions depends on how much care you give them.
Similar posts:
Some Types Of Permanent Hair Extensions
Each type has different pros and cons. Therefore, do not hesitate to ask for stylist's advice before choosing the most suitable one for you.
Sew In/Braided Extensions
This type has African American origin, now is very popular, especially when you own natural curly and kinky hair. You need 1-2 braids at the back of the head to sew in the wefts.
It can last from up to 3 or 4 months if you take care of the extensions regularly. The price is also reasonable.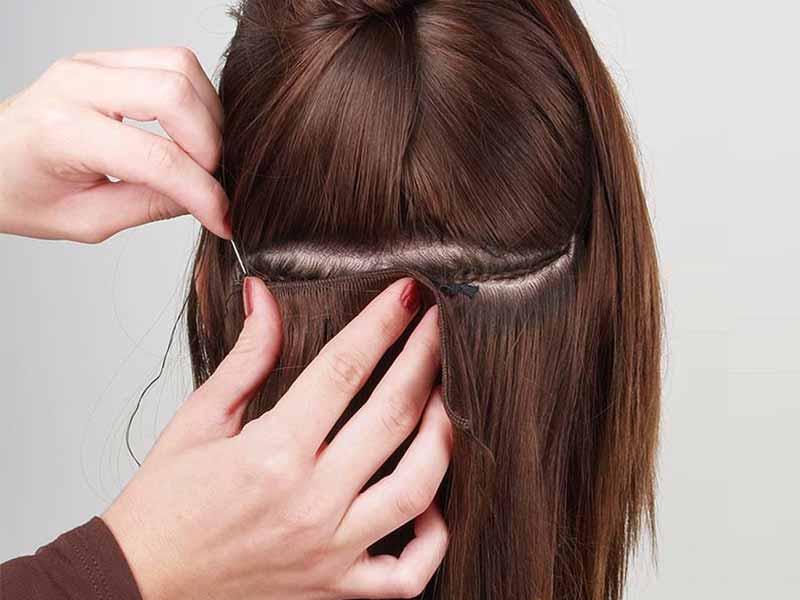 However, this method is not suitable for people with sensitive scalps which are easy to have hair problems. Thin hair also should avoid it. Besides, it is essential to have professional help to avoid hair damages because this method is quite tricky.
Keratin Hair Extensions
The name of this type is from the keratin bonds which are lined with silicone. To make this hairstyle, you need to place your natural hair in between a U-tip before sealing the hair to the keratin bond. This way is done to make sure that you attach your natural hair strands with the silicone. You also need keratin glue and heat on this process.
If you take care of keratin extensions regularly, you can keep it for up to 6 months. Moreover, others hardly realize that you are wearing hair extensions thanks to a natural look, like your real hair. Do not worry about thin hair anymore because your hair now is always thick, even when you sleep.
However, be careful when choosing the person who helps you. If the stylist fails to apply keratin hair extensions on your hair, you may get hair damages. Damages also come from the glue you use. Besides, this process requires quite a lot of time.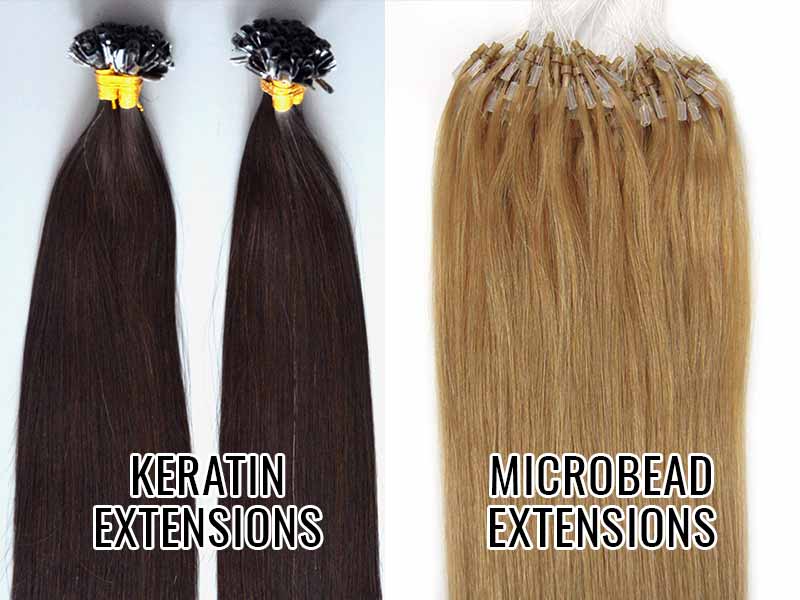 Micro Link Hair Extensions
To connect the extensions to your real hair, you need to use small bead-like clamps.
People like this method because you can do it without glue or heat. It creates moving feelings, so your hair always looks natural. If you spend time taking care of hair extensions, you will be surprised with how long them last: 6 months! This type also saves money because it is reusable.
On the other hand, we do not recommend you to have micro link hair extensions if your hair is too thin because others can see the beads. Additionally, it may take at least 3 hours for the stylist to help you and you also suggested to see the stylist after 6-8 weeks to check the extensions.
Jump to:
How Much Do Permanent Hair Extensions Cost?
It is difficult for us to tell you the exact permanent hair extensions prices. The price will depend on the type, the thickness as well as the length you desire, is often from 200$. If you go to the salon, the price is higher. However, if this is the first time you take hair extensions and you want to have it for a long time, the stylist is an ideal choice to make sure that you will be satisfied with your different look.
Permanent Hair Extensions – Notes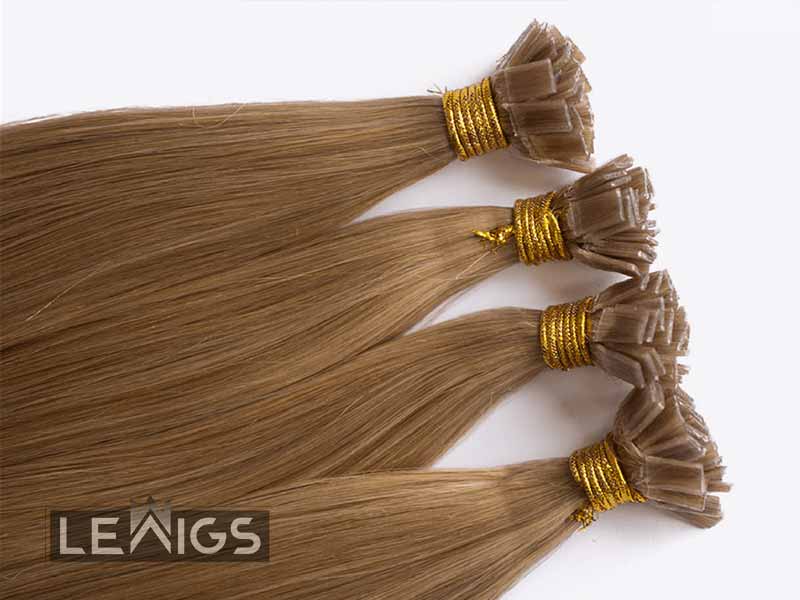 – Remember to match the extensions with your real hair. Of course, you do not own an awful mixture on your head, right?
– Choosing high-quality extensions is also needs to make your hair look natural
– While applying permanent hair extensions, in case you feel uncomfortable, tell the stylist in order to avoid hair damages. For example, too heavy extensions can lead to hair loss. Besides, the extensions cannot fall, if you feel that they are falling, go to the salon immediately to check them.
– It is essential to do maintenance work. Do not think that you do not need to take care of the extensions because they are not your real hair. Maintenance work helps the extensions be beautiful for a long-term period. Moreover, you need special products to take care of them.
– Do not forget to follow the lifespan of extensions. Do not wear them longer than the time you are recommended because this action can damage your hair.
– Ask the stylist all your questions around permanent hair extensions to have the best result.
– In case you cannot afford to have permanent hair extensions and maintenance work for them but you still want to change your appearance on some special occasions, let's try a simple option: a wig. You can find out Lewigs products which are made from 100% Vietnamese and Cambodian human hair with a reasonable price so our wig can give you a natural look. Lewigs also has hair extensions that you can choose. Our wigs or extensions have different styles and colours, so do not worry, you will probably get the most suitable one for you.
In conclusion, we hope the topic of "permanent hair extensions" is helpful for you to have a different and beautiful look. You can send us all your questions and comments. We are always willing to know them and answer them. Lewigs also provides you with hair care topics, so please do not miss them. To buy wigs, contact us immediately through the hotline or email.