We all know that we love beauty, especially women. We always want to be excellent in others' eyes. In modern life, there are multiple ways to make someone become more attractive and beautiful. Many services, including skincare, haircare, etc. are available out there. People also choose wearing hair extensions as a way to make someone look beautiful. Invisible tape is a great option to help you change your tresses without causing any damages. It is also called skin weft that looks so natural.
Now, dig into our words to learn more about invisible tape hair extensions and where to get the best pick. 
Definition of invisible tape hair extensions
This type of hair extension is known by several names, like skin weft, invisi tape, or seamless weft hair extensions. It is a new type of extension but quickly becomes one of the most favored hairpieces due to its highlight features. Often, people utilize this hair to add more hair volume and length, reaching their desired look. As it sounds, it is invisible and lightweight; hence, it easily blends your bio hair and ends with a natural hair look. Perfect! No one can spot you are getting support from hair systems as it creates an illusion that the hair is growing directly from your scalp.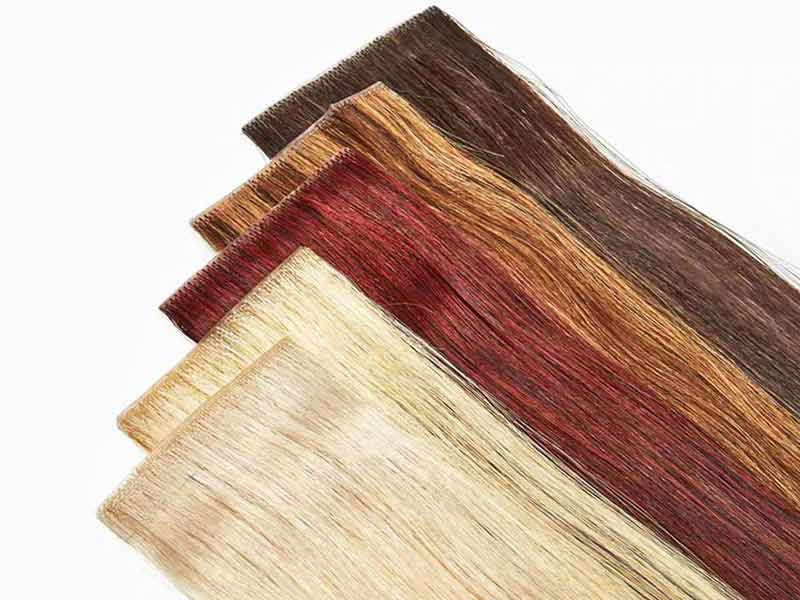 If you purchase human hair seamless weft, it is easy-in-use and durable. These high-quality hair extensions are designed for all, including newbies.
Invisible adhesive tape has no shiny tape showing, so it is not detected. You are upset with your thinning hair, we firmly believe that it is your best companion. Try using skin weft to achieve fuller and thicker hair. As long as you select the right hair texture and color, your hair looks so beautiful.
Related posts:
Invisible tape vs normal tape
Are there any differences between these hair systems? How to differentiate invisi tape and classic tape-ins. Invisible tape is a type of tape-in extension and it is easy to attach in your natural locks. Both of these tape-ins are designed to give wearers beautiful tresses and switch up their appearance. 
However, invisible tapes look more natural than traditional tape extensions as they are no shiny tape across the top. Also, human hair strands are hidden that mimic hair growing from your scalp. If your hair is fine or thin, this is the best suitable item for you.
What about classic tape in hair extensions? It is still a favored product by most women because they are so easy to wear. But the tape on the top of this hair will be exposed if you attach it improperly. And when your new hair appears or hair grows, the extensions may slide on your own hair. Hence, you have to get rid of or reapply it regularly. Be careful when removing the tape as it may damage your own hair.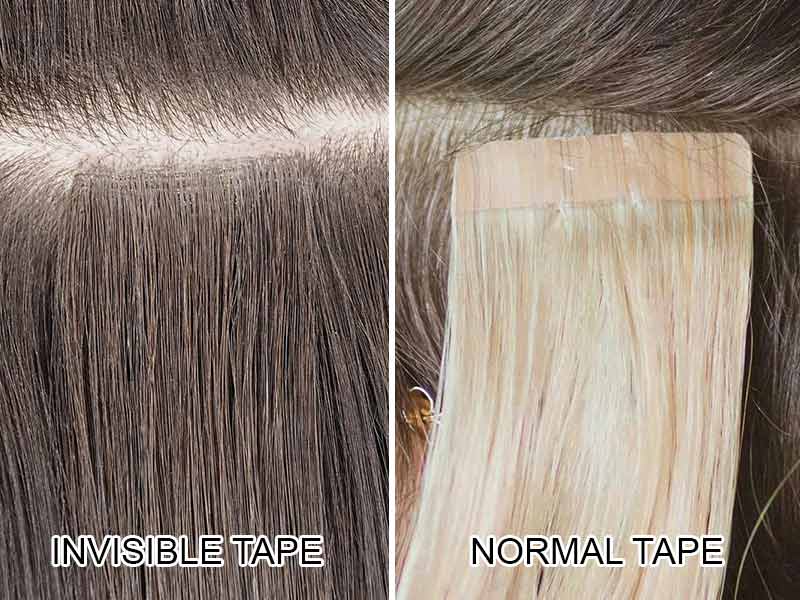 Benefits of wearing invisible tape
A smart choice for those with fine and thin hair
All hair extensions are born to help someone with hair problems. Whether your hair is thin or fine, invisible adhesive tape can help you. When applied to the natural locks, they stay so flat, making your tape in less visible. Thus, the extension appears in the way as if growing from your scalp. Plus, the tape is not shiny, so it provides a realistic look.
Invisible tape is easy to use
Most newbies think that the process to apply hair extensions is very complicated. It may take wearers hours to finish. But invisi tape hair extensions are not. Believe us! Rather than spend hours in a hair salon for the installation process, you can do it at home. Learn how to wear this hair and it may take you only one hour or one hour and a half for a full application.
Safe for natural locks and scalp
Before buying a hair product, you should find out the hair origin and quality. At Lewigs, we only sell human hair systems and we commit that our hairs are completely safe for wearers, including people with a sensitive scalp. Real human hair strands are collected from strong donors, then skilled workers make your hair. The tape-ins are lightweight and they will not pull your own hair down. The hair is applied to your hair, not your scalp, so it does not irritate your skin.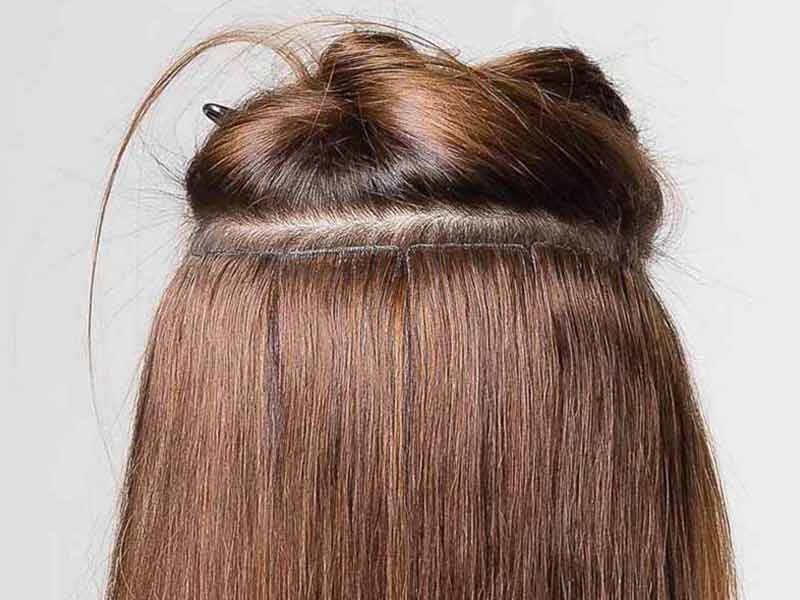 More styling options
Another benefit of invisible tape is that you can restyle it as you would do with your bio hair. As long as your hair extension is made of real strands, you can straighten, curl, or dye it. Style the hair as you wish without fear about hair damage. But after styling, don't forget to take care of it so that you can reuse it many times.
In addition, this hair extension:
– Can be applied near your hairlines and remain concealed
– Easy to maintain
– Comfortable when putting on the head
– Offer no stringy look at the ends
Some drawbacks of skin wefts 
– Higher expensive the traditional tape hairs
– Need to maintain every 4-6 weeks
How to wear invisi tape hair extensions
The invisible tape extension application also sets them apart from many competitors in this field. This provides exactly what wearers really want. Specifically, invisi tape hair extensions are the same as the tape method; they are installed like a sandwich. In other words, the natural hair is positioned between two pieces of the extension. It is very compatible with all hair types of different lengths. Here's the detailed guide on how to wear skin weft properly:
Step 1: Section your hair
Make sure that your hair is clean before wearing the tape hair. You wash your hair with a gentle shampoo and let it air dry. 
Then grab a rattail comb or use your fingers to divide your hair into sections. Create a hair section that is around an inch far from the nape of your neck. Tie and clip the rest of the hair to make sure that it will not fall down on the way during the installation process.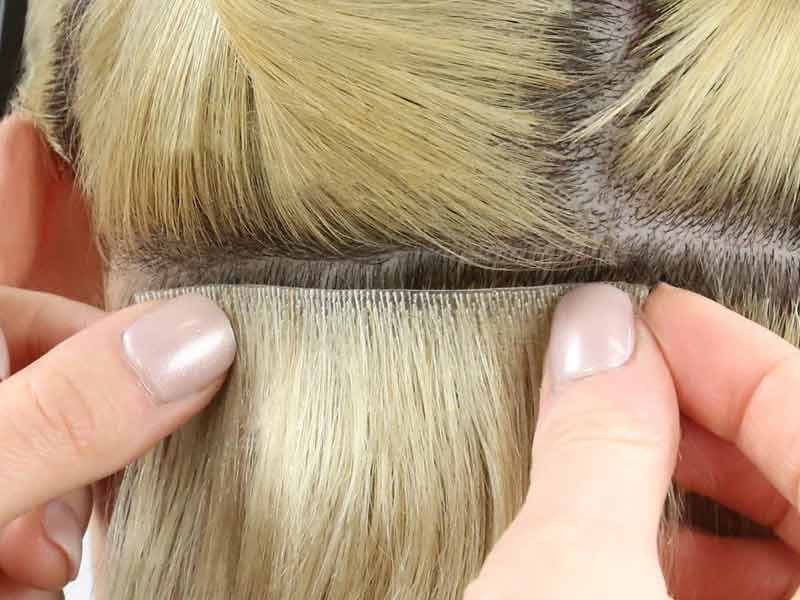 Step 2: Install the tape-ins
Once you've parted your hair, it's time to put the wefts to your head. Take the tape hair extension, peel the protective paper off, and place the tape on your natural locks. Gently press to make the extension stick to your hair.
You stick one tape at the bottom and one at the top like you make a sandwich. Press and hold these hairs for seconds to secure them.
Step 3: Repeat the process
Once you have finished the first row, move to the next one and continue sticking the tape extension. Keep doing until you get fuller hair.
The numbers of invisible tape-ins depend on your head size and how thick the hair you desire. You may need 3-5 rows of wefts or more. 
You might want to read:
Where to buy invisible tape extensions?
Invisible adhesive tape now is among the common extensions nowadays. Go down on the Internet or visit any hair retailer in your area, you can easily find the best unit. As we said, customers can easily get hair extensions through different ways, both online and offline shopping. Each method has its own advantages and disadvantages.
Today, people prefer purchasing products via the online market as it helps them save a lot of time. For example, with a smartphone, you are able to buy any invisi tape hair extensions you desire. There are tons of hair vendors and sellers available on the Internet, and they provide everything you need, including images, prices, and so on. However, keep in mind that not all sellers give you good hair quality and affordable prices. Don't rush! Please find out the seller and item carefully before making the last decision. We mean that you ask them about the hair source, how-to-make the hair, hair quality, their policies, etc. before purchasing.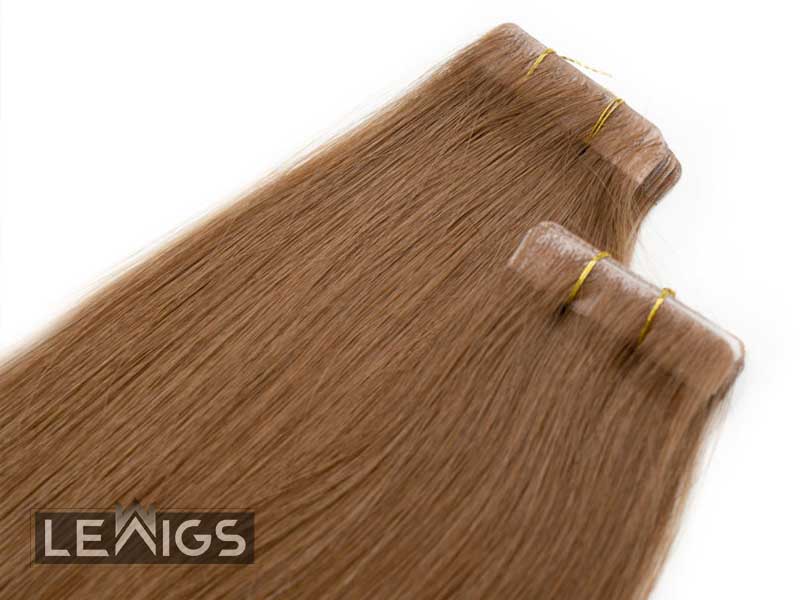 Lewigs – a trustworthy hair vendor in Vietnam
If you are seeking an address to buy invisible tape, Lewigs company is not a bad idea. Once you determine your purpose of wearing hair units, we can help you choose the best one. Regarding the hair quality, we commit to provide real human hair extensions at wholesale prices.
Where do we collect hair? We gather hair from Vietnam and Cambodia that are famous for good-quality materials. Both of them are widely utilized by hairstylists and manufacturers around the world. Vietnamese hair is smooth and soft while Cambodian hair is strong and so luxurious. Buying invisible tape at Lewigs, you will never regret your decision.
All the more important, we sell hair at a cheap price. All the more important, we sell hair at a cheap price. You can find nowhere to provide real human hair at a wholesale price like at our company.
All in all
Invisible tape hair extensions are nice and worth to invest in. This magical unit is easy to utilize and quickly adds more hair volume to your mane. It is not detected whether your hair is thin or finer, we sure. 
Are you interested in our hair? Don't hesitate to contact us via WhatsApp link at the corner of the screen. We are willing to support you at any time. Hope to hear your voice soon.