Some say that medium length hair is the sweet spot between short and long hairstyles. Not too short, not too long, medium length haircut is versatile. With enough length, you can add curls, waves, and pull it up in a bun. Men with mid-length hair are not feminine, but they look romantic. There are tons of haircuts for men who simply could not decide between short and long hairstyles. They offer a great look for guys. If you're thinking about trying it, consult some expert tips about how to style medium length hair men and haircuts below.
How to style medium length hair men
Do you know that medium length men hairstyles are a favorite option of male celebrities? Top actors such as Chris Hemsworth, Leonardo DiCaprio, Bradley Cooper, etc. rocked this style. Take a look at Bradley Cooper pics, he looks masculine with sharp and slicked-back hair.
With medium length hair, whether you leave your hair straight and or get wavy hair, it provides you a wide range of cuts and styles. 
Style the hair man down
We highly recommend you spend time on styling and maintaining your medium length hair. With this easy tip, you can reach an attractive hair look.
How to style mid length hair mens? You should wash your hair first. Hold a blow dryer and move it from the hair ends to the roots until your tresses are entirely dry. Make sure that your scalp is also fully dry. Then take a brush to part your hair and tuck strands on sides behind your ears. Or you can hold the hair in place with a bobby pin. Split your mane in the center if you want to get a grunge-inspired look.
You should apply a styling product to achieve a charismatic and softer look. You have wavy hair, it is better if you use a cream or matte paste. Apply wax if you have got straight mid-length hair. 
Read more:
Create a hair bun or ponytail
Style a hair bun is a popular hairstyle for men. Smooth your hair and secure it with a bun. So how to style medium length hair straight? Like the above way, wash your hair before performing a man bun. Part your hair in the middle, take elastic bands to secure two sections. Continue to tie hair sections together, then wrap them to form a bun. To control the bun all day, apply a small amount of gel or pomade to achieve a sleek finish.
Create a ponytail as an alternative style to men's updo. Spray water until your hair is damp. Gather your hair, from the top and sides, and hold it at the back of your neck. You do not need to care too much about neatness. Secure your hair in place with a rubber band.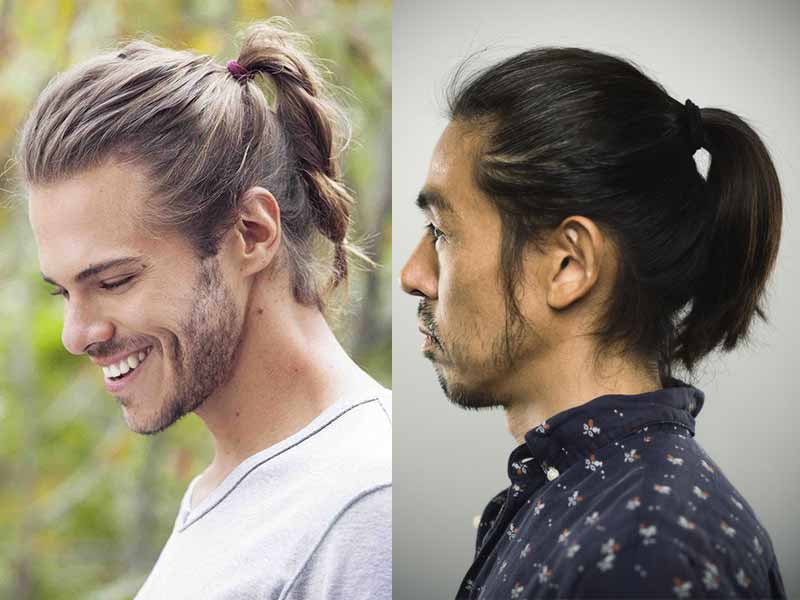 Try formal hairstyles
Straightener or curling iron can give your hair a sleek hair look. You can use these tools to style your medium length hair if you are going to a formal event.
You wonder how to style shoulder length hair with straightener. Part your mane into small sections, and distribute a heat protectant product throughout each section. Run the straightener down the length of your strands and apply each section with hairspray to hold the hair shape.
Some tips to style medium length hair men
– Opt for a hairstyle that suits your facial shape,
– Learn how to use and apply a hair styling product properly.
– Find out the benefits of different hair products. Which product is for straight hair? Which works best on wavy hair? And more.
What is the best way to style medium length men's hair? Bear in mind that medium length hair is versatile, so you can have a new appearance every day if you use the right products. Most styles are great for men.
To maintain the quality of your medium length hair, you have to wash your hair properly. Invest in a good hair care set, including shampoo and conditioner, to keep it as perfect as possible.
Medium length hair men styles
Here are typical medium length hairstyles you should consider to rock.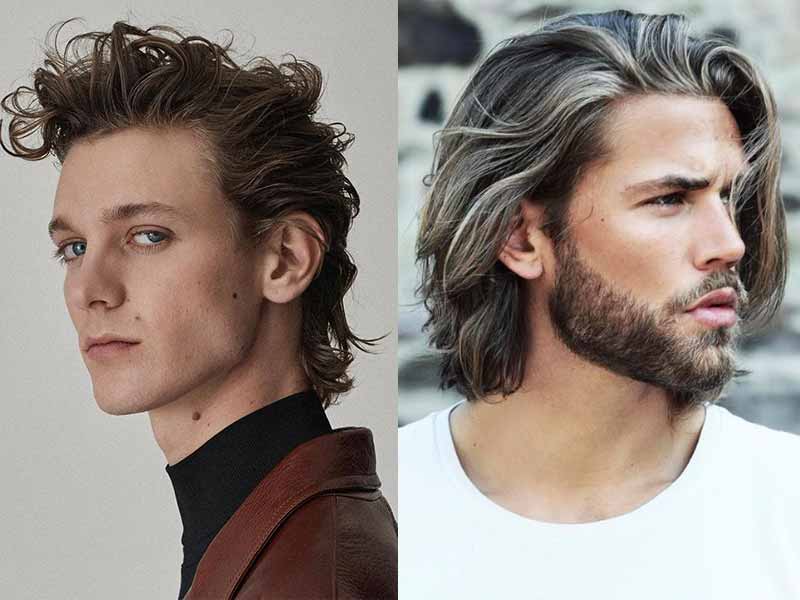 Natural medium length waves
This classic haircut is currently fashionable and easy to get. Cut longer hair on the top and shorter on sides and bottom. Apply pomade to hold your hair shape. Natural medium length waves is a clean approach to style medium length hair.
Mid-length undercut
Some say that they love undercut style, nothing is chicer than the undercut. This style also works well on mid-length hair. You look so masculine, but not lessen romantic. Pair the smooth and sleek undercut with a neatly shaped beard, you will be looking fresh.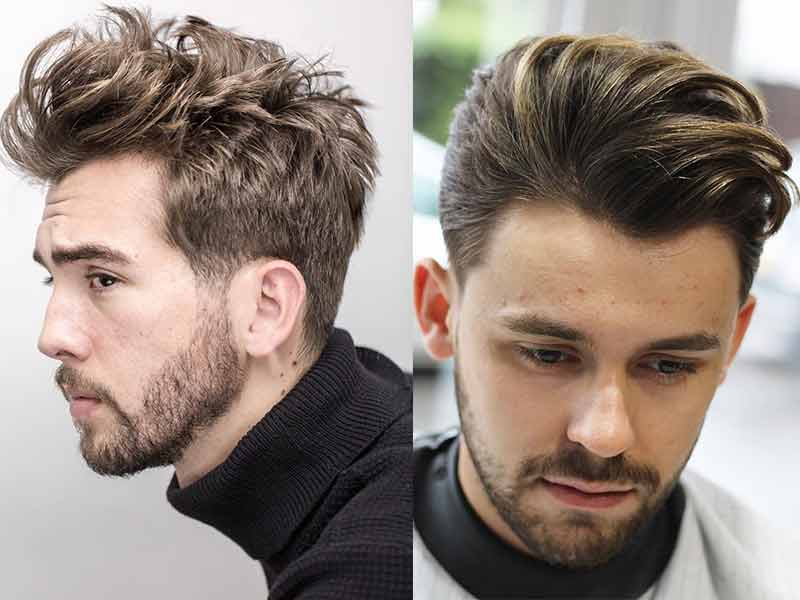 Mid-length taper
This haircut keeps your hair strands out of your face. It is suitable for those who are looking for a style for short-medium length hair. Mid-length taper looks great on almost any face shape and easy to style and maintain. It would help if you try wearing a taper with short mid-length hair to have a cool look. It is really masculine. Color your mane with bright colors if needed.
Slicked back medium style
How to style medium length hair men straight? Remember, mid-length hairstyles offer a bounty of options. With this slicked back haircut, all strands are kept out of your forehead, no messy. The hair on sides and nape blend into the part on top. Add pomade to get a vintage appearance.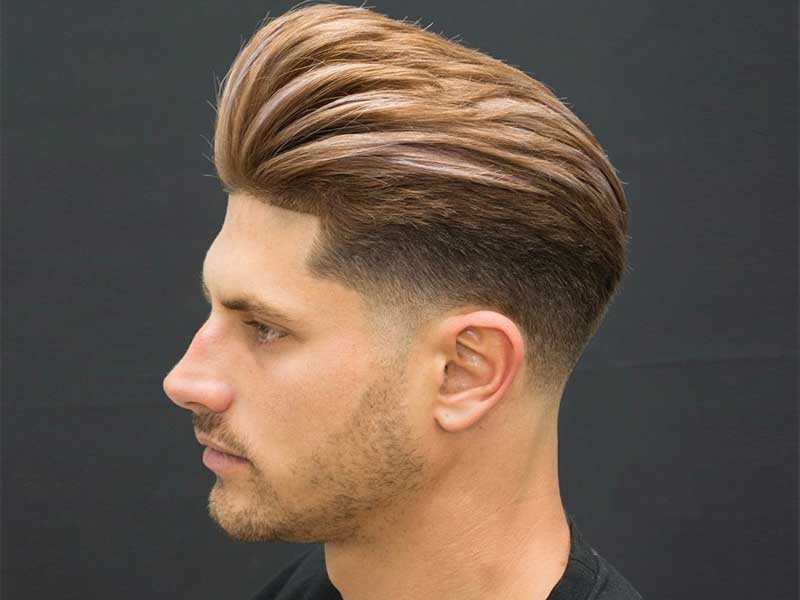 Mid-length pompadour haircut
The pompadour becomes a major hairstyle for men now. Hence, rock it right away if you have thick hair. Leave a lot of hair on top and cut short and sleek hair on sides. Guys can let some hair fall onto the face to keep the style modern. 
Jump to:
All in all
Above are different ways on how to style medium length hair men and hairstyles for men. They are easy to follow. The medium length hairstyle is versatile, so you can adapt them for a range of styles. If you have any experience on how to style medium length mens hair thick, don't hesitate to share with us. We are happy to listen.