Men curly hair always find it difficult to control their hair to style a good haircut. Some shave off because they think that they cannot do anything with this annoying hair. It is not right. Instead of eliminating it, why don't you try a new thing? There are tons of haircuts for men with curly hair for you choose from. What are they and how to style curly hair men? Let's find it together.
Haircuts For Men With Curly Hair – Quiff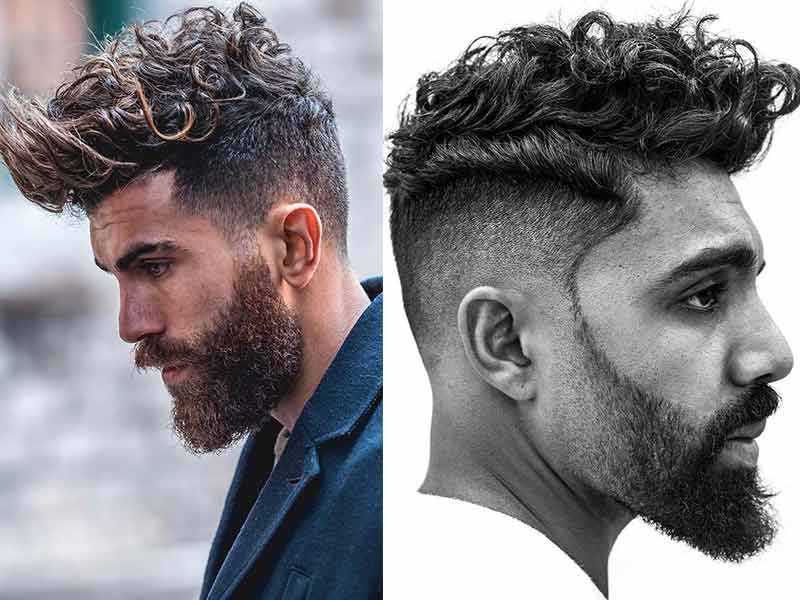 If you are curly hair men, try the simplest haircut: quiff. This more and more popular hairstyle is suitable for men of different age groups. It is long on top and short on the sides. To reach it, you need to brush your mane upwards and away from the face. However, you may find it more difficult with curly texture. It would help if you also rearranged sections to prevent your curls from being scrunched. If you want to maintain your natural hair type, try not to blow-dry your natural curls for a quaff.
Tight Curls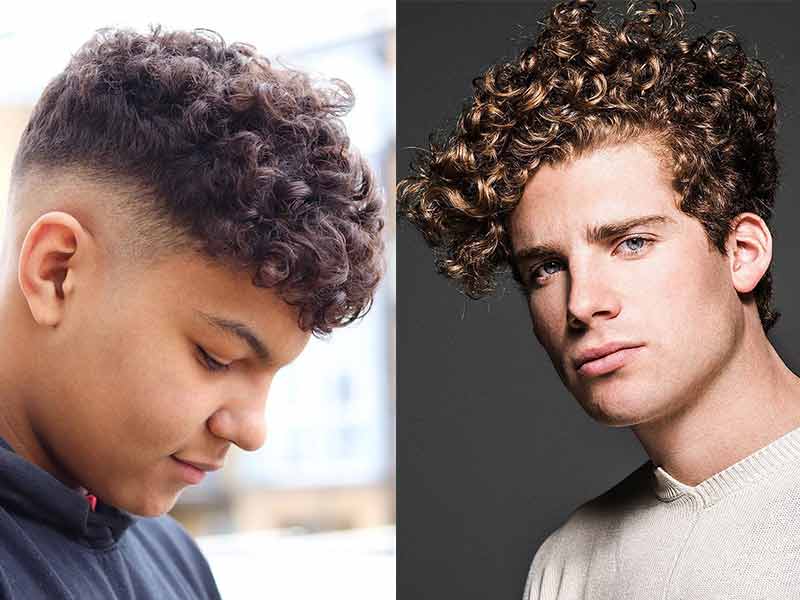 Many men were born with smaller, tighter curls on hair. Do not think that you cannot do anything with this type of hair. You can do one of the simplest haircuts for men with curly hair – tight curls. Let's take a styling product, such as pomade or styling mousse, and use your fingers to apply it to your hair. Remember to start with a smaller portion of hair product, then take more if needed. This way can enhance your natural locks effectively.
Related posts:
Slicked Back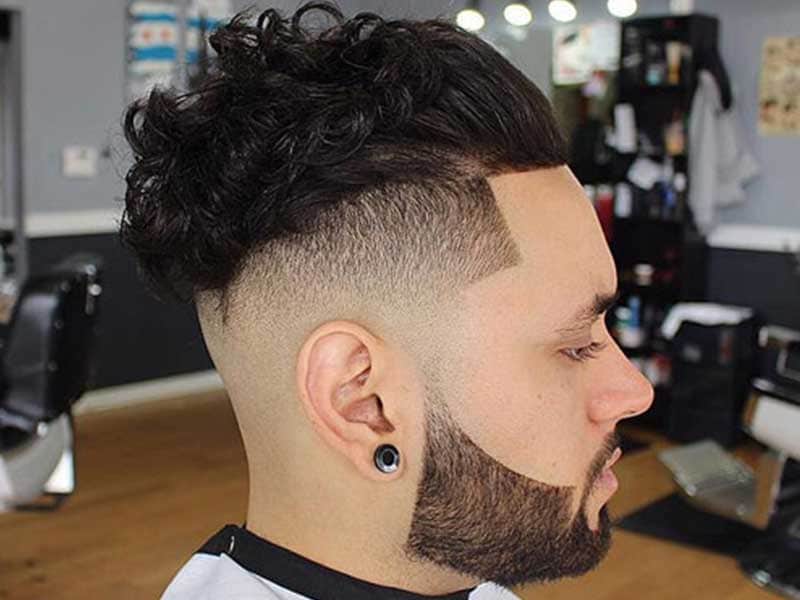 This hairstyle is always an ideal choice for men to show their masculinity through faces. This haircut is suitable not only for straight hair but also curly hair. With it, you will focus on your face, while the back and on the sides are full of curly hair. Firstly, you should brush your hair back away from the front of your head. Make your mane wet with sea-salt spray, so that your natural curly hair can stick together. Next, use your fingers to spread the wax or the clay through the hair in a push back motion. Note: Do not brush the hair too much.
Fringe
Do you want a different look? Do you like thickness and want to make your hair look thicker? Try curly fringe hair – one of the most amazing hairstyles for men with curly hair. With this haircut, your natural locks on the top of the head will be longer than on the sides. And you cut the top length of the hair according to the direction of the fringe required.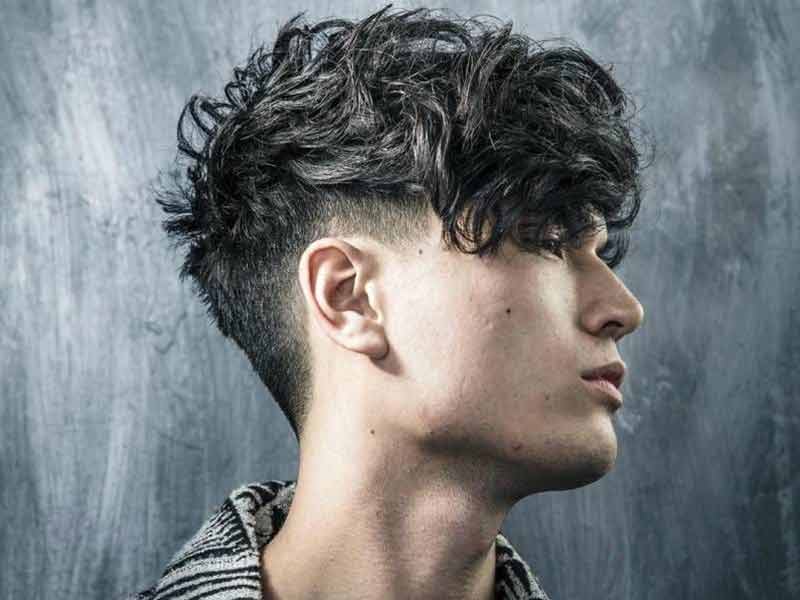 To have this type, you should apply a small amount of curl-enhancing mousse to your hair at first. Then, damp and lightly scrunch with your fingers so that you can create the relaxed waves. After that, when your hair becomes dry, the texturizing product will be helpful to style your fringe into place. For better results, you can use a light-hold hairspray. Now, everything sits right totally.
Undercut
Among popular haircuts for curly hair men for men with curly hair, we have to mention undercut – difficult to become old-fashioned. We can define curly undercut hair as a haircut with length on top of your head and closely cut at back and on the sides. Firstly, make your hair wet. Then, divide your hair into small parts and clip each section so that you can see which part you will keep longer. Now, it is time to trimmer your hair on two sides. The undercut fits almost faces and situations. If you are a busy person, try it since you do not have to pay attention to it too much in the morning.
Side-swept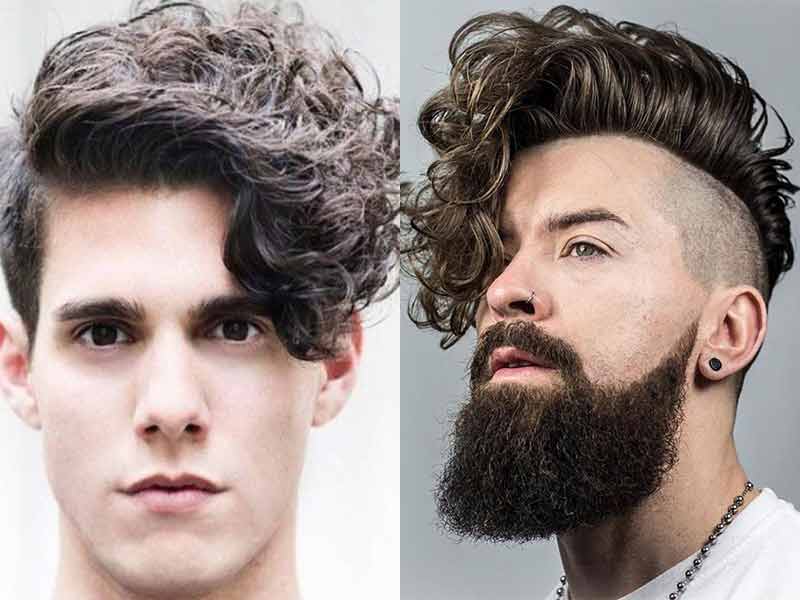 Do not forget to try curly hair men style side-swept if you want to look distinct. Moreover, this classy haircut can help you create various hairstyles, up to your preferences and taste. First, wet your man and brush it upward. Next, you apply the texturing hair gel or pomade into natural locks, and use a comb to spread it. If you use pomade, only take a pearl-sized drop. Now, you have to comb the hair to the side as you desire.
Jump to:
Messy Curls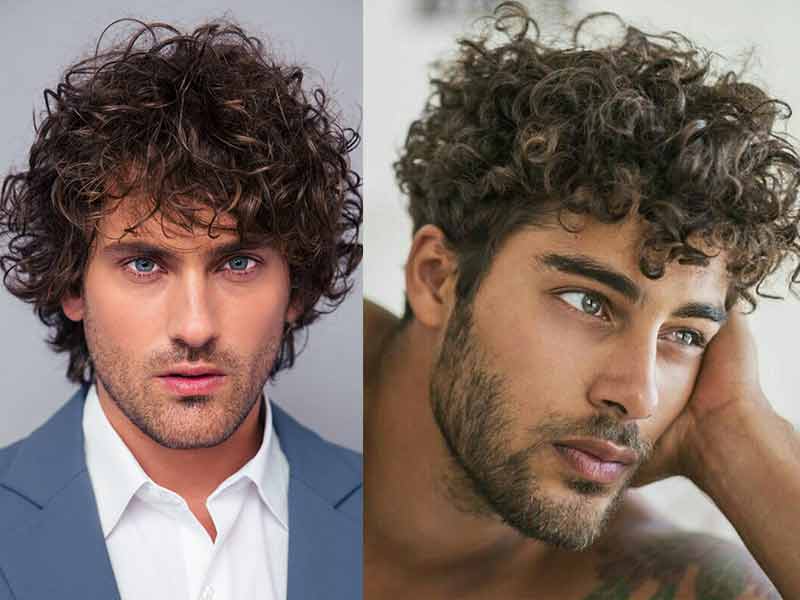 Do not be afraid of the word "messy." It is one of the most effective curly hairstyles for men who like impression. Achieve this haircut is not difficult. Wash your hair to ensure that you have a clean and oil-free scalp. Then, apply serum or mousse evenly through all strands and wrap it lightly in a T-shirt. Leave it on your hair overnight. In the next morning, you do not comb the hair, just sift it with your fingers. For longer hair, it may take more time to control.
Man Bun
Who says only women are allowed to have long hair? Today, lots of men with long hair own attractive appearance. The man bun is a popular hairstyle for men with long curly hair. Like undercut, you no need to spend too much time styling your hair. All you need is a regular comb and a rubber band. Brush over the hair to remove all knots first. Then, push your man up to the level where you want to create a bun. Hold the hair section, twist and roll it up on the apex of the head.
You are a curly-haired man, try those haircuts for men with curly hair we have mentioned above at home. However, if you are not sure about your ability or cutting hair or you want to ask for more advice, you can go to the barber. Moreover, each hairstyle has different small types in them you can choose. The barber will help you get the satisfactory hairstyle. From now, do not worry about hairstyles for curly hair men anymore.
Lewigs hopes that our article on haircuts for men with curly hair will give you interesting information. If you want to get further information, please visit us. We will answer as soon as we can.