Keratin hair extensions now are a hot popular item for women that add length and highlights to someone's hair. We firmly believe that it will work amazingly on your own hair. The hair helps wearers achieve natural-looking on all hair types. Try wearing this type of glue in hair extensions, it will not let you down. Opt for this hair if you want to make your tresses longer and fuller instantly without damaging your bio hair.
What do you know about keratin glue extensions?
The extension is an effective hairpiece for women. It is a great option for those who are looking for thicker and fuller hair instantly. Keratin hair extension is known by other names, such as keratin bonds, pre-bonded extensions, or hot fusion. The hair is versatile, long-lasting, and more important, it will not damage your own hair.
Glue in extensions for short hair contains strands of unprocessed human hair. As it sounds, the hair consists of keratin bonds. You can easily find different common types of extensions, like I-tips, U-tips, etc. that are available in many hair salons and beauty stores. It appears naturally, offering a comfortable feeling and realistic appearance. That's why this hair is trusted and chosen by most customers and hairstylists. This real hair extensions glue in comes with a keratin-based adhesive that is melted by hair extension pliers. The bond created by keratin bonds is strong and can last long. With the exception of keeping the bonding areas, you can treat the hair just like you normally do with your own hair. At Lewigs, we provide all types of keratin hair extensions that allow consumers to get the best option.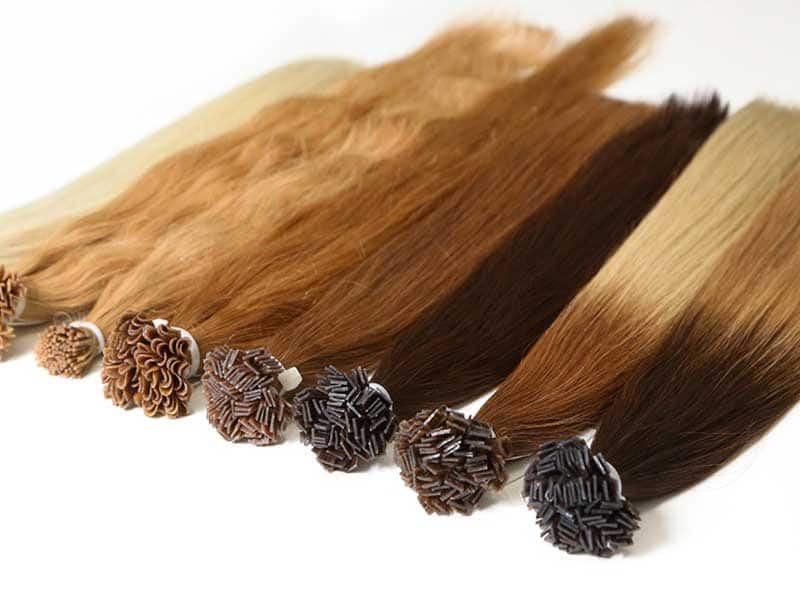 How long does glue in hair extensions last?
The keratin hair extensions are not permanent; hence, you should reinstall them when they come loose. The bond can last 3-4 weeks before you notice that it starts to come loose.
If you attach and remove the extension properly, the hair can be reused many times. It lasts up to four months with proper maintenance. Visit your hair salon so that hairstylists check the bond and reinstall the hair for you and they are experienced in this field. 
Related posts:
Glue in hair extensions pros and cons
There are thousands of reviews about glue in hair extensions on short hair on the Internet. And of course, they also show the benefits and drawbacks of this type of hair. 
Things you like keratin hair extensions
– The extension is available in a wide range of types, lengths, colors, and so on.
– Add extra length and volume to your own locks. It is fully customizable to blend and match your natural locks.
– Strong bondings and durability. It can last up to 4 months or more with proper maintenance.
– The bonds are applied to your natural strands. Hence, it is completely safe for the scalp. If your skin is sensitive, keratin glue hair extensions are the best solution.
– The keratin bonds allow the hair to move freely and naturally, offering more natural-looking hair.
– Hair strands are untreated hairs, the extension is safe and easy to be styled: straighten, curl, dye, or bleach.
– Because keratin bonding is strong, it requires less maintenance than other types like clip-ins, or tape-in extensions.
– Suitable for all hair types, from short to long, sleek & straight to curly hair texture.
– Perfect in multiple hairdos: braids, updo hairstyles, or wearing the hair down.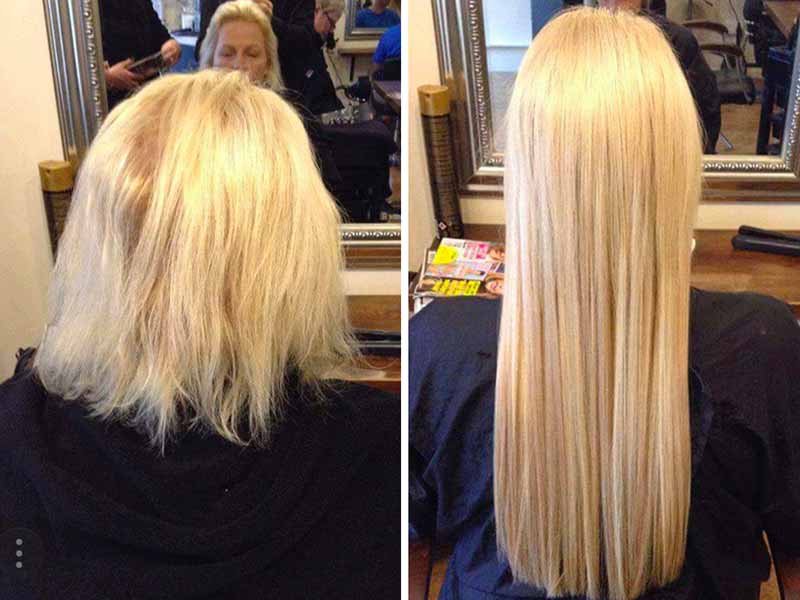 Things you may not like
– Because of its highlight features, the glue in hair extensions cost is higher than other popular types. Depending on many factors, such as hair quality, length, or the hair vendor, keratin hair extensions can cost between $300-$500.
– It needs your patience as the installing process may take about 4 hours.
– Within days after application, wearers may feel a headache and discomfort. But when you are getting used to its appearance, it's not a problem.
– Never apply heat tools directly on the keratin bonds as it will loosen the hair.
How to put in glue hair extensions?
To wear hot fusion extensions, you have to do one by one. It is attached close to your hair root, not directly on the scalp. The hair is applied by melting the keratin bond; hence, it is durable. Here's a detailed guide on how to attach keratin hair extensions:
Step 1
Position the areas where you are going to apply the hair. To wear this system, make sure that your bio hair is long enough, about 5 inches. If your hair is too short, it cannot hide the attachment points, lack of naturalness.
Once you've determined where to put the extension, tie rest hair out of the way. That helps hair strands not fall down on your face during the installation process.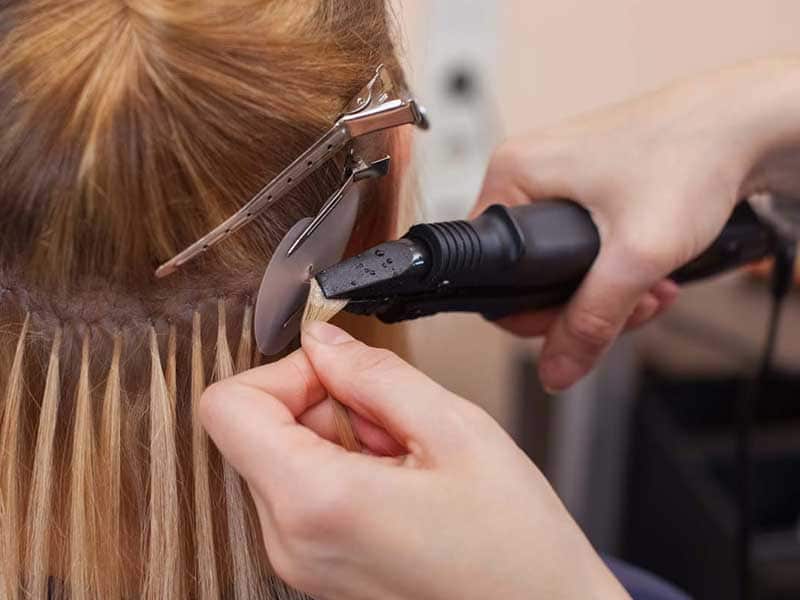 Step 2
You can cut keratin a few mm to reduce the quantity to be applied. This makes it imperceptible. Then take a small and thin section hair and insert it to a template circle (or a heat shield guard). You should place the extension approx 5 mm from the scalp to avoid burning and damage.
Step 3
Take hair extension pliers to melt keratin and lock your natural hair on the heating point of keratin. Use your fingers to roll the extension and your locks until the bond cools and hardens. Repeat the process to put the locks one by one across the head.
This application process needs skills; hence, ensure that you are experienced and skilled when applying glue in hair extensions yourself. We still recommend going to a hair salon and the process should be done by a professional.
Remove keratin bonds properly
How to remove glue in hair extensions with acetone and pliers? You know, acetone is an effective removal solution for hair extensions. It acts by softening the keratin bonds, which in turn releases your natural locks from the extension. But how to remove the hair safely? Follow us:
– Before rubbing acetone, wash the hair with a conditioner. Then gently brush your hair to make sure that it is tangle-free. 
– Sit down in front of the mirror and start sectioning your tresses to show the bonds. Grab one of the keratin extensions and apply acetone on the bond. Wait for seconds so that acetone seeps through the hair and breaks down the keratin bond. Then take the hair extension pliers and squeeze the bond to loosen it. Don't squeeze the tool too hard as it will damage your bio hair.
– Continue the process until all the hair extensions are removed. In some cases, if the extension is stuck, you can add some drops of acetone to make the process easier. Once you've done, shampoo and condition your hair and extensions to get rid of the bonds left and stickiness. Let the hair are dry and store it for the next wearing.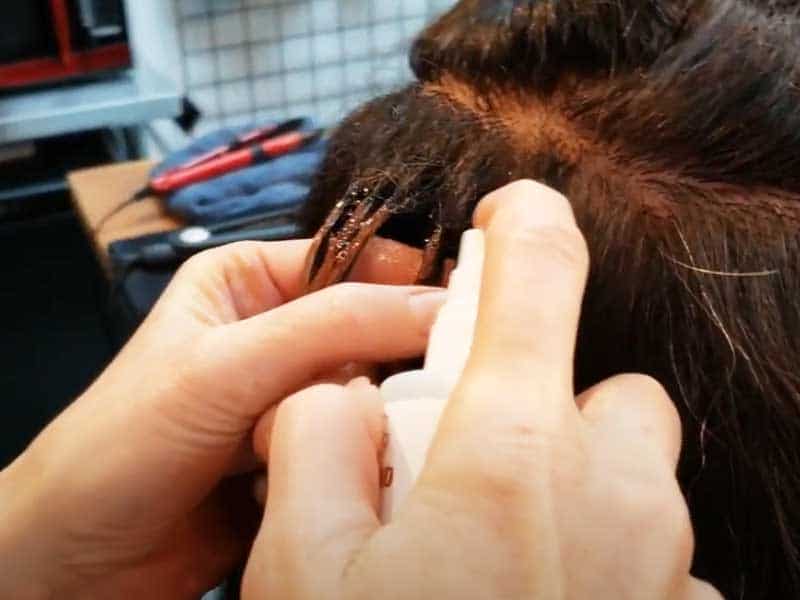 However, removing pre-bonded hair extensions should be done by an experienced hairstylist. If the hair is not removed carefully, it can cause damage to your bio hair.
How to take care of glue in hair extensions?
Following good maintenance is the best way to keep the extension last as long as possible. Here're some tips to prolong the extension's lifespan:
Wash the hair
You should not wash the hair for 48-72 hours after installation because water can break down the bonds. Don't be in a rush! After that, wash the hair 2-3 times per week, depending on your lifestyle and oil on your locks. Don't use products containing harsh chemicals (sulfates, alcohol, and so on). Invest in a gentle product and wash the hair extension with cool water to minimize tangling and shedding.
After washing the hair, dry it as soon as possible. And never scrub the hair as it will cause hair tangling and matting.
Stay away from oil-based products
These items may be enemies of your keratin hair extensions as the oil-based formula will break up and loosen the bonds. When you condition the extension, opt for a light conditioner and try to avoid the bonding between the extensions and your bio hair. Also, remember to use a special brush made for human hair extensions so you will not damage the hair and the bond. Follow this tip, you will not fear damaging the hair.
Read more:
Never over-style the extensions
Although the extensions are made of human hair and flexible, stylists say it's best to treat them gently. Put simply, you should not add excessive heat and chemicals on the hair system as they dry out both your bio hair and the extensions. Don't use a flat iron close to the bonds as it may weaken and melt the keratin bond quickly.
Protect the hair when swimming
Avoid the glue in hair extensions exposing to the water in the pool and beach. The water contains chlorine and salt water will dry and damage the extension. Your hair becomes frizzy, coarse, leading to hair breakage. If you must swim, wear a good quality swimming cap to protect the hair. After swimming, you have to rinse them thoroughly with fresh water.
In addition, don't forget to take care of your hair extensions when sleeping. Invest in a satin pillow, so it can help you stay away from hair tangling. Or covering your hair with a towel is a good idea to keep the extension healthy.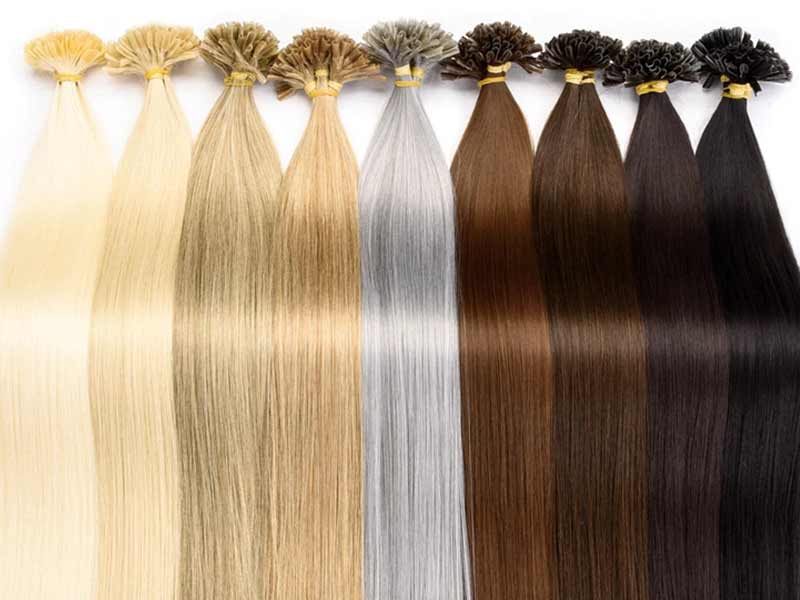 Where to buy cheap glue in hair extensions?
You are in the hair market to find good-quality pre-bonded extensions at affordable prices? Have you found it yet? Browse to Lewigs for multiple opts. With great reviews from clients across the world, we are confident to provide all types of hair extensions and wigs with high quality. The hair is made with 100% human hair, offering an aesthetic and natural appearance. You can find nowhere on the market that sells good hair at reasonable prices as we do. Spend your time to check our website and product line and give us a chance to serve you.
To sum up
That's all about glue in hair extensions we share with you. It's time to reach your dreamed hair and switch up your appearance. Whenever you need help or find out about hair extensions, don't hesitate to contact Lewigs. We are more than happy to be of service!