What are the most perfect hairstyles for men according to face shape? Men tend to google for this kind of keyword many times. And, rightly so. Whether you believe or not, a right hairstyle tailoring to your face structure can bring out a significant effect on your overall look.
What is more, men's face shape will decide which hairstyle is ideal for them. Hence, if you want to know about hairstyle options for face shape male, keep reading to find the answers.
How to know which type of your face shape?
The very first thing before choosing the hairstyles for men according to face shape is to determine your exact type of face shape. The simplest method to identify your face shape is using a tape measure than using the number you get to determine your face shape. Below are the measurements you need to have.
Forehead: Measure across your face beginning from the top of one eyebrow to the top of the other one of the opposite sides.
Jawline: Measure the distance between the tip of one chin and the bottom of the ear on the same size, then multiply the result. Or if you want a more precise outcome, do the same to the other size and plus two numbers.
Cheekbones: Measure along your cheekbones by guiding the measuring tape at the start and the end of the pointiest part below your eye at both sides.
Face length: Measure the distance from the center of your hairline down to the tip of your chin.
Other inspirations:
Types of men's face shape
After you finish measuring, it is time to determine your face shape. Below is some rule to identify what kind of face shape you have.
Oval
If you have an oval shape, the measurement of your face length is longer than the measurement of your cheekbones, and forehead measurement is greater than that of the jawline. The angle of your jaw is likely to be round, instead of being sharp.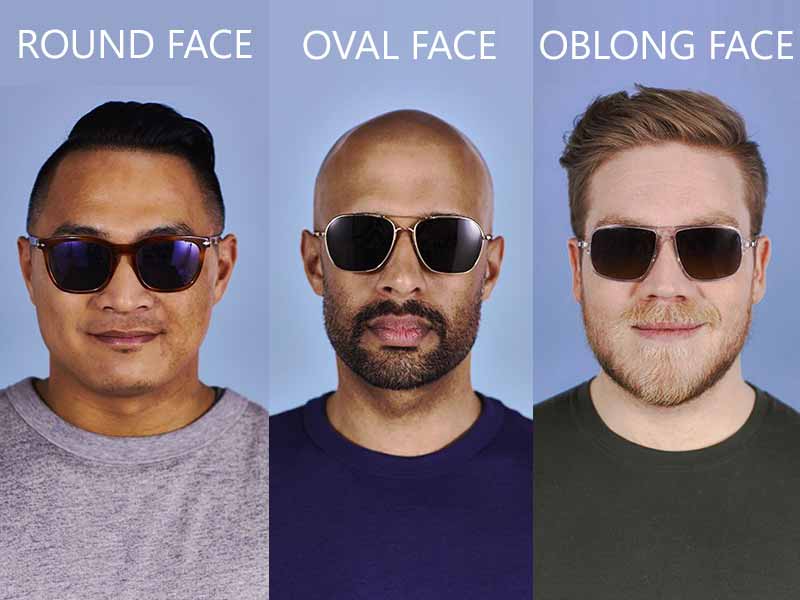 Oblong
The face length measurement is the greatest one among all of the measuring results. Jawline, cheekbones, and forehead measurements are equal in size.
Round
The measurement of forehead and jawline are equal, which is lesser than cheekbones and face length measurement, which also are similar in size. The jaw's angle of a round face is soft and less defined.
Heart
The chin is pointy and the measurement of the forehead is greater than that of cheekbones and jawline.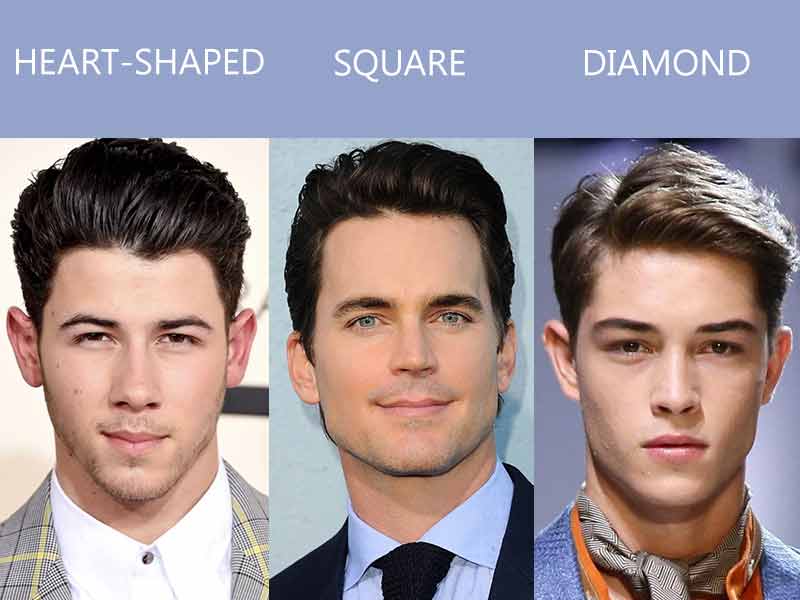 Square
The measurements of all factors are nearly equal with a sharper jaw than the round face shape.
Diamond
The chin is pointy. The face length is the largest measure. The width of cheekbones is greater than that of the forehead, and jawline is the smallest measurement.
Right hairstyles for men according to face shape
After the guides below, you may have your own answer about what your face shape is. Then, make use of that to identify the best hairstyles for you according to face shape depending on the following tips. However, it is not all, don't stick with that since there are many ways to know your best hairstyles based on your interest. It is not simple to distinguish between square or oval face, there are a lot of hairstyle options for face shape male.
Oval
Oval face shape is a well-proportioned, which can match with various hairstyles for face shape. However, a fringe haircut is not a good choice for oval faced men, they look better with hair off of the forehead. You can try a short quiff with high volume along with an undercut or side part hairstyle. Get your head shaved is also a nice idea for over face since it will bring you a classic military look.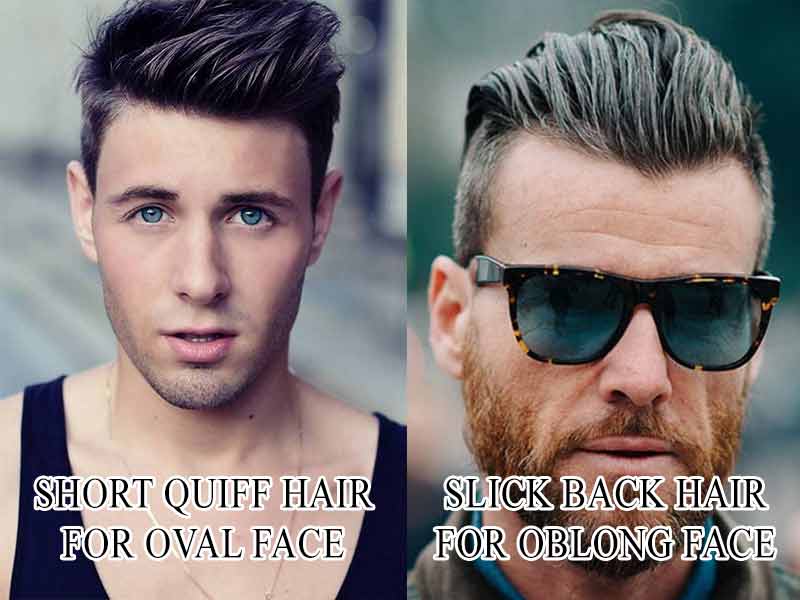 Oblong
If your face length is the greatest measurement, you can try a balanced haircut for a formal vibe. If you have an oblong face, DON'T try taper fade haircuts such as faux hawks and pompadours or anything with long hair on top and shorter hair on the sides. You can choose a side-part hairstyle in case you have short hair and try a slicked back hairstyle if you have long hair.
Round
A round face can go well with angled haircut because this type of face tends to be soft and less defined in lines. Hence, the best hairstyles for men according to face shape, in this case, must emphasize the structure as much as possible. You can try a pompadour with a voluminous side part or undercut both sides with long hair on the top.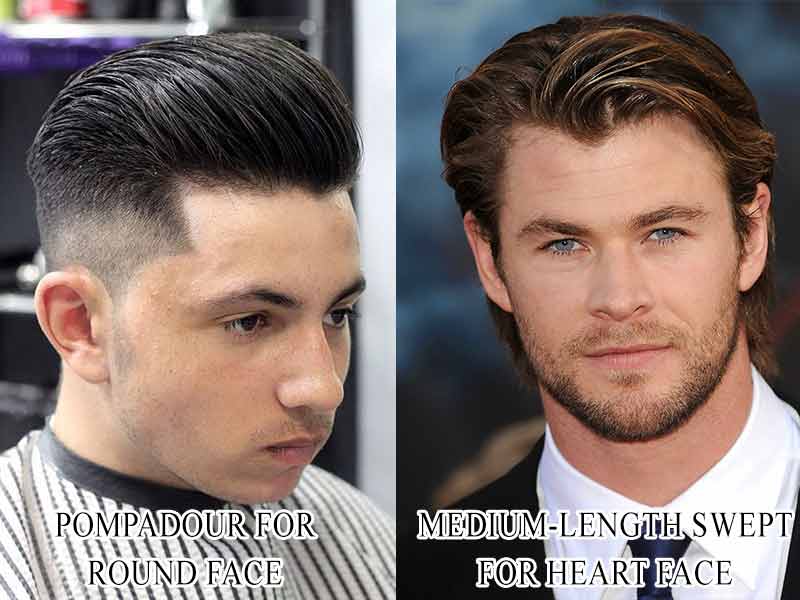 Heart
The main feature of heart face shape is the pointy chin so you should avoid a tight haircut since it will emphasize your narrow chin and wide forehead. Instead, you can go for softer hairstyles such as A medium-length swept look which is a safe choice.
Read more:
Square
A square face is the manliest face shape that all men desire. It also goes well with a lot of hairstyles. For the best look, fairly short and neat hair is mostly recommended hairstyles for men with a square-shaped face. Hence, you can try close faded faux hawk, short layered side-part or classic pompadour cut if you are square face shaped man.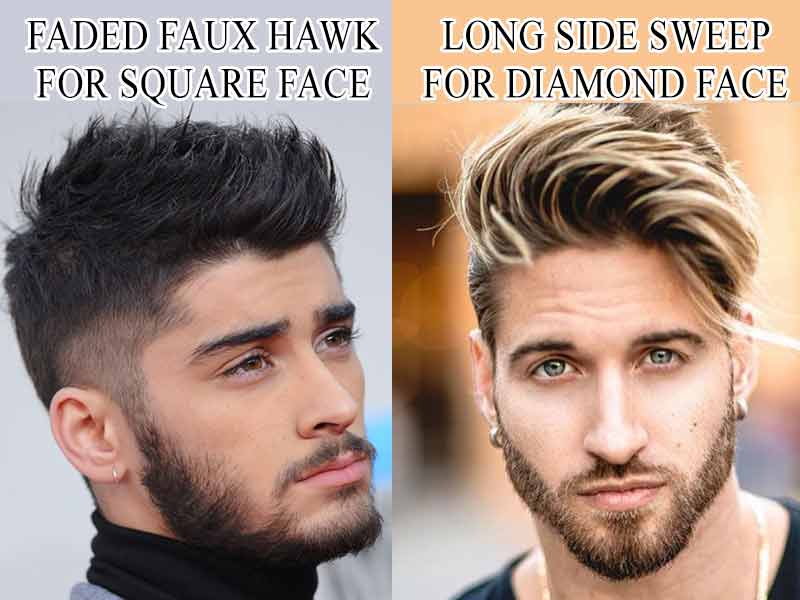 Diamond
Diamond face shape means your chin and forehead is narrow while cheekbones measure wide. So, an ideal opts for this face shape muse provide width to chin and forehead area and fringe hairstyle can help you to do that. It can add great texture to your forehead while emphasizing your perfect facial structure. The long and soft layer can add some width to your chin as well, hence, you also can try some bangs hair cut or long side sweeps.
Our conclusion
The best hairstyles for men according to face shape can be determined if you know what the shape of your face is. Hence, hopefully, our guides in identifying face shape as well as hairstyles according to face shape for males can help you choose the most suitable hairstyles for yourself.
If you have short hair, but you need long hair to complete your desirable hairstyles according to your face shape, visit Lewigs website for some hairpieces such as hair topper or toupee, which can help you fulfill your wish.