Hair is one of the important factors to improve one's appearance. Nowadays, not only young people but also older people pay attention to their appearance. Therefore, in our article today on Lewigs, we would like to share some common hairstyles for older men.
Hairstyles For Older Men – Slick Back
One of the best hairstyles for older men is slick back. This hairstyle appeared in the period 1920 – 1950 when men started to pay more attention to their appearance. Although it has a long lifespan, it is never old-fashioned and still one of the popular hairstyles for men at any age. The slick back is suitable for almost men with many different faces such as round face, long face and square face. If you are finding a simple but modern hairstyle for older men, do not skip slick back.
To make this hairstyle, you can start brushing your hair after taking a shower. When using shampoo and conditioner, use a comb to style your hair back before draining. Then, when you dry your hair morning or night before bed, use a towel and gently stroke it back. You can naturally use a low-temperature dryer and use a large-tooth comb to style the hair you want, even when you're going to sleep. Gradually, the hairline will begin to modify the way you want it. If you find it hard to create a hairstyle (thick or curly hair), try to use a good pomade or wax with a high retention rate.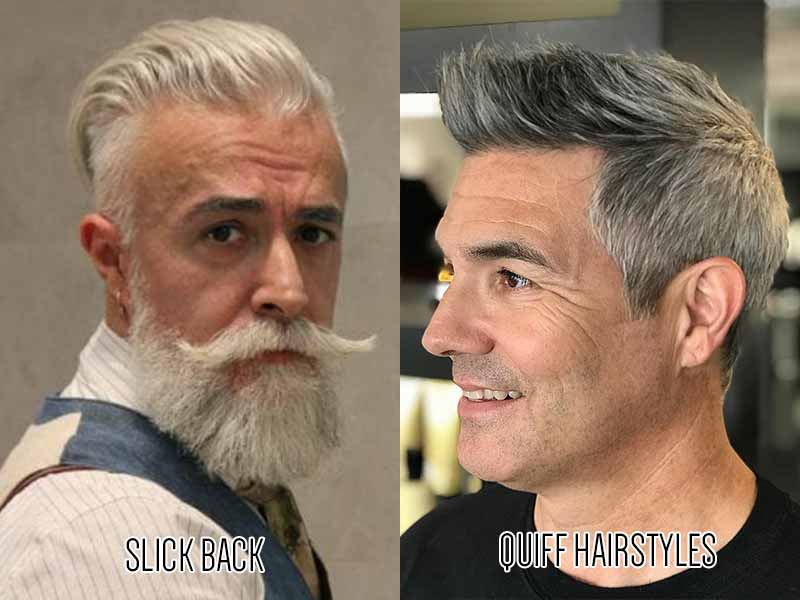 Quiff
The quiff is also among one of the most common hairstyles for men, including older men. Quiff hairstyle has existed since the 50s and is still popular because of liberal and romantic beauty. Therefore, this hairstyle is suitable for all faces, ages or professions. Quiff is characterized by bangs that are not too thick and long but trimmed thin. The hair on the sides and back is neatly trimmed but not as close as an undercut hairstyle.
Along with slick back, quiff has eliminated stereotypes and prejudices to set our "beauty which is that men spend time caring for their appearance. That is the reason why we say that this hairstyle changed the story of hair. Depending on your desire, you can choose classic quiff, undercut quiff, textured quiff, etc. For older men, quiff can go with a beard to make them look more attractive.
Other inspirations:
Pompadour
Pompadour is a new hairstyle for older men with hair on the nape of the neck neatly cut, like an undercut hairstyle. However, the hair on the top is longer and is flipped back. This hairstyle not only improves the classic and elegant look but also enhances the modern and stylish features of the men. This hairstyle appeared in the 1700s and is spent for women. Until the 1950s, when the King of Rock – Elvis Presley used this hairstyle which created a trend.
If you want to style this hair, you need the help of products that fix the curl and give it shine like hair wax and gels. There are many types of pompadour that older men can apply such as pompadour fade, hard part pompadour, pompadour undercut fade, etc.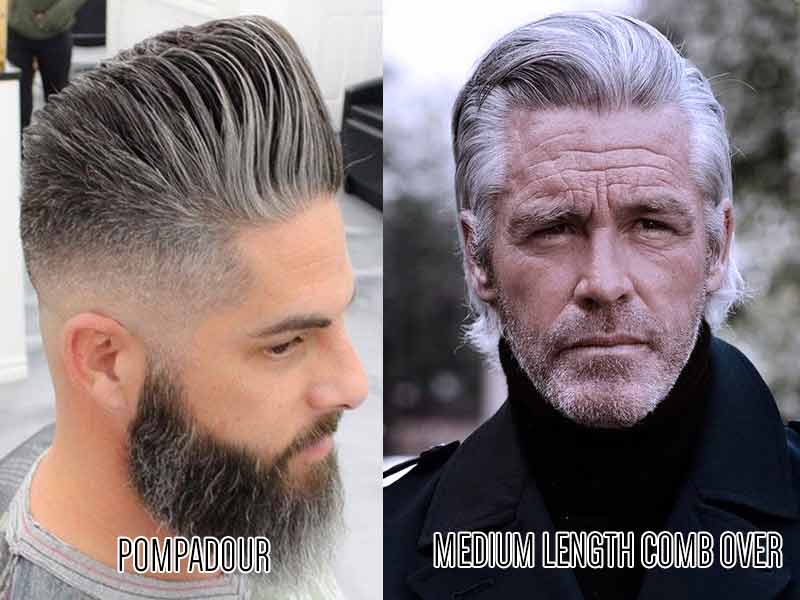 Medium Length Comb Over
Are you finding a medium length hairstyle for older men? If you want a simple but attractive hairstyle, try to use your comb to style. You need to comb over your medium hair length and a little styling product. After that, you will own a charming, rugged, and refined appearance which is suitable for any situation. Because of its convenience, a medium-length comb over hairstyle is popular for every man at different ages.
Buzz Cut
The buzz cut is the choice for men who do not have much time for taking care of hair. This short hairstyle for older men is one of the pillars of the male hair beauty during the early years of the twenty-first century. In addition, buzz cut is also favoured by many famous Hollywood actors. While buzz cuts are a very short style, your barber can still shape the hair to suit your face shape and hide any scars. When mentioning buzz cut, we think of a very short hairstyle for older men. However, you can ask your barber to shape the hair to suit your face shape.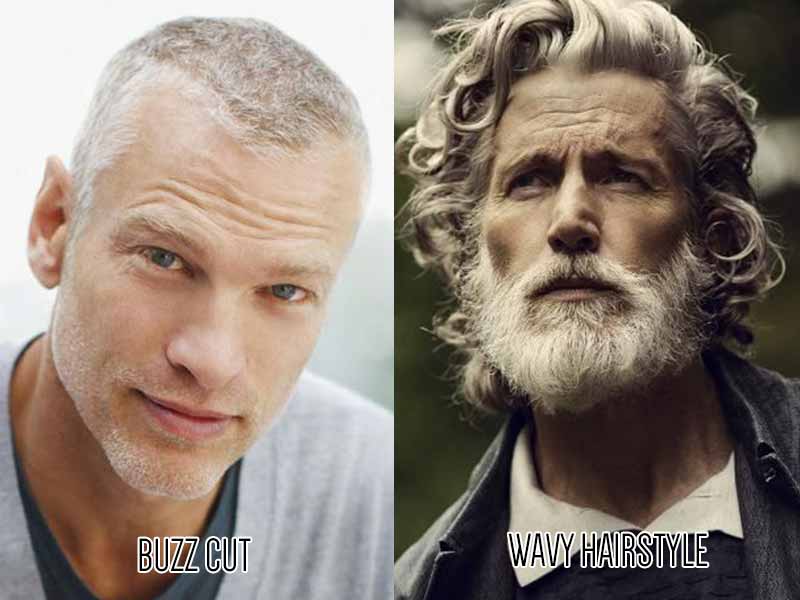 Wavy Hairstyle
If you feel bored with your straight hair, try to add some waves to your hair. Wavy hairstyle adds more texture, movement, and volume to natural hair. For older men, wavy hairstyle is one effective way to show off their fun-loving personality and their fashioned style. This hairstyle is also suitable for many hair types such as thin hair or grey hair. To have the best effect, use a styling cream or pomade.
Read more:
Bun Hair
Bun hairstyle has become a hot trend recently. It helps men to build a romantic, stylish and dusty appearance. It is a long hairstyle with equal length of hair around the head, tied in a bun at the back or on the top of the head. The length of the hair is 20-25 cm.
Unlike undercut or pompadour hairstyles, you only need 1-2 months to have enough hair, bun hairstyle requires 8 months to more than 1 year to get enough hair to style. If you own bun hair, you should spend time caring for your hair regularly with good hair care products. To add more shine to your hair, use clay or pomade.
Long Curly Hairstyle
One more long hairstyle for older men is curly hair. Having a long curly hairstyle gives you a new and attractive look. Moreover, this hairstyle is suitable for almost any situation, bringing to the owner a romantic and masculine beauty.
A beautiful hairstyle is a dream of anyone, including older men. However, some older men have to suffer from baldness, some cannot wait for hair to lengthen to style, some own weak hair so they should not style often. One ideal solution for these problems is using a toupee. Toupees help you change your hairstyles for older men whenever you want without using hair styling tools.
In case you do not know where to buy a good-quality toupee, you can contact us. Lewigs provides you with many good-quality toupees at an affordable price made from 100% Vietnamese and Cambodian human hair. You can choose an available product or send us your demand.
In conclusion, there are many hairstyles for older men to try. You can get some types at home, but with some types, you should go to the salon, or you can buy a toupee from Lewigs to help you get a new hairstyle in a short time.